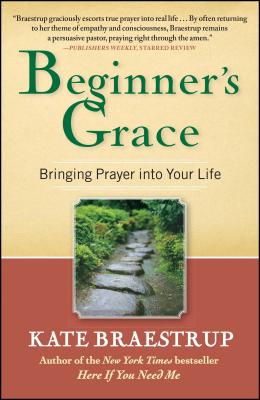 Beginner's Grace (Paperback)
Bringing Prayer Into Your Life
Atria Books, 9781439184271, 259pp.
Publication Date: August 9, 2011
Other Editions of This Title:
Digital Audiobook (11/1/2010)
Compact Disc (11/2/2010)
Hardcover (11/2/2010)
Hardcover, Large Print, Large Print (2/1/2011)
MP3 CD (11/2/2010)
Compact Disc (11/2/2010)
Pre-Recorded Audio Player (2/1/2011)
* Individual store prices may vary.
Description
Prayer is an ancient and simple way to prepare yourself for grace, or love, and to learn to recognize it when it comes. Even the briefest "grace" spoken before dinner offers its time-honored wisdom. Yet in spite of hundreds of traditions and teachings and books about prayer, millions of Americans have become ambivalent about it. They are unsure how, when, where, and even why they might pray, afraid they'll do it wrong, or worried that they won't be heard. Writing in the beautiful, funny, honest narrative style that moved and inspired readers of her first book, Here If You Need Me, Kate Braestrup explains what prayer is and the many ways we can pray. With an approach that is both personal and inclusive, Beginner's Grace is a new kind of prayer book. Even if you don't pray and don't consider yourself religious, there's room in this book for you. In these pages, Braestrup explains how and why the practice of prayer can open a space in our busy lives for mindfulness, gratitude, contentment, and a wider compassion toward others. Inspired by her work as a chaplain, Braestrup includes many examples of prayers to draw from--beginning with grace, a brief prayer of thanks. She provides clear models and practical suggestions for making your own and your family's prayers meaningful and satisfying, and offers prayers for situations in which words might fail: times of anxiety, helplessness, or grief. And she invites you to explore forms of prayer that extend into the wider community, including prayer with and for people we don't like or with whom we disagree. A welcoming modern guide to the simplest, most effective way to satisfy a universal spiritual hunger, Beginner's Grace is for the religious and nonreligious and even irreligious in its generous, good-humored approach to spirituality. With its insight and warmth, Beginner's Grace is sure to become a spiritual touchstone for people of all faiths.
Praise For Beginner's Grace: Bringing Prayer Into Your Life…
"Braestrup is astute, entertaining, and scholarly in suggesting prayers from myriad faiths that have served countless generations, including this one. There are prayers for almost every occasion and circumstance: shared meals, birth, death and grief, old age, bedtime for anxious children, safety for those facing daily occupational hazards, even romantic intentions. She invites people to make up their own prayers as she includes tales of frayed nerves, abiding love, and opting for generosity in settings as mundane as the Shop 'N Save. This confirms the comfort and grace afforded by prayer and its power to reveal the beauty of life, warts and all. Amen." –Booklist



"What books about prayer need most is more authors like Kate Braestrup. There's no false piety here, nor is there much heady analysis either. Instead, there is an exquisitely informative, seductive, largely autobiographical, but no-holds-barred frank, presentation of one chaplain's own engagement with prayer." -- Phyllis Tickle, author of The Great Emergence