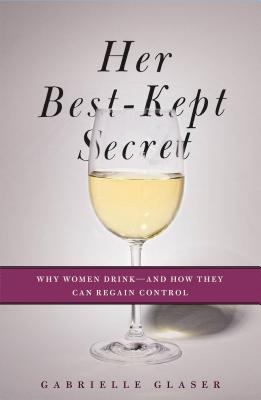 Her Best-Kept Secret
Why Women Drink-And How They Can Regain Control
Hardcover

* Individual store prices may vary.
Other Editions of This Title:
Digital Audiobook (9/14/2013)
Paperback (7/15/2014)
Compact Disc (9/15/2013)
MP3 CD (9/15/2013)
Compact Disc (9/15/2013)
Description
In the first book to document that American women are drinking more often than ever, and in ever-larger quantities, journalist Gabrielle Glaser explores the reasons behind this hiding-in-plain-sight epidemic—and why the most common remedy for it, enrollment in AA, is particularly ineffective.

What's the first thing many women do when they go home? Make a dash for the white wine in the refrigerator.

In Her Best-Kept Secret, journalist Gabrielle Glaser uncovers this hidden-in-plain-sight drinking epidemic—but doesn't cause you to recoil in alarm. She is the first to document that American women are drinking more often than ever and in ever larger quantities. And she is the first to show that contrary to the impression fostered by reality shows and Gossip Girl, young women alone are not driving these statistics—their moms and grandmothers are, too. But Glaser doesn't wag a finger. Instead, in a funny and tender voice, Glaser looks at the roots of the problem, explores the strange history of women and alcohol in America, drills into the emerging and counterintuitive science about that relationship, and asks: Are women really getting the help they need? Is it possible to come back from beyond the sipping point and develop a healthy relationship with the bottle?

Glaser reveals that, for many women, joining Alcoholics Anonymous is not the answer—it is part of the problem. She shows that as scientists and health professionals learn more about women's particular reactions to alcohol, they are coming up with new and more effective approaches to excessive drinking. In that sense, Glaser offers modern solutions to a very modern problem.
Praise For Her Best-Kept Secret: Why Women Drink-And How They Can Regain Control…
"[A] substantial book, interested in hard facts and nuance rather than hand-wringing. . . . Glaser makes a persuasive case that Alcoholics Anonymous, which enjoys a near monopoly in the recovery sphere, is structurally and functionally unsuited to many women."

"Glaser has written an engaging account of women and drink, citing fascinating studies about modern stressors…and evidence that some problem drinkers can learn moderation….Bound to stir controversy."
— People

"Glaser approaches [her topic] with investigative rigor and thoughtful analysis."
— Boston Globe

"That so many American women stand at the edge of a liquid cliff is a surprising and scary problem that Gabrielle Glaser illuminates powerfully. For those who have a loved one standing there, you will find hope here."
— Sheryl WuDunn, Pulitzer Prize-winning coauthor of the national bestseller Half the Sky

"With humor, thoughtfulness and skillful research, Glaser paints a picture of mature female drinking today. You'll see yourself or your friends on almost every page."
— Parents.com

"A well-researched look into the differences between how men and women drink, what their motivations are for drinking, and how they should cope with drinking problems."
— Jezebel.com

"Her Best-Kept Secret reveals the existence of an epidemic with profound implications for women and their loved ones. This compassionate yet authoritative book explains why millions of ordinary women are turning to alcohol to handle the strains of daily life—and what they can do about it."
— Hilda Hutcherson, MD, bestselling author of What Your Mother Never Told You About S-e-x

"An important addition to feminist literature that calls upon women to reject a spurious equality 'whose consequences in broken families, broken hearts, and broken futures, are all too real' and face up to the problem of alcohol dependency before it takes over their lives."
— Kirkus Reviews

"Insightful and provocative."
— Publishers Weekly
Simon & Schuster, 9781439184387, 256pp.
Publication Date: July 2, 2013
About the Author
Gabrielle Glaser is the author of Strangers to the Tribe and The Nose, and a journalist whose work has appeared in The New York Times, Mademoiselle, The Economist, Glamour, The Washington Post, and Health, among other publications.
or
Not Currently Available for Direct Purchase