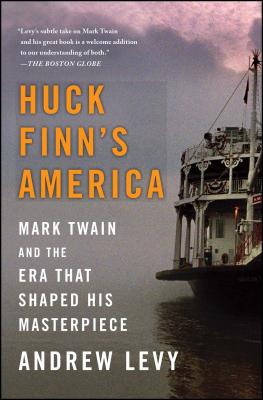 Huck Finn's America
Mark Twain and the Era That Shaped His Masterpiece
Paperback

* Individual store prices may vary.
Other Editions of This Title:
Hardcover (12/30/2014)
Description
A provocative, exuberant, and deeply researched investigation into Mark Twain's writing of America's favorite icon of childhood, Huckleberry Finn: "A boldly revisionist reading of Twain's Huckleberry Finn…Twain's masterpiece emerges as a compelling depiction of nineteenth-century troubles still all too familiar in the twenty-first century" (Booklist, starred review).

In the "groundbreaking" (Dallas Morning News) Huck Finn's America, award-winning biographer Andrew Levy shows how modern readers have misunderstood Huckleberry Finn for decades. Mark Twain's masterpiece is often discussed either as a carefree adventure story for children or a serious novel about race relations, yet Levy argues, it is neither. Instead, Huck Finn was written at a time when Americans were nervous about "uncivilized" bad boys, and a debate was raging about education, popular culture, and responsible parenting—casting Huck's now-celebrated "freedom" in a very different and very modern light. On issues of race, on the other hand, Twain's lifelong fascination with minstrel shows and black culture inspired him to write a book not about civil rights, but about race's role in entertainment and commerce, the same features on which much of our own modern consumer culture is also grounded. In Levy's vision, Huck Finn has more to say about contemporary children and race that we have ever imagined—if we are willing to hear it.

An eye-opening, groundbreaking exploration of the character and psyche of Mark Twain as he was writing his most famous novel, Levy's book "explores the soul of Mark Twain's enduring achievement with the utmost self-awareness...An eloquent argument, wrapped up in rich biographical detail and historical fact." (USA TODAY). Huck Finn's America brings the past to vivid, surprising life, and offers a persuasive argument for why this American classic deserves to be understood anew.
Praise For Huck Finn's America: Mark Twain and the Era That Shaped His Masterpiece…
"[Levy] manages to offer fresh insights about thenovel's two central themes-children and race-by investigating Twain's life andtimes and the changing cultural contexts in which the book has been read...Delving deeply into 19th-century sources, generations of readers' responses anda wide range of Twain's writing, Levy complicates the possibilities of what thenovel meant for its contemporaries and what it might mean for readerstoday."
— Kirkus Reviews

"Compelling...an important new opinion to be considered in any serious discussion of not only Huck Finn but of Twain and the topic of race."
— Library Journal (starred review)

"Despite the wealth of books and essays about Mark Twain and Adventures of Huckleberry Finn, here is a new perspective that is absolutely fresh, original, provocative, and a joy to read. In Huck Finn's America Twain comes vividly alive in his own day, and in ours, in ways never seen before."
— Eric J. Sundquist, author of King's Dream and To Wake the Nations

"With great charm and intelligence, Andrew Levy breathes new life into an American classic, giving modern readers a fresh understanding of Huck Finn's colorful world. Here is Mark Twain's creation in all its original, subversive glory, stirring up trouble in every quarter--then and now--and reminding us of just how wonderfully dangerous a great novel can be."
— Michael Shelden, author of Mark Twain: Man in White

"Andrew Levy has done something that even Mark Twain's greatest admirers might not have thought possible: he has given us fresh eyes with which to encounter America's best-loved and most notorious novel. This artfully written and profoundly engaging book offers a new appreciation for Mark Twain's art and, just as provocatively, a new understanding of American culture's enduring fascination with his greatest work."
— Henry B. Wonham, author of Mark Twain and the Tall Tale and Playing the Races: Ethnic Caricature and American Literary Realism

"A minstrel show? A bad boy book? Adventures of Huckleberry Finn is—complexly, contradictorily, contentiously—both of these. So argues Andrew Levy in his dazzling and engaging Huck Finn's America: Mark Twain and the Era That Shaped His Masterpiece. Drawing on a broad range of nineteenth-century newspapers and also biographical materials about Twain, Levy unearths how Twain's novel speaks to the ways in which we think about race (a connection much discussed in recent decades) and childhood (almost never)."
— Beverly Lyon Clark, author of Kiddie Lit: The Cultural Construction of Children's Literature in America

"Astute…[Levy's] discussion of Twain's equivocal progressivism is a noble-hearted attempt to rescue as well as reproach a book saturated with ambivalence, which Levy rightly acknowledges as the legacy of Twain—and America."
— New York Times Book Review

"Original and illuminating...a deft and skillful piece of cultural analysis..."
— Walter Russell Mead

"Common readings of the book are now trapped in the same sanctimonious clichés that Twain both punctured and perpetuated. Levy blends cultural history, biography, and perceptive readings to reveal the shadowy complexity of a novel Americans compulsively simplify. Toni Morrison once described Huck Finn as "an amazing, troubling book," and Levy's book shows precisely how and why this remains true."
— The Daily Beast

"Insightful...devotees of Mark Twain's The Adventures of Huckleberry Finn will surely want to read this thorough and informative book..."
— Providence Journal

"Levy's work is thoughtful and provocative, and offers a different perspective on a classic work of American literature. Any book that accomplishes this is certainly worth reading."
— Book Reporter

"Levy explores the soul of Mark Twain's enduring achievement with the utmost self-awareness. … An eloquent argument, wrapped up in rich biographical detail and historical fact."
— USA Today

"Capacious, companionable...Levy is excellent on Twain, on his drawl, his gait, his evolution on race matters...and even better on his contradictions."
— The New York Times

"Levy's subtle take on Mark Twain and his great book is a welcome addition to our understanding of both."
— The Boston Globe

"Groundbreaking. …Levy's arguments are detailed and intricately woven."
— Dallas Morning News

"A richly researched, copiously annotated, fascinating argument. … Levy does an exceptional job [and] like any good biographer, he is adept at arranging information, even not strictly chronologically, so that it adheres naturally to a meaningful frame."
— NPR

"Provocative. . . [Levy is] an excellent, aphoristic writer."
— Salon

"A scholarly masterpiece. … Huck Finn's America is a must-use complement to any study of Huckleberry Finn."
— Fort Worth Star Telegram

"An intensely relevant study that brings Huck Finn into the 21st century, by firmly placing it in the 19th."
— MacLeans

"Levy argues persuasively [and] has steered the conversation of Huck Finn in a fresh, profitable direction, toward an intensive scrutiny of its roots."
— Buffalo News

"Ambitious in scope and depth...Levy makes a beautiful and convincing case that Huckleberry Finn provides sharp insight into our ambivalence about children and 'the disconnection between our children's inner lives and our ways of raising and teaching them.'"
— Christian Science Monitor

"Levy...succeeds brilliantly by drawing together the large body of existing critical analysis of Mark Twain's masterpiece, brightening the beams of those insights by focusing them together,and then broadening the resulting illumination with flashes of insight of his own. The seasoned Mark Twain scholar will blink in pleasant surprise to see familiar themes in new ways, and the general reader may very well be blinded by the light. Every reader will appreciate Levy's graceful fluid writing style--free of scholarly jargon and peppered with elegant turns of phrase--that achieves an admirable level of concision and clarity."
— Mark Twain Forum

"A remarkable companion piece to Mark Twain's Great American Novel."
— Weld for Birmingham
Simon & Schuster, 9781439186978, 368pp.
Publication Date: January 26, 2016
About the Author
Andrew Levy is Edna Cooper Chair in English at Butler University. He is author of the critically acclaimed Brain Wider Than the Sky, and the award-winning biography The First Emancipator.
or
Not Currently Available for Direct Purchase