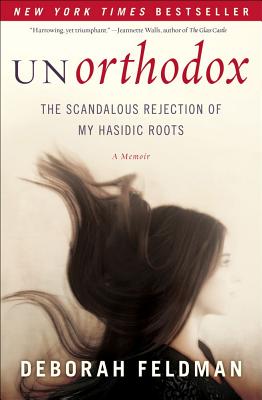 Unorthodox
The Scandalous Rejection of My Hasidic Roots
Hardcover

* Individual store prices may vary.
Other Editions of This Title:
Digital Audiobook (2/13/2012)
Paperback (3/3/2020)
Paperback (10/2/2012)
Compact Disc (3/3/2020)
Description
The instant New York Times bestselling memoir of a young Jewish woman's escape from a religious sect, in the tradition of Ayaan Hirsi Ali's Infidel and Carolyn Jessop's Escape.

The Satmar sect of Hasidic Judaism is as mysterious as it is intriguing to outsiders. In this arresting memoir, Deborah Feldman reveals what life is like trapped within a religious tradition that values silence and suffering over individual freedoms.

Deborah grew up under a code of relentlessly enforced customs governing everything from what she could wear and to whom she could speak to what she was allowed to read. It was stolen moments spent with the empowered literary characters of Jane Austen and Louisa May Alcott that helped her to imagine an alternative way of life. Trapped as a teenager in a sexually and emotionally dysfunctional marriage to a man she barely knew, the tension between Deborah's desires and her responsibilities as a good Satmar girl grew more explosive until she gave birth at nineteen and realized that, for the sake of herself and her son, she had to escape.
Praise For Unorthodox: The Scandalous Rejection of My Hasidic Roots…
One of O magazine's "10 Titles to Pick Up Now"

"Deborah Feldman was raised in an insular, oppressive world where she was taught that, as a woman, she wasn't capable of independent thought. But she found the pluck and determination needed to make the break from that world and has written a brave, riveting account of her journey. Unorthodox is harrowing, yet triumphant."—Jeannette Walls, #1 bestselling author of The Glass Castle and Half Broke Horses

"[Feldman's] matter-of-fact style masks some penetrating insights."—The New York Times

"An unprecedented view into a Hasidic community that few outsiders ever experience. . . . Unorthodox reminds us that there are religious communities in the United States that restrict young women to marriage and motherhood. These women are expected to be obedient to their community and religion, without question or complaint, no matter the price."—Minneapolis Star-Tribune

"Riveting . . . extraordinary."—Marie Claire

"Eloquent, appealing, and just emotional enough . . . No doubt girls all over Brooklyn are buying this book, hiding it under their mattresses, reading it after lights out—and contemplating, perhaps for the first time, their own escape."—HuffingtonPost.com

"Deborah Feldman has stripped the cloak off the insular Satmar sect of Hasidic Judaism, offering outsiders a rare glimpse into the ultraconservative world in which she was raised."—Globe and Mail (Toronto)

"Compulsively readable, Unorthodox relates a unique coming-of-age story that manages to speak personally to anyone who has ever felt like an outsider in her own life. Feldman bravely lays her soul bare, unflinchingly sharing intimate thoughts and ideas unthinkable within the deeply religious existence of the Satmars. . . . Teens will devour this candid, detailed memoir of an insular way of life so unlike that of the surrounding society."—School Library Journal

"[Feldman's] no-holds-barred memoir bookstores on February 14th. And it's not exactly a Valentine to the insular world of shtreimels, sheitels and shtiebels. Instead, [Unorthodox] describes an oppressive community in which secular education is minimal, outsiders are feared and disdained, English-language books are forbidden, mental illness is left untreated, abuse and other crimes go unreported . . . a surprisingly moving, well-written and vivid coming-of-age tale."—The Jewish Week

"Imagine Frank McCourt as a Jewish virgin, and you've got Unorthodox in a nutshell . . . a sensitive and memorable coming-of-age story."—Pittsburgh Post-Gazette

"[Deborah Feldman's] is an extraordinary story of struggle and dream. . . . Both her escape and her decision to tell her story are magnificent acts of courage."—Anouk Markovits, author of I Am Forbidden

"Unorthodox is a fascinating book . . . Feldman's voice resonates throughout."—The Jewish Daily Forward

"Denied every kind of nourishment except the doughy, shimmering plates of food obsessively produced by her Holocaust-survivor grandmother . . . books nourish [Feldman's] spirit and put in her hands the liberatory power of storytelling. As she becomes a reader and then a writer, Feldman reinvents herself as a human being."—Newsday (New York)

"Unorthodoz is painfully good. . . .Unlike so many other authors who have left Orthodoxy and written about it, [Feldman's] heart is not hardened by hatred, and her spirit is wounded but intact. . . . She is a sensitive and talented writer."—JewishJournal.com

"Unorthodox is consistently engaging. And the very fact of it is touching. For years . . . [Feldman] examined library shelves, marveling that there were so many men and women who believed in their 'innate right . . . to speak their mind in whatever way they saw fit.' That she has joined their ranks is remarkable indeed."—BarnesandNobleReview.com

"Feldman gives us special insight into a closed and repressive world. . . . Her memoir is fresh and tart and utterly absorbing."—Library Journal

"Nicely written . . . [An] engaging and at times gripping insight into Brooklyn's Hasidic community."—Publishers Weekly

"A remarkable tale."—Kirkus Reviews

"Feldman's evolution as well as her look inside a closed community make for fascinating reading … her storyteller's sense and a keen eye for details give readers a you-are-there sense of what it is like to be different when everyone else is the same."—Booklist
Simon & Schuster, 9781439187005, 272pp.
Publication Date: February 14, 2012
About the Author
Deborah Feldman was raised in the Satmar Hasidic community in the Williamsburg section of Brooklyn, New York. She attends Sarah Lawrence College and lives in New York City with her son.
Book Videos
or
Not Currently Available for Direct Purchase