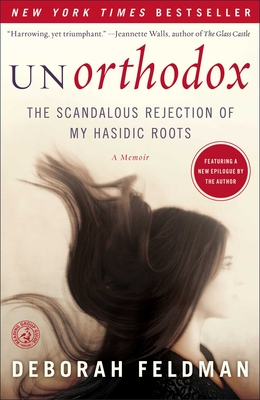 Unorthodox
The Scandalous Rejection of My Hasidic Roots
Paperback

* Individual store prices may vary.
Other Editions of This Title:
Paperback (3/3/2020)
Digital Audiobook, Spanish, Castilian (12/2/2020)
Digital Audiobook (3/2/2020)
Compact Disc (3/3/2020)
Hardcover (2/14/2012)
Description
Now a Netflix original series!

Unorthodox is the bestselling memoir of a young Jewish woman's escape from a religious sect, in the tradition of Ayaan Hirsi Ali's Infidel and Carolyn Jessop's Escape, featuring a new epilogue by the author.

As a member of the strictly religious Satmar sect of Hasidic Judaism, Deborah Feldman grew up under a code of relentlessly enforced customs governing everything from what she could wear and to whom she could speak to what she was allowed to read. Yet in spite of her repressive upbringing, Deborah grew into an independent-minded young woman whose stolen moments reading about the empowered literary characters of Jane Austen and Louisa May Alcott helped her to imagine an alternative way of life among the skyscrapers of Manhattan. Trapped as a teenager in a sexually and emotionally dysfunctional marriage to a man she barely knew, the tension between Deborah's desires and her responsibilities as a good Satmar girl grew more explosive until she gave birth at nineteen and realized that, regardless of the obstacles, she would have to forge a path—for herself and her son—to happiness and freedom.

Remarkable and fascinating, this "sensitive and memorable coming-of-age story" (Pittsburgh Post-Gazette) is one you won't be able to put down.
Praise For Unorthodox: The Scandalous Rejection of My Hasidic Roots…
"A brave, riveting account... Unorthodox is harrowing, yet triumphant."
— Jeannette Walls, New York Times bestselling author of The Glass Castle

"A sensitive and memorable coming-of-age story... Imagine Frank McCourt as a Jewish virgin, and you've got Unorthodox in a nutshell."
— Pittsburgh Post-Gazette

"Compulsively readable, Unorthodox relates a unique coming-of-age story that manages to speak personally to anyone who has ever felt like an outsider in her own life."
— School Library Journal

"It's one of those books you can't put down."
— Joan Rivers, in The New York Post

"An unprecedented view into a Hasidic community that few outsiders ever experience."
— Minneapolis Star-Tribune

"[Feldman's] matter-of-fact style masks some penetrating insights."
— The New York Times

"Eloquent, appealing, and just emotional enough... No doubt girls all over Brooklyn are buying this book, hiding it under their mattresses, reading it after lights out—and contemplating, perhaps for the first time, their own escape."
— The Huffington Post

"Riveting... extraordinary."
— Marie Claire
Simon & Schuster, 9781439187012, 272pp.
Publication Date: October 2, 2012
About the Author
Deborah Feldman was raised in the Satmar Hasidic community in the Williamsburg section of Brooklyn, New York. She lives in Berlin with her son.
The heroines in the books Deborah read as a girl were her first inspirations, the first to make her consider her own potential outside of her community. Which literary characters have inspired you?
As a girl, with two absentee parents and an outspoken nature, Deborah was systematically made to feel different or "bad." How did the structure of Satmar Hasidic culture make her feel such shame, and how did this shame serve to subjugate her?
When Deobrah learns that King David—a sainted historical figure who supposedly did no wrong—is a murderer and a hypocrite, she writes, "I am not aware at this moment that I have lost my innocence. I will realize it many years later." What is the line between innocence and willful ignorance? How did Deborah's ability and willingness to question authority and think for herself change the course of her life?
The cloistered Satmar community is located on the outskirts of New York City, one of the most racially, spiritually and culturally diverse places in America. How do aspects of the outside world enter Deborah's consciousness, and how do you think these glimpses of life outside her insular community impacted her development?
Deborah writes of the various ways she was restricted and constrained by her religion, but her grandparents found solace in the strict Hasidic community after the Holocaust. Were there any positive aspects of her tightly knit sect?
How was Deborah's life affected by gossip and the fear of scrutiny from her friends and neighbors? How have other people's judgments and criticisms affected your own life?
How much were Deborah's Bubby and her aunts responsible for the unhappiness in her life? How much free will did they have, given their cultural restrictions?
When it is time for Deborah to find a husband, her ordinarily stingy Zeidy starts spending money. How does this rampant materialism conflict with the community's values of modesty and simplicity? How does this kind of materialism differ from and how is it similar to materialism in secular life?
Discuss your reaction to the fact that Deborah's mother fled the community. How different do you think Deborah's life would have been if her mother had not left?
Even though her marriage is arranged and she has very little say in the matter, Deborah originally views her impending nuptials as an opportunity for freedom. Was she naïve? Did her marriage with Eli constrain her even more than she already was?
Deborah's description of going to the mikvah is one of the most harrowing of the book. How did her experience at the ritual baths expose the most glaring hypocrisies of her religion?
How did Deborah's responsibilities shift when her son was born? What do you think ultimately led her to summon the courage to leave her community?
Deborah writes about the abuses that are allowed to run rampant in the Satmar community—from her own father's untreated mental illness to pedophilia. From Deborah's account of life in the Satmar Hasidic religion, do you think the community will ever be able to change or be reformed?