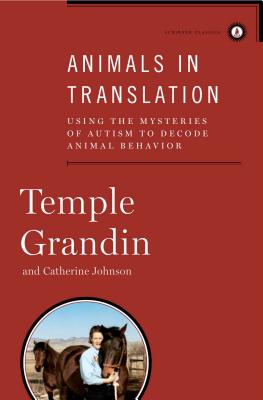 Animals in Translation (Hardcover)
Using the Mysteries of Autism to Decode Animal Behavior
Scribner, 9781439187104, 368pp.
Publication Date: February 2, 2010
Other Editions of This Title:
Prebound (1/1/2006)
Hardcover (1/1/2005)
MP3 CD (1/1/2005)
Compact Disc (1/1/2005)
Pre-Recorded Audio Player (12/1/2009)
Compact Disc (1/1/2005)
* Individual store prices may vary.
Description
A groundbreaking work, Animals in Translation has been unanimously praised by critics and was a bestseller in both hardcover and paperback. Now, it joins the Scribner Classics library, destined to influence American culture for years to come.

Temple Grandin's professional training as an animal scientist and her history as a person with autism have given her a perspective like that of no other expert in the field. Grandin and coauthor Catherine Johnson present their powerful theory that autistic people can often think the way animals think—putting autistic people in the perfect position to translate "animal talk." Exploring animal pain, fear, aggression, love, friendship, communication, learning, and, even animal genius, Grandin is a faithful guide into their world.

Animals in Translation reveals that animals are much smarter than anyone ever imagined, and Grandin, standing at the intersection of autism and animals, offers unparalleled observations and extraordinary ideas about both.
About the Author
Temple Grandin earned her Ph.D. in animal science from the University of Illinois, went on to become an associate professor at Colorado State University, and wrote two books on autism, including the seminal Thinking in Pictures. One of the most celebrated -- and effective -- animal advocates on the planet, Grandin revolutionized animal movement systems and spearheaded reform of the quality of life for the world's agricultural animals.

Catherine Johnson, Ph.D., is a writer specializing in neuropsychiatry and the brain and is the author of three previous books, including Shadow Syndromes with John J. Ratey. She lives with her husband and three sons in New York. Two of her sons have autism.
Praise For Animals in Translation: Using the Mysteries of Autism to Decode Animal Behavior…
Candace B. Pert, Ph.D., author of Molecules of Emotion Animal lovers and people lovers will be thoroughly charmed by Temple Grandin's latest book. Its sweetly simple style, chock-full of fresh and funny anecdotes, somehow delivers brilliant insights into the way animals and autistic people perceive the world. As a neuroscientist researching autism, I was fascinated by Grandin's personal story and excited by her synthesis of classical learning theory and new paradigm mystery.

Elizabeth Marshall Thomas, author of The Hidden Life of Dogs Temple Grandin has done many wonderful things for this world, things that have made a tremendous difference in the lives of animals and people. Not the least of these is that she has transformed autism from being an unfortunate disability to being an enviable advantage that many of us would give anything to experience if only we could understand animals as smoothly as she does. I feel strongly that her interpretations of animal behavior are correct. She has a Ph.D., too, but the autism has probably served her better. Now she has written a fascinating and compelling book, filled with wisdom and insight, that lives up to its promise of decoding animal behavior.

Andrew Solomon, author of The Noonday Demon In this insightful, quirky, and often funny volume, Temple Grandin takes us deep inside the minds of animals. Her observations of dogs, cats, cows, pigs, birds, fish, and horses are meticulous and humane, and her approach is impressive both for its synthesis of scholarship and for its original applications of theory. Grandin opens new vistas that will be invaluable to anyone who cares about the creatures of the earth and sky.

Alex Shoumatoff, author of The World Is Burning Temple Grandin's insights are absolutely fascinating, groundbreaking contributions to the field of animal awareness. This book is deeply moving and a triumph on many levels, not the least the understanding of herself and her condition that Ms. Grandin has succeeded in achieving, conveying so lucidly, and putting to such productive use. She is an inspiration to us all.

Monty Roberts, author of The Man Who Listens to Horses Animals in Translation is a comprehensive collection of the discoveries of a gifted human being. Through a unique set of circumstances, Temple Grandin was born with the ability to live in the animal world, completely understanding their environment. At the same time, she possesses the complex brain of a learned human being who I consider a genius. I read Animals in Translation in the style of a sponge soaking up water. If one is interested in learning more about the lives and needs of animals, Animals in Translation is a must-read. I found it impossible to put down.

Candace B. Pert, Ph.D. author of Molecules of Emotion Animal lovers and people lovers will both be thoroughly charmed by Temple Grandin's latest book. Its sweetly simple style, chock full of fresh and funny anecdotes, somehow delivers brilliant insights into the way animals and autistic people perceive the world. As a neuroscientist researching autism, I was fascinated by Grandin's personal story and excited by her synthesis of classical learning theory and new paradigm mystery.

Oliver Sacks author of The Man Who Mistook His Wife for a Hat Deeply moving and fascinating.

Dr. Temple Grandin has, in her own inimitable way, brought to us a no-nonsense account of her unique insights into animal behavior and cognition in her most recent book, Animals in Translation. Temple sees it as it is, calls it as she sees it, and explains her rationale in scientific terms. Ably assisted by her coauthor Catherine Johnson, Temple has confronted many of the sacred cows of old school behaviorism and laid them to rest. This book is both entertaining and enlightening for those who would learn more about the way animals think and behave. Two thumbs up for this thoughtful and educational compilation.
-- Dr. Nicholas H. Dodman, author of If Only They Could Speak and The Dog Who Loved Too Much

Animals in Translation is vintage Grandin; she just gets better and better. Each page is crystal-clear, conceptually profound, and empirically fascinating. Whether the reader is a cattle rancher looking for guidance in managing animals in a non-stressful way, or a layperson interested in what is going on behind the eyes of a pet, Grandin's work is the guidebook of choice for what, to most of us, is terra incognita. Her wit, crisp clear style, and unique voice synthesizing the most up-to-date scientific knowledge with voluminous personal experience make this book a pleasure to read, and a joy to learn from.
-- Bernard E. Rollin, Colorado State University Distinguished Professor, and Professor of Philosophy, of Biomedical Sciences, and of Animal Sciences