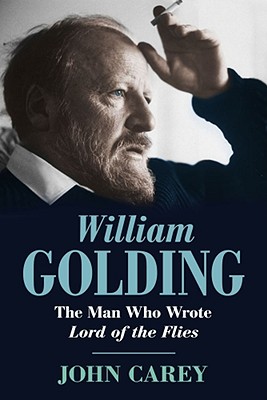 William Golding
The Man Who Wrote Lord of the Flies
Hardcover

* Individual store prices may vary.
Other Editions of This Title:
Paperback (9/27/2014)
Description
In 1953, William Golding was a provincial schoolteacher writing books on his breaks, lunch hours and holidays. His work had been rejected by every major publisher—until an editor at Faber and Faber pulled his manuscript off the rejection pile. This was to become Lord of the Flies, a book that would sell in the millions and bring Golding worldwide recognition.

Golding went on to become one of the most popular and influential British authors to have emerged since World War II. He received the Booker Prize for the novel Rites of Passage in 1980, and the Nobel Prize for Literature in 1983. Stephen King has stated that the Castle Rock in Lord of the Flies continues to inspire him, so much so that he named his entertainment company after it and has placed the Golding novel prominently in his novels Hearts in Atlantis and Cujo. Golding has been called a British Vonnegut—disheveled and darkly humorous, perverse when it would have been easier to be bitter, bitter when it would have been easier to be lazy, sometimes more disturbing than he is palatable and above all fascinating beyond measure.

Yet despite the fame and acclaim, the renowned author saw himself as a monster—a reclusive depressive ruled by his fears and a man who battled alcoholism throughout his life. In addition to being a schoolteacher, Golding was a scientist, a sailor and a poet before becoming a bestselling author, and his embitterment and alienation, his family, the women in his past, along with his experiences in the war, inform his work. This is the first book to unpack the life and character of a man whose entire oeuvre dealt with the conflict between light and dark in the human soul, tracing the defects of society back to the defects of human nature itself.

Drawing almost entirely on materials that have never before been made public, John Carey sheds new light on Golding. Through his exclusive access to Golding's family, Carey uses hundreds of letters, unpublished works and Golding's intimate journals to draw a revelatory and definitive portrait. An acclaimed critic, Carey enriches crucially our appreciation of the literary work of Golding, bringing us, as the best literary biographies do, back to the books. And with equal parts lyricism and driving emotion, Carey brings to light a life that is extraordinary to the point of transcendent and a writer who trusted the imagination above all things.
Praise For William Golding: The Man Who Wrote Lord of the Flies…
"[An] excellent biography, the first to be written about Golding...Mr. Carey [is] a well-known British literary critic, biographer and academic...this plump and well-researched biography sits lightly in the lap; it reads like a picaresque novel. Mr. Carey tidily lays out the whole picnic...Mr. Carey walks you adroitly through Golding's fiction and lays out the case for many of his lesser-known novels, including "The Inheritors: (1955) and "Pincher Martin" (1956). To this picnic he has also brought a magnum of Champagne—or, to salve Golding's class sensibilities, let's say a box of very cold ale. Running beneath Mr. Carey's biography...there is a lively counternarrative, one that portrays Golding, a man of constant sorrow, in a warm, fondly comic light. Part modern day Job, part existential Charlie Brown, part long-suffering hero out of Bernard Malamud or Ian McEwan, Golding was a man for whom things constantly went wrong, yet he resolutely soldiered on...The wonderful if dark human comedy in this biography aside, Mr. Carey takes Golding's fiction very seriously indeed, and vigorously defends him against criticisms that it was pretentious and joyless. Mr. Carey is a shrewd reader, reminding us of what was perhaps Golding's greatest gift as a novelist, his ability to go into "Martian mode, showing familiar things from an alien viewpoint"...Golding was an intensely private man, one who gave few interviews and did not want a biography written during his lifetime. He's lucky now to have Mr. Carey, here to restore him in our minds with intelligent sympathy and wit." —The New York Times

"...[T]he first major biography of Nobel Prize-winning novelist Golding...The author is uniquely equipped to handle the task [as] the first person allowed accessed to Golding's archive...A historically important treatment." —Kirkus

"...Carey's biography soars, presenting a nuanced and sensitive portrait of the small-town schoolteacher with a proclivity for Greek mythology and abiding class issues, the wartime ship's captain perennially drawn to the power of the sea, and the extraordinarily talented (if often blocked) writer who used fiction to plumb the murky depths of his subconscious...Likely to lead Lord of the Flies fans to Golding's other works, this book is highly recommended." —Booklist

"[A] revealing and intimate work...stories Carey tells in his biography are entirely new...the most moving revelation in Carey's book: how constant and lacerating Golding's self-hatred was, ameliorated intermittently by drink...The distinguishing feature of Carey's work is its dogged sniffing out, and absolute refusal, or anything smacking of cant or elitism...his criticism is fuelled equally by a ferocious intellect and prosaic commonsense." —Sydney Morning Herald

"Brings [a] Novel laureate out from behind the major work that put the rest of [his] career in shadow." —Wall Street Journal

"[Golding's] first biographer, John Carey, has had access to a trove of texts that have not seen the light of day and that tell us much...But on balance [Golding's] biographer delivers on the promise of discovery, making of Golding the man a subject at least as compelling as that of his books...This mass of contradictions makes for a fascinating portrait from first to final page. We get Golding warts and all...Take a figure such as Thomas Hardy, add a dash of Fowles and Conrad, season him with Malcolm Lowry and you have "The Man Who Wrote Lord of the Flies'...the source of Golding's self-loathing remains unexplained if not unexplored. Yet Carey writes throughout with compassion and wit...he admires his subject but is clear-eyed about Golding's limitations...we can rest content with how much [Carey] brings here to light." —Nicholas Delbanco, The Los Angeles Times

"What is fascinating about William Golding is the portrait that emerges of a man of absurdly dramatic contrasts...it is unlikely that this biography will ever be bettered or superseded...Carey...one of the most respected literary critics in Britain, writes with great wit and lucidity as well as authority and compassionate insight...he brings unusual understanding to the complex and deeply troubled man who lies behind the intriguing but undeniably idiosyncratic novels...superb." —The New York Times Book Review

"A careful, objective tour of the Golding archive...Exquisitely detailed and thoroughly researched...an excellent resource for future Golding scholars...the chapters devoted to the novels...should appeal to both Golding fans and to anyone interested in a writer's process...an impressive achievement." —The Boston Globe

"Superb" —The Guardian

"Carey's thorough and illuminating biography...also serves as a crucial introduction to the Nobel Prize-winning novelist's output...Carey vividly renders the dark parts of Golding's life...but he is best at sifting the details of a literary career." —The New Yorker

"An engrossing read...canny, well-crafted explanations of some of Golding's more puzzling writing." —National Review

"Thoughtful...this intelligent, elegantly written and deeply empathetic biography reminds us that the factual basis of a writer's neuroses is less important than the imaginative use he makes of them." —Washington Post

"Excellent...It is very much the intention of Carey to show that there is much more to his subject than the blockbuster that made him famous...Such is the skill of John Carey that he not only accomplishes that feat but also brings to life a fine writer and compelling human being." —San Francisco Chronicle

"Carey's thorough and illuminating biography, the first of Golding, also serves as a crucial introduction to the Nobel Prize-winning novelist's output...Carey vividly renders the dark parts of Golding's life...but he is best at sifting the details of a literary career, particularly Golding's decades-spanning, near familial relationship with his Faber and Faber editor Charles Monteith, which helped shape Golding's brilliant, eclectic books." —The New Yorker

"Intriguing, revealing" —The Observer (England)

"Carey sheds light on the complex mind behind Lord of the Flies." —The Sunday Telegraph

"John Carey makes a gripping case for the incendiary imaginative power of Golding's oeuvre, while also plumbing some of the darker, hallucinatory depths of this irascible English writer." —Metro UK

"Carey reveals the restless, troubled figure behind the public persona of a gruff teacher and later a mixture of white-haired prophet and old sea dog...Carey is unusual for a biographer in also being a leading literary critic, and this endows his verdits on the fiction...with rare authority." —The Guardian

"John Carey's superb biography shows one of the essential novelists of the second half of the 20th century, posessed of an unflinching vision of both the human condition and the doleful human comedy...Carey's excellent biography reminds us that William Golding produced not just one remarkable book but an entire shelf of them." —The Weekly Standard
Free Press, 9781439187326, 592pp.
Publication Date: June 1, 2010
or
Not Currently Available for Direct Purchase