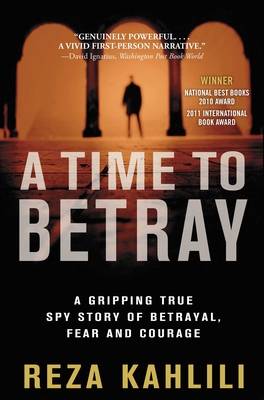 A Time to Betray: A Gripping True Spy Story of Betrayal, Fear, and Courage (Paperback)
A Gripping True Spy Story of Betrayal, Fear, and Courage
Threshold Editions, 9781439189689, 340pp.
Publication Date: February 12, 2013
Description
An exhilarating true story that reads like a spy thriller about a former CIA operative recruited out of Iran, while he served as a member of the secretive and highly feared Revolutionary Guards of Iran. A TIME TO BETRAY This exhilarating, award-winning memoir of a secret double life reveals the heart-wrenching story of a man who spied for the American government in the ranks of the notorious Revolutionary Guards of Iran, risking everything by betraying his homeland in order to save it. Reza Kahlili grew up in Tehran surrounded by his close-knit family and friends. But the enlightened Iran of his youth vanished forever, as Reza discovered upon returning home from studying computer science in the United States, when the revolution of 1979 ushered in Ayatollah Khomeini's dark age of religious fundamentalism. Clinging to the hope of a Persian Renaissance, Reza joined the Ayatollah's elite Revolutionary Guards. As Khomeini's tyrannies unfolded, as fellow countrymen turned on each other, and after the deeply personal horrors he witnessed firsthand inside Evin Prison, a shattered and disillusioned Reza returned to America to dangerously become "Wally," a spy for the CIA. In A Time to Betray, Reza not only relates his razor's-edge, undercover existence from moment to heart-pounding moment as he supplies vital information from the Iran-Iraq War, the bombing of Pan Am Flight 103, the Iran-Contra affair, and more; he also documents a chain of incredible events that culminates in a nation's fight for freedom that continues to this very day, making this a timely and vital perspective on the future of Iran and the fate of the world.
Praise For A Time to Betray: A Gripping True Spy Story of Betrayal, Fear, and Courage…
"It's a compelling read, one that not only talks about the true nature of the Iranian regime but also of the Iranian people, who have now twice tried to free themselves from the yoke of lunatic mullahs trying to destroy the entire world for their dreams of eternal power."
--Ed Morrissey, Hot Air



"...the story [Kahlili] tells—of the Iranian revolution and how he came to despise it—is genuinely powerful. It offers a vivid first-person narrative of how the zealots of the Islamic republic created what has become a nightmare for the Iranian people... One of the strengths of this book is that it makes the author's decision to betray his country- or, more properly, the people who are running it- seem like a morally correct and laudable action. Indeed, people in the Iranian operations division at the CIA should welcome A Time to Betray as a virtual recruitment poster."
--David Ignatius, The Washington Post Book world Review



"This is the first inside account by someone so strategically placed. Without embellishing, Khalili manages to convey the horror of Iran's regime after the downfall of the Shah. Everyone with an interest in the region or in U.S. foreign policy or in real-life espionage will be interested."
—Marcia L. Sprules, Council on Foreign Relations Lib., NY, Library Journal



"A Time to Betray provides a riveting account of how the author, who uses the pseudonym Reza Kahlili, worked undercover and sent intelligence reports to his CIA handlers, all while a suspicious counterintelligence officer was chasing him."
--Ken Timmerman, Newsmax



"Equal parts astonishing and disturbing, this perfectly crafted memoir will open your eyes to the heinous past, troubled present and murky future of Iran...Using insider information, Kahlili excels at painting an enthralling portrait of a country impacted by religious and political extremism. What makes "A Time to Betray" so powerful is two fold: First, the story reads like a John Grisham novel. Second, the narrative is refreshingly objective. Throughout his gripping journey, Kahlili ping-pongs between being a devoted son of Iran and a U.S. supporter. The emotion this produces creates an astonishing read that will have you rethinking what you know about the Middle East."
--Nicholas Addison Thomas, THE FREE LANCE-STAR



"This is one of those rare books that grabs you from the very first page—from the very first sentence, in fact—and will not let you go until it is over."
--Michael Totten



"Overall I thoroughly enjoyed reading this book, it was written in a simple yet sincere and touching manner and brought tears to my eyes on more than one occasion (not an easy thing to do.) The revelations in the book are interesting and serve as a remainder of the brutal human rights violations committed by the Islamic Regime against the Iranian people."
--Sayeh Hassan, Canada Free Press



"This book reads like a spy novel and is riveting. For readers who enjoy that kind of information, A Time to Betray is a 'can't miss.' Beyond that, it provides a fascinating and crucial window into a world the rest of us cannot access."
--WorldNetDaily.com



"A Time To Betray: The Astonishing double Life of a CIA Agent inside the Revolutionary Guards of Iran is a fantastic book and I highly recommend it…The secrets revealed in the book, the intrigue, the mixed feelings Kahlili has working as a spy, keeping his actions secret from everyone he knows and loves, makes the reader feel like a fly on the wall -- seeing, hearing, feeling and smelling what Kahlili experiences…I give this book 5 out of 5 stars and say if you do not read it you are missing out of the book of the year."
--The Right Truth Book Club


"A Time To Betray is certainly a thriller, with Iranian intelligence always only one step behind Kahlili's next move. But Kahlili also writes about an idyllic childhood and illustrates the Iran that disappeared after Ayatollah Khomeini's revolution."
--Forbes.com
Advertisement