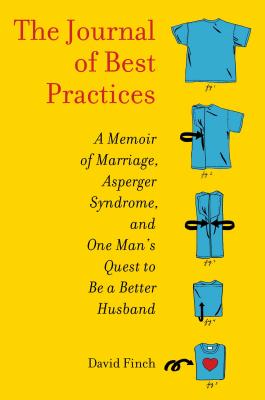 The Journal of Best Practices
A Memoir of Marriage, Asperger Syndrome, and One Man's Quest to Be a Better Husband
Hardcover

* Individual store prices may vary.
Other Editions of This Title:
Digital Audiobook (4/8/2012)
Paperback (10/9/2012)
MP3 CD (4/9/2012)
Compact Disc (4/9/2012)
MP3 CD (4/9/2012)
Compact Disc (4/9/2012)
Compact Disc (4/9/2012)
January 2012 Indie Next List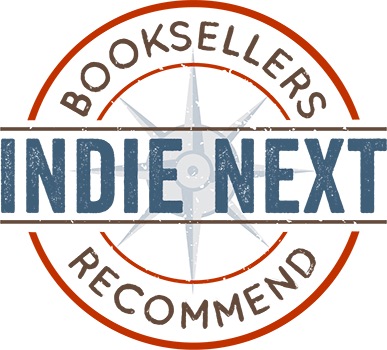 "After five years of a struggling marriage, Finch's wife, Kris, made a breakthrough guess - her husband had Asperger syndrome. The Journal of Best Practices is David Finch's well-documented attempt to go beyond his previous efforts at fitting in and to actually learn to do things like listen, empathize, and 'go with the flow.' Finch still doesn't like flying in a plane or unsolicited wetness, but the results of his determination are not just meaningful to his family, but also an enlightening, endearing, and amusing chronicle for the rest of us."
— Daniel Goldin, Boswell Book Company, Milwaukee, WI
View the List
Description
At some point in nearly every marriage, a wife finds herself asking, What the @#!% is wrong with my husband?! In David Finch's case, this turns out to be an apt question. Five years after he married Kristen, the love of his life, they learn that he has Asperger syndrome. The diagnosis explains David's ever-growing list of quirks and compulsions, his lifelong propensity to quack and otherwise melt down in social exchanges, and his clinical-strength inflexibility. But it doesn't make him any easier to live with.

Determined to change, David sets out to understand Asperger syndrome and learn to be a better husband— no easy task for a guy whose inability to express himself rivals his two-year-old daughter's, who thinks his responsibility for laundry extends no further than throwing things in (or at) the hamper, and whose autism-spectrum condition makes seeing his wife's point of view a near impossibility.

Nevertheless, David devotes himself to improving his marriage with an endearing yet hilarious zeal that involves excessive note-taking, performance reviews, and most of all, the Journal of Best Practices: a collection of hundreds of maxims and hard-won epiphanies that result from self-reflection both comic and painful. They include "Don't change the radio station when she's singing along," "Apologies do not count when you shout them," and "Be her friend, first and always." Guided by the Journal of Best Practices, David transforms himself over the course of two years from the world's most trying husband to the husband who tries the hardest, the husband he'd always meant to be.

Filled with humor and surprising wisdom, The Journal of Best Practices is a candid story of ruthless self-improvement, a unique window into living with an autism-spectrum condition, and proof that a true heart can conquer all.
Praise For The Journal of Best Practices: A Memoir of Marriage, Asperger Syndrome, and One Man's Quest to Be a Better Husband…
"David Finch has Asperger Syndrome – a disorder that, in some ways, means 'acting like a guy.' His often-hilarious efforts to understand and cope with his condition will resonate with every guy whose wife has ever asked him, 'What the hell were you THINKING?'"
--Dave Barry, author of I'll Mature When I'm Dead: Dave Barry's Amazing Tales of Adulthood

"I loved The Journal of Best Practices by fellow Aspergian David Finch. This book perfectly captures the essence of succeeding at married life from the perspective of an Aspergian male. If you're in an AS-NT relationship—or any relationship--you absolutely must read this book! It's an upbeat and refreshing change."
–John Elder Robison, author of Look Me In the Eye

"Hilarious. Gives some of the finest explications of Asperger's out there… a primer of sorts for all of us on how to be better partners."

--People Magazine, 4-star review

"What makes the book compelling is how funny Mr. Finch is about himself. He's great company."

--The New York Times

"Extremely amusing and compelling…This poignant memoir is a great read for those with Asperger Syndrome and the neurotypical alike."

--Shelf Awareness

"A remarkable love story and a fascinating account of how two people saved a marriage."
--Columbus Dispatch

"Funny, moving and insightful."
--Kirkus Reviews
Scribner, 9781439189719, 240pp.
Publication Date: January 3, 2012
About the Author
David Finch grew up on a farm in northern Illinois and attended the University of Miami, where he studied Music Engineering Technology. In 2008 he was diagnosed with Asperger's syndrome. His essay, "Somewhere Inside, a Path to Empathy" appeared in The New York Times and became the basis for this book. David lives in northern Illinois with his wife Kristen and two children and is still a total nerd.
Coverage from NPR
or
Not Currently Available for Direct Purchase