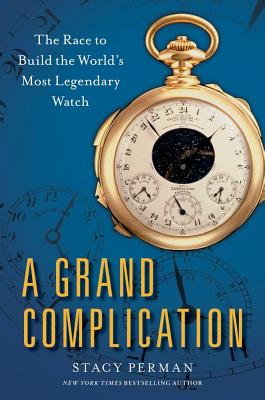 A Grand Complication (Hardcover)
The Race to Build the World's Most Legendary Watch
Atria Books, 9781439190081, 352pp.
Publication Date: February 19, 2013
Other Editions of This Title:
Paperback (8/18/2018)
* Individual store prices may vary.
Description
New York Times bestselling author Stacy Perman chronicles the thrilling pursuit between two ambitious men in the early 1900s to possess the most complicated timepiece in history.

Two wealthy, powerful men engage in a decades-long contest to create and possess the most remarkable watch in history.

James Ward Packard of Warren, Ohio, was an entrepreneur and a talented engineer of infinite curiosity, a self-made man who earned millions from his inventions, including the design and manufacture of America's first luxury car—the elegant and storied Packard. Henry Graves, Jr., was the very essence of blue-blooded refinement in the early 1900s: son of a Wall Street financier, a central figure in New York high society, and a connoisseur of beautiful things—especially fine watches.

Then, as now, expensive watches were the ultimate sign of luxury and wealth, but in the early twentieth century the limitless ambition, wealth, and creativity of these two men pushed the boundaries of mathematics, astronomy, craftsmanship, technology, and physics to create ever more ingenious timepieces.

In any watch, features beyond the display of hours, minutes, and seconds are known as "complications." Packard and Graves spurred acclaimed Swiss watchmaker Patek Philippe to create the Mona Lisa of timepieces—a fabled watch that incorporated twenty-four complications and took nearly eight years to design and build. For the period, it was the most complicated watch ever created. For years it disappeared, but then it surfaced at a Sotheby's auction in 1999, touching off a heated bidding war, shattering all known records when it fetched $11 million from an anonymous bidder.

New York Times bestselling author Stacy Perman takes us from the clubby world of New York high society into the ateliers of the greatest Swiss watchmakers, and into the high-octane, often secretive subculture of modern-day watch collecting. With meticulous research, vivid historical details, and a wealth of dynamic personalities, A Grand Complication is the fascinating story of the thrilling duel between two of the most intriguing men of the early twentieth century. Above all, it is a sweeping chronicle of innovation, the desire for beauty, and the lengths people will go to possess it.
About the Author
Stacy Perman is an award-winning journalist and the author of the New York Times bestseller In-N-Out Burger. The recipient of a MacDowell fellowship, she is a former writer with Business Week and Time. Her work has appeared in the Los Angeles Times, The Wall Street Journal, and many other publications. She lives in New York City.
Praise For A Grand Complication: The Race to Build the World's Most Legendary Watch…
"Stacy Perman has pulled off a remarkable feat in this book. In telling the story of the most complex watch ever made, she writes about a device that not only tells time with exquisite percision but also, in her capable hands, opens up a revealing window onto an entire age."
— Toby Lester, author of The Fourth Part of the World and Da Vinci's Ghost

"A unique competition between two scions of the Gilded Age is the driver for this fresh look at the mores of the rich and powerful. The aim of the competition was to acquire the world's most complicated timepieces. She effectively combines these different strands, providing a compelling social history...A masterful approach to composition combines with a fascinating plot and makes its subject entertaining as well as compelling."

"Lively"

"A story artfully told and illustrated with rich historical detail.
— New York Times Book Review

"That Perman has crafted a compelling tale that tells several stories at once and will appeal equally to readers inside and outside of the insular watch-collecting community is a testament to her considerable skills…. Perman's pacing makes the tale feel downright suspenseful."

"Imagine an Edith Wharton novel crossed with Dava Sobel's Longitude."
— Nick Foulkes, author of High Society

"Stacy Perman provides a captivating view of high-flying, other-era wealth and privilege and the enduring appeal of artifacts that tumble down through history with the fairy dust of titans still attached. This book makes a Rolex seem a piker's toy."
— Les Standiford, author of Desperate Sons

"Stacy Perman's A Grand Complication is a masterfully layered tale of the lives of two incredibly wealthy men and their obsession to conceive and own the most fabulously constructed, incredibly complex, exquisitely made watches on the face of the earth. And like the 'complications' she writes about, it all works."
— David Tripp, author of Illegal Tender

"Engrossing… Perman brings it alive."

"A lively account…provides a window into [watches'] role as status symbols during an age of conspicuous consumption."

"Perman packs in so much detail about the lavish lifestyles of the pre-Great Depression rich that her book can sometimes read like The Great Gatsby on steroids. But there's no obscuring the real stars here, the triumphs of Gilded-Age nanotechnology brought to life by the obsessions and money of Packard and Graves."

"The duel between two wealthy Americans to build and own the greatest timepiece ever constructed is meticulously narrated by journalist Perman. Spanning the Gilded Age to the Great Depression, the story ... will attract both watch enthusiasts and readers interested in the Gilded Age, as it examines the fascinating technological complexity of timepieces... Sparkling historical details enliven the account considerably… Pays homage to the crowning achievements of a lost world of wealth, privilege, and culture."

"Jazz Age drama… Perman's attention to detail evokes Jack Finney as she carefully reconstructs daily life in fin de siècle America and the Roaring Twenties. Her obvious passion keeps the pages turning."
or
Not Currently Available for Direct Purchase