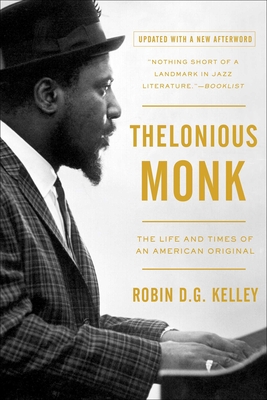 Thelonious Monk (Paperback)
The Life and Times of an American Original
Free Press, 9781439190463, 624pp.
Publication Date: November 2, 2010
* Individual store prices may vary.
Description
The first full biography of legendary jazz musician Thelonious Monk, written by a brilliant historian, with full access to the family's archives and with dozens of interviews. Now updated with an afterword for Monk's 2017 centennial.

Thelonious Monk is the critically acclaimed, gripping saga of an artist's struggle to "make it" without compromising his musical vision. It is a story that, like its subject, reflects the tidal ebbs and flows of American history in the twentieth century. To his fans, he was the ultimate hipster; to his detractors, he was temperamental, eccentric, taciturn, or childlike. His angular melodies and dissonant harmonies shook the jazz world to its foundations, ushering in the birth of "bebop" and establishing Monk as one of America's greatest com­posers. Elegantly written and rich with humor and pathos, Thelonious Monk is the definitive work on modern jazz's most original composer.
About the Author
Robin D.G. Kelley is a professor of history and American studies and ethnicity at the University of Southern California. From 2003-2006, he was the William B. Ransford Professor of Cultural and Historical Studies at Columbia Univeristy. From 1994-2003, he was a professor of history and Africana Studies at New York University as well the chairman of NYU's history department from 2002-2003.

One of the youngest tenured professors in a full academic discipline--at the age of 32--Kelley has spent most of his career exploring American and African-American history with a particular emphasis on African-American musical culture, including jazz and hip-hop.
Praise For Thelonious Monk: The Life and Times of an American Original…
"Monk's story, from roots in slavery, to the Great Migration north, to the cultural explosions of the 40s, 50s, and 60s, encapsulates a vivid tableau of twentieth-century American life and music. This biography is, at its best, a fitting tribute to one of America's most original and lasting creative geniuses."
—The Sacramento Book Review

"...extraordinary and heroically detailed... I doubt there will be a biography anytime soon that is as textured, thorough and knowing as Kelley's. The 'genius of modern music' has gotten the passionate and compassionate advocate he deserves."
—August Kleinzahler, The New York Times Book Review

"An omnibus of myth busting."
—Ben Ratliff, The New York Times

"...a massive and impressive undertaking... Thoroughly researched, meticulously footnoted, and beautifully crafted, Thelonious Monk presents the most complete, most revealing portrait ever assembled of the man known as the high priest of bebop."
—Steve Greenlee, The Boston Globe

"Every step of Monk's musical journey is teased out in meticulous detail...whether he's charting the highs or lows of Monk's emotional swings, Kelley rarely strays from his central theme of an extraordinary talent pushing against the boundaries of his art."
—Publishers Weekly

"A wealth of historical context is richly studded with details of Monk's family background and the broader world in which he lived and worked... Likely the most thorough possible illumination of the man behind the legend."
—Library Journal

"Thelonious Monk was a true original… This affectionate biography fills in the fascinating and heart-wrenching backstory of an artist the world has always longed to know better."
—The Christian Science Monitor

"Robin D. G. Kelley's exhaustive, necessary, and as of now definitive [book] offers a Baedeker of sorts…Kelley has created a lush portrait of the private, off-camera Monk, one it would have been difficult to paint without the unprecedented access he had to the Monk family."
—David Yaffe, The Nation

"This is an authoritative tome that pulls aside, without completely lifting, the shroud of mystery that has long surrounded one of the most enigmatic figures in the history of jazz."
—Russ Musto, AllAboutJazz.com

"…as complete a picture of this complex, original and enigmatic artist as possible… this very welcome book is certain to be a go-to reference."
—Down Beat Magazine

"A seminal examination of the man and his music."
—Bay State Banner

"Kelley hopes to balance Monk's brilliance and historic achievements with his quirks and serious problems (bipolar disorder) to take the true measure of the man. Dedicated readers of jazz history and students of Cold War and Civil Rights Era culture won't be disappointed."
—The New Haven Advocate

"Robin Kelley's new biography Thelonious Monk: The Life and Times of an American Original is a breath of fresh air among the biographies of our legendary jazz musicians. This book is thorough, detailed, and written with a true affinity for Monk's humaneness and creative musical output. It fills in the missing pieces about the growth of the jazz scene in New York through the forties, fifties, and sixties, detailing each step of Monk's development—who passed through his bands, what gigs he played, and what happened on those scenes. It's an invaluable and close look at the center of the world's most important creative musical developments in those decades: New York City."
—Chick Corea, the Grammy-winning composer and pianist

"Thelonious Monk: The Life and Times of an American Original is one of the most anticipated books in jazz scholarship, and well worth the wait. Robin D. G. Kelley represents one of this generation's most important voices equipped with the knowledge, passion, and respect for both jazz and jazz musicians required to interpret the many details and nuances of Thelonious Monk's life. This compelling book will both challenge old assumptions and inspire new assessments of the life and legacy one of the world's greatest musicians."
—GERI ALLEN, pianist, composer, and Director of the Jazz Studies Department at the University of Pittsburgh

"Powerful, enraging, and enduring.... In Robin Kelley's finely grained and surely definitive life and-times study, Thelonious Monk, an American original, has found an original biographer."
—DAVID LEVERING LEWIS, biographer of W. E. B. Du Bois and Pulitzer Prize winner

"An honest and eloquent treatment of one of our most important artists, Thelonious Monk: The Life and Times of an American Original is a stunning tour de force! It is the most comprehensive treatment of Monk's life to date. Furthermore, in Monk's story, Kelley has found the perfect medium to shed light on a nation's and a people's history and persistent quest for freedom. In so doing he has given us a book that is as bold, brilliant, and beautiful as Monk and his music."
—FARAH JASMINE GRIFFIN, author of If You Can't Be Free, Be a Mystery: In Search of Billie Holiday