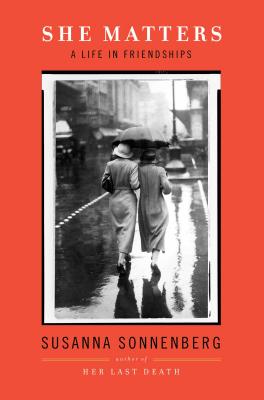 She Matters
A Life in Friendships
Hardcover

* Individual store prices may vary.
Other Editions of This Title:
Digital Audiobook (1/7/2013)
Paperback (9/10/2013)
Hardcover, Large Print (2/1/2013)
Description
From the bestselling "immensely gifted" (Michiko Kakutani, The New York Times) author of Her Last Death comes a stunningly candid, compulsively readable, intensely provocative book about female friendships.

The New York Times called Susanna Sonnenberg "immensely gifted," and Vogue, "scrupulously unsentimental." Entertainment Weekly described Sonnenberg's Her Last Death as "a bracing memoir about growing up rich and glamorous with a savagely inappropriate mother." Now, Sonnenberg, with her unflinching eye and uncanny wisdom, has written a compulsively readable book about female friendship.

T he best friend who broke up with you. The older girl at school you worshipped. The beloved college friend who changed. The friend you slept with. The friend who betrayed you. The friend you betrayed. Companions in travel, in discovery, in motherhood, in grief; the mentor, the model, the rescuer, the guide, the little sister. These have been the women in Susanna Sonnenberg's life, friends tender, dominant, and crucial after her reckless mother gave her early lessons in womanhood.

Searing and superbly written, Sonnenberg's She Matters: A Life in Friendships illuminates the friendships that have influenced, nourished, inspired, and haunted her—and sometimes torn her apart. Each has its own lessons that Sonnenberg seeks to understand. Her method is investigative and ruminative; her result, fearlessly observed portraits of friendships that will inspire all readers to consider the complexities of their own relationships. This electric book is testimony to the emotional significance of the intense bonds between women, whether shattered, shaky, or unbreakable.
Praise For She Matters: A Life in Friendships…
"In her stunning second memoir, a collection of linked essays, Sonnenberg finds universal truths in her experiences of female friendship."
— Meredith Maran

"She Matters is both a remembrance of vital friendships as well as a deeply absorbing portrait of the author herself…There are beautiful moments documented here…but ultimately She Matters is a deeply affecting ode to the ones who got away."
— Mythili Rao

"She Matters lingers with you, inviting you to construct a patchwork quilt of your own life and salute the many women who helped you along the way."
— Susan Chira

"Sonnenberg is a gifted literary stylist with a stunning ability to write sentences that read like beautiful traps…She Matters artfully reveals the depth and gravity of love between women as they make sense of the changing and often treacherous emotional and logistical terrain of their forward-moving lives."
— Emily Rapp

"I read She Matters with such a keen sense of recognition, seeing myself (and my own mistakes and victories) repeated in so many forms through the female friendships of her own that Sonnenberg examines so eloquently…Like all of us, I want to do better. I think (hope) this book can help."
— Elizabeth Gilbert, author of Eat, Pray, Love and Committed

"I was dazzled by this wise and intimate memoir about female friendship. Sonnenberg writes incredible sentences: precise, musical, surprising and insightful…Sonnenberg's engrossing stories of the highs and lows of her various friendships with women, made me feel newly grateful for all the crucial and complex women in my own life…Everyone should read this book."
— Karen Thompson Walker, author of The Age of Miracles

"Sonnenberg, who's aware of her passions and ambivalences, and doesn't hide from them, made me think about what a friendship is, anyway…She's written something that interests, exhausts, moves, perplexes, impresses and yes, matters."
— Meg Wolitzer

"She Matters is a dark and intriguing piece of writing…rewarding…rich…[Sonnenberg's] honesty has helped and will help me be more honest with myself within (and in regard to) friendships."
— Mary Pols

"Susanna Sonnenberg's book reminds us how profoundly we're affected by our friendships….You'll want to share this with, yes, a friend."

"Sonnenberg is a beautiful writer…In this gallery of friendships, the portrait of each woman is so well drawn we grasp their significance and savor the intimacy."
— Sherryl Connelly

"[Sonnenberg's] vivid prose is confessional and precise…Sonnenberg's intensity might be rough on friendships, but it makes for charged storytelling."
— Jenny Shank

"These are the stories of real women. Sonnenberg's hard-core honesty, sharp detail and lovely prose make this a collection worth passing on to a friend."
— Rochelle Olson

"Susanna Sonnenberg's She Matters is a cause for celebration…The book's honesty, eloquence, laugh-out-loud humor, finely wrought prose and magnificent scope will keep readers eagerly turning the pages…For readers who welcome a complex perspective beautifully rendered in writing, this book is not to be missed."
— Kelly Blewett

"It is one thing to talk about the value and importance of friendships between women and another thing entirely to offer up one's own friendships—the successes, the failures, the warmth, and the wrongdoing—by way of example and exploration To do the latter requires guts, candor, and a willingness to expose one's own weaknesses and mistakes. Sonnenberg rises to the challenge beautifully and with remarkable grace in She Matters."
— Rebecca Joines Schinsky

"Sonnenberg brings her considerable talent, unflinching eye, and electrifying prose to the topic of female friendship."

"Rarely does someone write a book about friendship between women that women can relate to the way they can relate to Sonnenberg's She Matters."

"With heart-rending precision, Sonnenberg offers an eloquent narrative that not only exposes but embraces the fraught nature of women's relationships with each other."

"Sonnenberg's strikingly honest depictions of tumultuous female alliances and confessions about friendships are both moving and relatable; her depth of reflection and incandescent prose marks this exceptional memoir as a must-read to share among friends."

"With remarkable candor, wit, and wisdom, Susanna Sonnenberg fearlessly examines her female friendships since childhood, brilliantly articulating the ways each sustained, sometimes devastated and ultimately defined her. She Matters: A Life in Friendships is a dazzling, poetic love letter to what women share, an unforgettable memoir you'll immediately want to pass along to friends."
— Kate Walbert, author of A Short History of Women

"She Matters is so finely nuanced, so joyously serious, so wildly playful—to live with it, page by page, is a deep pleasure. Sonnenberg is also so willing to push below the surface of what we call "friendship" (a surface, alas, most of us are willing to exist upon). Near the end, when we encounter the phrase "A perfect thing from dread pain," we recognize that is what we have in our hands—a perfect thing."
— Nick Flynn, author of The Reenactments

"Sonnenberg dances close to the fire on every page, unmasking female friendship as a liberating, dangerous and rigorous art. She Matters renders the messy self with gorgeous clarity. It's the truest, most human book I've read all year - generous, hilarious, ecstatic and profound."
— Carolyn Cooke, author of Daughters of the Revolution
Scribner, 9781439190586, 272pp.
Publication Date: January 8, 2013
About the Author
Susanna Sonnenberg is the author of Her Last Death. She lives in Montana with her family.
or
Not Currently Available for Direct Purchase