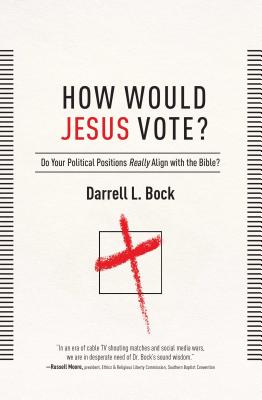 How Would Jesus Vote?
Do Your Political Views Really Align With The Bible?
Hardcover

* Individual store prices may vary.
Description
This eye-opening, non-partisan, and comprehensive look at what Jesus and the Bible can teach us about many of the hot-button topics of today's political landscape "does not simply call us to think outside the box, but to think outside our bias" (Chip Ingram, author of Culture Shock).

During every election year, we hear politicians on both sides of the aisle as well as religious leaders of every stripe claim to know—with absolute certainty—where Jesus and Christianity stand on their favorite issues. Jesus, of course, would vote exactly as they do. But would he?

Examining some of the most contentious political topics of our time in light of Scripture and the teachings of Jesus, the end goal of this book is not to promote a particular point of view but to objectively portray what the Bible says on political and cultural topics. Darrell Bock intends to provoke a different kind of conversation—one where differences are heard and respect is shared, a conversation where we can disagree passionately yet dialogue peacefully.
Praise For How Would Jesus Vote?: Do Your Political Views Really Align With The Bible?…
"Dr. Bock does not simply call us to think outside the box, but to think outside our bias."
— Chip Ingram, teaching pastor of Living on the Edge and author of Culture Shock

"How Would Jesus Vote? is the blueprint for those who want to see serious change in this country, from politicians to those who influence them. This is an excellent work!"
— Dorothy Burton, president and CEO of Christians in Public Service, Inc.

"If you don't know how Jesus would vote, you'll want to read this book; if you think you do know how Jesus would vote, you definitely need to read this book!"
— Greg Forster, director of the Oikonomia Network, Trinity International University

"This is a much-needed attempt to think 'Christianly' about the moral and political dilemmas of our day."
— Duane Litfin, president emeritus of Wheaton College

"This is a must read for any of us who desire to be effective for Christ in an increasingly hostile environment."
— Joseph Stowell, president Cornerstone University

"I recommend this book for all who want to honor God in their whole lives, including their politics."
— Michael Wear, founder of Public Square Strategies LLC and former White House Staff

"Dr. Bock challenges readers to engage vigorously but respectfully, keeping to the issues and avoiding personal attack. His call for a balance of conviction and compromise is one Christ-followers of every political persuasion would do well to heed."
— Don Hawkins, D. Min., former president of Southeastern Bible College, president of Encouragement Communications and The Worship Channel

"If you are looking for biblical thinking and sound reasoning to help you navigate changing times and politics, I highly recommend Dr. Darrell Bock as a trusted guide and biblical voice."
— John S. Dickerson, author of The Great Evangelical Recession and I Am Strong

"This book is wisdom for constructive Christian civil discourse in a rapidly changing social landscape."
— M. Daniel Carroll-Rodas, Blanchard Professor of Old Testament, Wheaton Graduate School and College

"Much of the discussion in Christian circles involves interpreting biblical texts through the eyes of political presuppositions rather than understanding the biblical text and applying it to the political dialogue. Dr. Bock's book is a corrective to this method."
— Hon. Rollin A. Van Broekhoven, Chancellor, Oxford Graduate School
Howard Books, 9781439190708, 272pp.
Publication Date: May 17, 2016
About the Author
Darrell L. Bock is Research Professor of New Testament Studies at Dallas Theological Seminary in Dallas, Texas. He also serves as Professor for Spiritual Development and Culture for the Seminary's Center for Christian Leadership. He is the New York Times bestselling author of Breaking the Da Vinci Code. His special fields include the historical Jesus, gospel studies, and the integration of theology and culture. He is a graduate of the University of Texas (BA), Dallas Theological Seminary (ThM), and the University of Aberdeen (PhD).
or
Not Currently Available for Direct Purchase