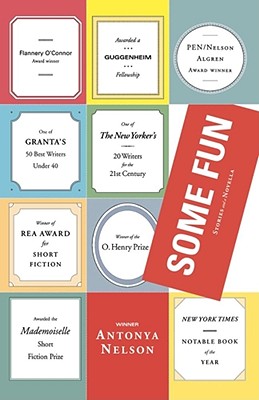 Some Fun (Paperback)
Stories and a Novella
Scribner, 9781439190920, 256pp.
Publication Date: April 1, 2010
Other Editions of This Title:
Hardcover (3/1/2006)
MP3 CD (8/2/2016)
* Individual store prices may vary.
About the Author
Antonya Nelson teaches creative writing at the University of Houston, and is the award-winning author of three novels and four short story collections. Her stories have appeared in The New Yorker, Harper's, and The Best American Short Stories. She divides her time among Texas, Colorado, and New Mexico.
Praise For Some Fun: Stories and a Novella…
"A master of the casually scathing observation . . . yet for every moment of sardonic humor in her work, Nelson shows one of vulnerability, and her writing is ultimately defined not by its cleverness but by its heart." -- The Atlantic Monthly



"I scan the tables of contents of magazines, looking for Antonya Nelson's name, hoping that she has decided to bless us again. She's absolutely one of my favorites among story writers today, and I envy the reader who has yet to discover her work." -- Michael Chabon



"Any lover of realistic narrative fiction about actual and unglamorous people will be greatly rewarded by the work of Antonya Nelson. Her voice is sure, her wit is quick, her observations continually resonate and her honesty is unwavering." -- Dave Eggers



"Nelson's prose is precise and energetic, and her insights delight because they manage to be at once surprising and so right as to seem inevitable." -- The New York Times Book Review



"Nelson has a pitch-perfect ear for the rhythms and unspoken subtexts of domestic life, and especially for the ways a family balances old grudges with the need to practice forgiveness." -- Francine Prose



"Nelson subtly depicts the mysterious and lasting influence of human transgressions . . . without ever preaching to her readers or losing her compassionate, comic edge." -- San Francisco Chronicle Book Review



"We see clearly what it is that the best young writers have to offer -- a kind of pizzazz, the love of undercurrent, of voyeuristic intensity, a bewildered fascination with ritual as it has been undermined in our time, yet sustained, too, in an oddly moving way. We also witness familial relationships from the bottom up." -- Raymond Carver



"I've been a Toni fan ever since I read a story of hers called 'The Salad' on my second or third day of graduate school. I read her newest collection so fast the pages are singed." -- David Foster Wallace



"Nelson's great gift is her ability to create characters so lovable -- even in the face of their many flaws -- that we will happily trail each one around for a while, scarcely caring if they are wrestling with a life-threatening crisis or taking the dog for a walk." -- The Village Voice