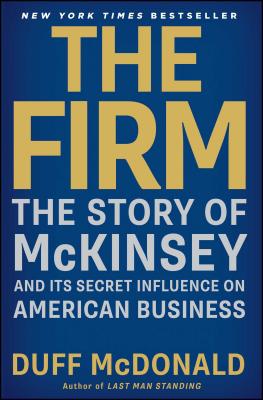 The Firm
The Story of McKinsey and Its Secret Influence on American Business
Paperback

* Individual store prices may vary.
Other Editions of This Title:
Digital Audiobook (9/9/2013)
Compact Disc (9/10/2013)
Hardcover (9/10/2013)
Compact Disc (9/10/2013)
MP3 CD (9/10/2013)
Description
The story of McKinsey & Co., America's most influential and controversial business consulting firm, "an up-to-date, full-blown history, told with wit and clarity" (The Wall Street Journal).

If you want to be taken seriously, you hire McKinsey & Company. Founded in 1926, McKinsey can lay claim to the following partial list of accomplishments: its consultants have ushered in waves of structural, financial, and technological change to the nation's best organizations; they remapped the power structure within the White House; they even revo­lutionized business schools. In The New York Times bestseller The Firm, star financial journalist Duff McDonald shows just how, in becoming an indispensable part of decision making at the highest levels, McKinsey has done nothing less than set the course of American capitalism.

But he also answers the question that's on the mind of anyone who has ever heard the word McKinsey: Are they worth it? After all, just as McKinsey can be shown to have helped invent most of the tools of modern management, the company was also involved with a number of striking failures. Its consultants were on the scene when General Motors drove itself into the ground, and they were K-Mart's advisers when the retailer tumbled into disarray. They played a critical role in building the bomb known as Enron.

McDonald is one of the few journalists to have not only parsed the record but also penetrated the culture of McKinsey itself. His access puts him in a unique position to demonstrate when it is worth hiring these gurus—and when they're full of smoke.
Praise For The Firm: The Story of McKinsey and Its Secret Influence on American Business…
"[T]hought-provoking . . . a fascinating look behind the company's success. . . . [The Firm] chronicles McKinsey's rise but also raises an important question about it that is applicable to the entire netherworld of consultants, advisers and other corporate hangers-on: 'Are they worth it or not?'"
— Andrew Ross Sorkin, The New York Times DealBook

"There have been other books about this American icon, but The Firm is an up-to-date, full-blown history, told with wit and clarity."
— The Wall Street Journal

"[T]hrough an expert accretion of damning detail, McDonald builds a convincing case that, for better and (mostly) worse, McKinsey became the quintessential American business of the 20th century."
— Bloomberg Businessweek

"A fascinating account of the rise of McKinsey. If you want to know what it is about the culture of the firm that sets it apart and has made it so successful, read this book."
— Liaquat Ahamed, Pulitzer Prize-winning author of Lords of Finance

"In this highly readable history, Duff McDonald brings us deep inside one of the smartest and most important firms doing business today – a place where no other journalist has taken us before. With his straightforward storytelling and thoughtful analysis, McDonald demystifies the secrets behind McKinsey's successes and offers concrete lessons on changing companies and practices for the better."
— Jamie Dimon

"In his superb examination of one of the most powerful, secretive, and least understood organizations on the planet, Duff McDonald finally solves the mystery, in elegant prose, of how McKinsey can be well known without anyone knowing anything about it. Thanks to McDonald, now we do."
— William D. Cohan, bestselling author of The Last Tycoons, House of Cards, and Money and Power

"Duff McDonald's new book about the people who built McKinsey, the consulting firm that has quietly influenced American business for decades, explains the firm's tremendous accomplishments—and its equally stunning failures. As McDonald shows, the firm's greatest success may well be itself. This is critical reading for anyone who wants to understand how the world of business really works."
— Bethany McLean, coauthor of the New York Times bestseller All the Devils Are Here

"McDonald has written the definitive history of McKinsey, and through McKinsey of the entire multibillion-dollar industry that is management consulting. It's a heartbreaking tale of wasted talent."
— Felix Salmon, finance blogger, Reuters

"Timely.… A fast-paced account of a key business institution, its deeds and misdeeds."
— Kirkus Reviews

"Revealing… McDonald combines a lucid chronicle of McKinsey's growth and
boardroom melodramas."
— Publishers Weekly

"[An] admiring book that nevertheless asks hard questions about the organization's future."
— The Economist
Simon & Schuster, 9781439190982, 400pp.
Publication Date: September 30, 2014
About the Author
A contributing editor at The New York Observer, Duff McDonald has also written for Vanity Fair, The New Yorker, New York magazine, Fortune, and Esquire, among other publications.