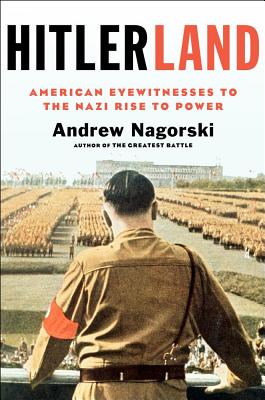 Hitlerland
American Eyewitnesses to the Nazi Rise to Power
Hardcover

* Individual store prices may vary.
Other Editions of This Title:
Paperback (3/19/2013)
MP3 CD (12/2/2014)
MP3 CD (3/19/2013)
MP3 CD (3/19/2013)
Compact Disc (3/19/2013)
Compact Disc (3/19/2013)
Description
Hitler's rise to power, Germany's march to the abyss, as seen by Americans—diplomats, military, expats, visiting authors, Olympic athletes—who watched horrified and up close.

Some of the Americans in Hitler's Germany were merely casual observers, others deliberately blind, a few were Nazi apologists. But most began slowly to understand what was unfolding, even when they found it difficult to grasp the breadth of the catastrophe.

Among the journalists, William Shirer understood what was happening. Edgar Mowrer, Dorothy Thompson, and Sigrid Schultz, reporters, were alarmed. Consul General George Messersmith distinguished. Truman Smith, the first American official to meet Hitler, was an astute political observer. Historian William Dodd, who FDR tapped as ambassador in Berlin, left disillusioned; his daughter Martha scandalized the embassy with her procession of lovers, Nazis she took up with; she ended as a Soviet spy.

On the scene were George Kennan, the architect of containment; Richard Helms, who rose to the top of the CIA. The writers Sinclair Lewis and Thomas Wolfe, famed aviator Charles Lindbergh, and the great athlete Jesse Owens came through Germany; so did a younger generation of journalists—Richard Hottelet, Hans V. Kaltenborn, Howard K. Smith, and Ed Murrow.

These Americans helped their reluctant countrymen begin to understand Nazi Germany as it ruthlessly eliminated political opponents, instilled hatred of Jews and anyone deemed a member of an inferior race, and readied its military and its people for a war for global domination. They helped prepare Americans for the years of struggle ahead.
Praise For Hitlerland: American Eyewitnesses to the Nazi Rise to Power…
"Andrew Nagorski has written an entertaining chronicle…'Hitlerland' brings back to life some early delusions about Hitler's rise that now seem unthinkable. Any reader trying to puzzle out today's world will be unsettled by the reminder of how easy it is to get things wrong." --The Economist

"riveting….this is a book that is full of things I never knew, and I found all of them interesting. It should be on everybody's 'must read' list who is interested in history."--The Daily Beast, Michael Korda

"Hitlerland is a bit of guilty pleasure... fascinating."-Washington Post

"Compulsively readable and deeply researched"-The Weekly Standard

"A compelling work for World War II history buffs or anyone who wants to understand how such devastating evil emerged while the world seemingly watched"– Library Journal

"An engrossing study of the times made more fascinating and incredible in retrospect...contextually rich...[a] well marshaled study."– Kirkus

"Andrew Nagorski, a deft storyteller, has plumbed the dispatches, diaries, letters, and interviews of American journalists, diplomats and others who were present in Berlin to write a fascinating account of a fateful era."

-Henry Kissinger

"Andrew Nagorski once again turns his perceptive, seasoned foreign correspondent's eye to a dramatic historical subject. This eye-opening account of the Americans in 1920s and 1930s Berlin offers a totally new perspective on a subject we thought we already knew. "

-Anne Applebaum, author of Gulag: A History

"Andrew Nagorski's Hitlerland is a fresh, compelling portrait of Nazi Germany, as seen through the eyes of a fascinating array of Americans who lived and worked there during Hitler's rise to power. The extraordinary saga of Putzi Hanfstaengl, a Harvard graduate who became Hitler's court jester, is just one of the many page-turning stories that makes Hitlerland a book not to be missed."
-Lynne Olson, author of Citizens of London

"The rise of Hitler and the Nazi state, one of the most consequential and profound narratives in all of world politics, receives compelling new treatment in Andrew Nagorski's outstanding Hitlerland. By illuminating the disparate experiences of the era's preeminent American diplomats, journalists, intellectuals and others, Nagorski has created an engrossing, harrowing and vividly drawn mosaic of eyewitness accounts to one of history's most phenomenal catastrophes."
-Gordon M. Goldstein, author of Lessons In Disaster: McGeorge Bundy and the Path to War in Vietnam

"At times deliciously gossipy, at times thoroughly chilling, Hitlerland offers countless novel insights into Germany's evolution from struggling democracy in the 1920s to totalitarian dictatorship in the 1930s. The intimate portraits from Hitler down add an almost tangible sense of the foibles, ambitions, insecurities and perversities of the relatively small top Nazi elite whose actions plunged our world into a catastrophe from which we are yet fully to recover. The Americans themselves come alive as a group of intense, enterprising journalists and diplomats faced with the greatest challenge of their lives."
-Misha Glenny, author of The Balkans 1804-1999

"This is an excellent, ably-written, in-depth, and well-illustrated treatment of a hitherto-overlooked aspect of the Third Reich: before, during , and even after its fall . . . a true gem . . . an entertaining read . . . "
— Military Advisor
Simon & Schuster, 9781439191002, 400pp.
Publication Date: March 13, 2012
About the Author
Andrew Nagorski served as Newsweek's bureau chief in Hong Kong, Moscow, Rome, Bonn, Warsaw, and Berlin. He is the author of six previous critically acclaimed books, including Hitlerland and The Nazi Hunters. He has also written for countless publications. Visit him at AndrewNagorski.com.
Coverage from NPR
or
Not Currently Available for Direct Purchase