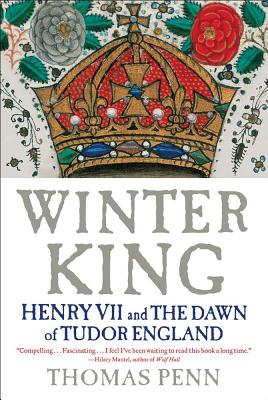 Winter King
Henry VII and the Dawn of Tudor England
Hardcover

* Individual store prices may vary.
Other Editions of This Title:
Digital Audiobook (3/5/2012)
Paperback (3/12/2013)
Audio Cassette (3/1/2012)
Hardcover (11/1/2011)
Paperback (3/1/2012)
Compact Disc (3/1/2012)
Compact Disc (3/6/2012)
Compact Disc (3/6/2012)
Description
A fresh look at the endlessly fascinating Tudors—the dramatic and overlooked story of Henry VII and his founding of the Tudor Dynasty—filled with spies, plots, counter-plots, and an uneasy royal succession to Henry VIII.

It was 1501. England had been ravaged for decades by conspiracy, violence, murders, coups and countercoups. Through luck, guile and ruthlessness, Henry VII, the first of the Tudor kings, had clambered to the top of the heap—a fugitive with a flimsy claim to England's throne. For many he remained a usurper, a false king.

But Henry had a crucial asset: his queen and their children, the living embodiment of his hoped-for dynasty. Queen Elizabeth was a member of the House of York. Henry himself was from the House of Lancaster, so between them they united the warring parties that had fought the bloody century-long Wars of the Roses. Now their older son, Arthur, was about to marry a Spanish princess. On a cold November day sixteen-year-old Catherine of Aragon arrived in London for a wedding that would mark a triumphal moment in Henry's reign.

In this remarkable book, Thomas Penn re-creates the story of the tragic, magnetic Henry VII—a controlling, paranoid, avaricious monarch who was entering the most perilous years of his long reign.

Rich with drama and insight, Winter King is an astonishing story of pageantry, treachery, intrigue and incident—and the fraught, dangerous birth of Tudor England.
Praise For Winter King: Henry VII and the Dawn of Tudor England…
"I feel I've been waiting to read this book a long time. It's a fluent and compelling account of the cost of founding the Tudor dynasty: of a clever, ruthless, enigmatic monarch, a refugee all his early life, king by right of conquest, prepared to harass and frighten his subjects into submission: a man content to be feared and not loved. The level of detail is fascinating and beautifully judged. The book shows what a mistake it is to regard these closing years of the reign simply as a curtain raiser for Henry VIII. I think that, for the first time, a writer has made me feel what contemporaries felt as Henry VII's reign drew to an end; the relief, the hope, the sudden buoyancy."
—Hilary Mantel, Author of Wolf Hall

"A wonderful read, as rich in character and drama as Wolf Hall, only shorter and true."
—John Carey, author of William Golding: The Man Who Wrote Lord of the Flies

"A definitive and accessible account of the reign of Henry VII that will alter our view not just of Henry, but of the country he dominated and corrupted, and of the dynasty he founded."
—Philippa Gregory, The Guardian (UK)

"As Thomas Penn shows us so vividly in Winter King, the first Tudor monarch is as fascinating as his son and his life story nearly as full of drama and incident."
—Martin Rubin, The Wall Street Journal


"Penn's book presents readers with the world of realpolitik as it was played out in the earliest years of the Tudor dynasty. . . . Here is a skillful reclamation project, an absorbing picture of the oft-overlooked architect behind one of the greatest, most controversial dynasties in English history. . . . Penn's story offers a rich pageant of players — agents and adversaries, courtiers and scholars, thugs and young aristocrats."
—Nick Owchar, Los Angeles Times


"A masterful account of a pivotal moment in English history. In this remarkable debut, Thomas Penn brings to life the reign of Henry VII, a fascinating ruler too long eclipsed by the tyrant he defeated and the famous son who succeeded him."
—James Shapiro, Professor of English, Columbia University, and author of Contested Will: Who Wrote Shakespeare?

"This is an exceptionally stylish literary debut. Henry VII may be the most unlikely person ever to have occupied the throne of England, and his biographers have rarely conveyed just what a weird man he was. Tom Penn does this triumphantly, and in the process manages to place his subject in a vividly-realised landscape. His book should be the first port of call for anyone trying to understand England's most flagrant usurper since William the Conqueror."
—Diarmaid MacCulloch, author of Christianity: The First Three Thousand Years

"Stunning. . . . This is not a new story—but in Penn's hands, it is a revelation. . . . Penn has pulled off a rare feat: a brilliant and haunting evocation of the Tudor world, with irresistible echoes of the age of fear in which we now live."
—Helen Castor, The Telegraph (UK)

"Winter King offers us the fullest, deepest, most compelling insight into the warped psychology of the Tudor dynasty's founder to have appeared since [Francis] Bacon wrote."
—John Guy, Financial Times

"Succeeds brilliantly . . . [a] finely drawn portrait . . . Penn's deft turn of phrase superbly re-creates the drama and personalities of the court."
—Tracy Borman, Sunday Times (London)

"With a sharp eye for detail and adroit use of a gifted historical imagination . . . [Thomas Penn] lets us hear the creak of oars and the scratch of pens, as well as the tubercular king fighting for every breath . . . Vigorous and thoroughly enjoyable."
—The Economist

"A tour de force."
—The Spectator

"Superb. . . . What makes this book so endlessly enjoyable is that it serves up the pathos, chaos, and human comedy that we don't know a lot about."
— Florence King

"Evocative. . . . The strength of this outstanding book lies in his ability to breathe life into the sorts of ceremonious scenes of court life portrayed in the books of hours belonging to Henry's great rivals on the Continent. . . . Engrossing and finely written."
— Miranda Seymour
Simon & Schuster, 9781439191569, 480pp.
Publication Date: March 6, 2012
About the Author
Thomas Penn is editorial director at Penguin Books UK. He holds a Ph.D. in medieval history from Clare College, Cambridge University, and writes for the Guardian, the Daily Telegraph, and the London Review of Books, among other publications.
Book Videos
or
Not Currently Available for Direct Purchase