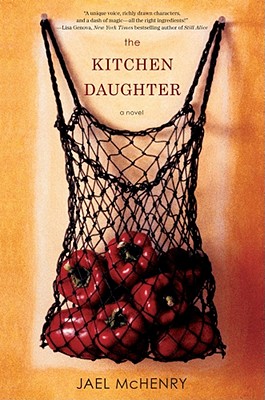 The Kitchen Daughter (Hardcover)
Gallery Books, 9781439191699, 304pp.
Publication Date: April 12, 2011
Other Editions of This Title:
Paperback (12/20/2011)
* Individual store prices may vary.
Description
After the unexpected death of her parents, painfully shy and sheltered 26-year-old Ginny Selvaggio seeks comfort in cooking from family recipes. But the rich, peppery scent of her Nonna's soup draws an unexpected visitor into the kitchen: the ghost of Nonna herself, dead for twenty years, who appears with a cryptic warning ("do no let her…") before vanishing like steam from a cooling dish.

A haunted kitchen isn't Ginny's only challenge. Her domineering sister, Amanda, (aka "Demanda") insists on selling their parents' house, the only home Ginny has ever known. As she packs up her parents' belongings, Ginny finds evidence of family secrets she isn't sure how to unravel. She knows how to turn milk into cheese and cream into butter, but she doesn't know why her mother hid a letter in the bedroom chimney, or the identity of the woman in her father's photographs. The more she learns, the more she realizes the keys to these riddles lie with the dead, and there's only one way to get answers: cook from dead people's recipes, raise their ghosts, and ask them.
About the Author
Jael McHenry is a talented and enthusiastic amateur cook who writes about food and cooking. She is a monthly pop culture columnist and editor-in-chief of Intrepid Media, online a IntrepidMedia.com. Her work has appeared in publications such as the North American Review, Indiana Review, and the Graduate Review at American University, where she earned her MFA in Creative Writing. She lives in New York City.
Praise For The Kitchen Daughter…
"This fresh, sharp story has as many layers as a good pâte à choux."

—O, The Oprah Magazine

"For Ginny Selvaggio, the protagonist of Jael McHenry's captivating debut novel, food is a kind of glossary and cooking provides its own magic, whether it's summoning the dead or softening the sharp edges of a world she finds neither comfortable nor familiar. THE KITCHEN DAUGHTER is sweet and bitter-sharp, a lush feast of a novel about the links between flavor and memory, family and identity."
- Carolyn Parkhurst, New York Times bestselling author of DOGS OF BABEL and THE NOBODIES ALBUM

"Magical, strong, and compelling, The Kitchen Daughter asks what is normal, how well do you know your family, and where does grief go? Jael McHenry blends seemingly unmixable ingredients into sustaining answers. I read this book in one satisfying gulp and smiled in comfort when I'd finished this distinctive, nourishing, and wise novel."
- Randy Susan Meyers, author of the international bestseller, THE MURDERER'S DAUGHTERS


"Jael McHenry's debut is a blast of fresh air, featuring an utterly original heroine who filters her view of an unpredictable world through her love of food. A fresh premise, terrific writing, and memorable characters blended beautifully - and made me devour The Kitchen Daughter."
-- Sarah Pekkanen, author of SKIPPING A BEAT and THE OPPOSITE OF ME

"Equal parts sweet and savory, THE KITCHEN DAUGHTER by Jael McHenry is a fresh story with all the comforts of home. Ginny's ability to conjure ghosts while dabbling in family recipes is so touching readers will want to pull up a stool. A heartwarming debut."
- Lynne Griffin, author of SEA ESCAPE and LIFE WITHOUT SUMMER

"This debut novel from Jael McHenry is everything you want in discovering a new writer. The Kitchen Daughter is subtle and effortless and emotional and lovely. The food and recipes aren't gimmicky add-ons, but integral to the momentum of the story -- and they make you want to run to the kitchen, except then you'd have to stop reading. It's a layered and satisfying tale."
- Stacey Ballis, author of GOOD ENOUGH TO EAT and THE SPINSTER SISTERS

"Gorgeously written and uniquely delicious, The Kitchen Daughter follows an endearingly awkward character after tragedy upsets the fragile order of her world. Jael McHenry is a true wordsmith who shines in evoking Ginny's perspective of family and food, her compelling sense of self, and her eventual understanding that you don't have to be like everyone else in order to belong. A feast of words that makes you glad to be a reader."
- Therese Walsh, author of THE LAST WILL OF MOIRA LEAHY

"A delectable family drama, The Kitchen Daughter whips up a sumptuous blend of suspense, magic and cooking. A nourishing debut."
—Allison Winn Scotch, New York Times bestselling author of The One That I Want

"The Kitchen Daughter is tender, charming and not at all what you expect—which is what makes it a true gem. A beautifully written, boldly thought out tale."
—Monica Holloway, author of Cowboy & Wills

"A unique voice, richly drawn characters, and a dash of magic—all the right ingredients!"
—New York Times bestseller Lisa Genova

"Add a pinch of magic, a dash of heartache, and a generous portion of lyrical beauty and you have The Kitchen Daughter, an enchanting tale of familial loss and quiet redemption––I loved it."
- Jamie Ford, New York Times bestselling author of HOTEL ON THE CORNER OF BITTER AND SWEET
or
Not Currently Available for Direct Purchase