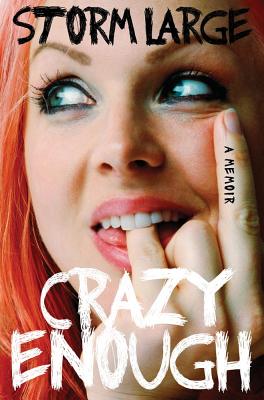 Crazy Enough
A Memoir
Hardcover

* Individual store prices may vary.
Other Editions of This Title:
Paperback (11/13/2012)
Description
Yes, Storm Large is her real name, though she's been called many things. As a performer, the majority of descriptions have led with "Amazon," "powerhouse," "a six-foot Vargas pinup come to life." Playboy called her a "punk goddess." You'd never know she used to be called "Little S"—the mini-me to her beautiful and troubled mother, Suzi.

Little S spent most of her childhood visiting her mother in mental institutions and psych wards. Suzi's diagnosis changed with almost every doctor's visit, ranging from schizophrenia to bipolar disorder to multiple personality disorder to depression. One day, nine-year-old Little S jokingly asked one of her mother's doctors, "I'm not going to be crazy like that, right?" To which he replied, "Well, yes. It's hereditary. You absolutely will end up like your mother. But not until your twenties."

Storm's story of growing up with a mental time bomb hanging over her veers from frightening to inspiring, sometimes all in one sentence. But her strength, charisma, and raw musical talent gave her the will to overcome it all. Crazy Enough is a love song to the twisted, flawed parts in all of us.
Praise For Crazy Enough: A Memoir…
"Storm Large is an irresistibly rambunctious force of nature. Crazy Enough is shattering, gorgeous and uproarious fun."--Katherine Dunn, author of Geek Love

"Storm Large has written a bodacious book, buy it, now!" --Gus Van Sant

"Like some twisted love child of Mae West and Keith Richards, Storm Large is a force of nature. Her ballsy, heartbreaking, hysterical tour de force of a memoir is not to be missed. Crazy Enough is vulgar and fragile, tragic and empowering, and like Storm, it is always entertaining." - - Chelsea Cain, New York Times bestselling author of Heartsick and The Night Season

"With cleverness and honesty, she transforms a story that in most hands would be maudlin into yet another funny, passionate, and irreverently jarring adventure."-- Portland Monthly

"Best recognized as a contender on Rock Star: Supernova, Large has the heart of a true exhibitionist...this project marks her first literary foray, and her memoir pulls no punches. A no-holds-barred coming-of-age story replete with mental illness, drugs and sex." --Kirkus Reviews

"We're in complete awe of the blunt, surprisingly memoir...told in honest, poignant prose... [Large shows] all of us how to let go—not without fear and doubt, but with it." --O magazine

"Storm Large performs with world-class symphonies and hard core rock bands...and she's written a book worthy of both audiences. If good writing is about taking chances and pushing readers to the edge, then this is a chart buster...as she takes us on a wild and sometimes painful ride into her world of crazy." --Larry Colton, author of Goat Brothers, Counting Coup and No Ordinary Joes

"A memoir that reads like an in-your-face mashup of Augusten Burroughs and Chelsea Handler, combining raw humor and an understandable bitterness with more than than a few oversexed anecdotes. Though not for the faint of heart, Crazy Enough proves to be a readable account of one woman's descent into madness--and back out again." --Shelf Awareness

"Frank, funny, and caustically un-self-pitying" --Publisher's Weekly

"It's too bad that readers can't have her actually in their lives and feel the true force of Storm, but her book is so true to who she is that it is still a powerful, funny, and outrageous experience. Plus, you won't have to deal with all of those strange sounds and dirty sheets." --Dan Stern, actor, director, writer

"In Crazy Enough, Large tells if not all then a whole lot about her loves, her heroin addiction, her eating disorder, and in her voice, it sounds like crazy fun... Crazy Enough is a good time of a survivor's story, full of funny stories and candid talk from a sex thug who really is, deep inside, a little girl waiting for her mother. " --The Oregonian

"A most moving and entertaining memoir...The story is edgy, gritty, and fearless, and leaves little to the imagination as large presents a no-holds barred journey through her formative years and into adulthood." --The Portland Observer

"A helluva compelling story" --Elle magazine

"Heartbreaking, hilarious and affecting...Crazy Enough is a starkly honest memoir, a tale of sexual triggering, drug dabbling, and trying to fit in and rebel at the same time." --Willamette Week
Free Press, 9781439192405, 288pp.
Publication Date: January 10, 2012
About the Author
Storm Large is a singer-songwriter best known as a contestant on the reality television show Rock Star: Supernova. Her acclaimed one-woman show, Crazy Enough, has appeared in the UK and Australia and is heading to off-Broadway in New York City.
Book Videos