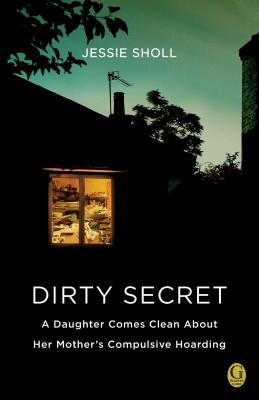 Dirty Secret
A Daughter Comes Clean About Her Mother's Compulsive Hoarding
Paperback

* Individual store prices may vary.
Description
A fascinating look at compulsive hoarding by a woman whose mother suffers from the disease.

To be the child of a compulsive hoarder is to live in a permanent state of unease. Because if my mother is one of those crazy junk-house people, then what does that make me?

When her divorced mother was diagnosed with cancer, New York City writer Jessie Sholl returned to her hometown of Minneapolis to help her prepare for her upcoming surgery and get her affairs in order. While a daunting task for any adult dealing with an aging parent, it's compounded for Sholl by one lifelong, complex, and confounding truth: her mother is a compulsive hoarder. Dirty Secret is a daughter's powerful memoir of confronting her mother's disorder, of searching for the normalcy that was never hers as a child, and, finally, cleaning out the clutter of her mother's home in the hopes of salvaging the true heart of their relationship—before it's too late.

Growing up, young Jessie knew her mother wasn't like other mothers: chronically disorganized, she might forgo picking Jessie up from kindergarten to spend the afternoon thrift store shopping. Now, tracing the downward spiral in her mother's hoarding behavior to the death of a long-time boyfriend, she bravely wades into a pathological sea of stuff: broken appliances, moldy cowboy boots, twenty identical pairs of graying bargain-bin sneakers, abandoned arts and crafts, newspapers, magazines, a dresser drawer crammed with discarded eyeglasses, shovelfuls of junk mail . . . the things that become a hoarder's "treasures." With candor, wit, and not a drop of sentimentality, Jessie Sholl explores the many personal and psychological ramifications of hoarding while telling an unforgettable mother-daughter tale.
Praise For Dirty Secret: A Daughter Comes Clean About Her Mother's Compulsive Hoarding…
"Sholl explores the psychological reasons why being merely a pack rat can erupt into full-blown hoarding. By the end you're sympathetic to both mother and daughter and understand how a parent's obsession can become a child's."
-- People magazine, 3.5 stars (out of 4)

"With her bold prose and ceaseless courage, Jessie Sholl tells a mother-daughter story like no other. Get ready for a visceral read: just a few pages in to DIRTY SECRET, you'll be scratching your ankles, dabbling your eyes, and -- when you're finished -- frantically cleaning your house."
- Stephanie Elizondo Griest, author of "Around the Bloc" and "Mexican Enough"

"Mining a story of damage inflicted and damage sustained, Jessie Sholl conjures a narrative of surprising interconnectedness, even uplift. Wry and illuminating, Dirty Secret is an empathic and insightful memoir."
--Dave King, author of THE HA-HA

"When a grown child tells the story of a troubled parent, three things are needed: exacting detail, unflinching honesty, and - most of all - unconditional love. Jessie Sholl's "Dirty Secret" beautifully contains them all."
- Dan Koeppel, author of "To See Every Bird on Earth: A Father, A Son, and A Lifelong Obsession"

"Suspenseful and novel-like, Dirty Secret is a wonderful, respectful introduction to the world of a hoarder and the tribulations suffered by both the individual who hoards and their family members."
-- Fugen Neziroglu, Ph.D. author of Overcoming Compulsive Hoarding: Why You Save and How You Can Stop

"From a literal mess of a childhood, Sholl has emerged to tell a compelling and sparkling-clean story that will captivate anyone who has ever tried to let go of the past."
-Elisabeth Eaves, author of "Bare" and Wanderlust"

"Sholl coaxes tragicomic elements from the depressing proceedings—as when everyone contracted a seemingly incurable case of scabies, courtesy of her mother's hellhole, or the time she discovered the cremated remains of her mother's longtime boyfriend buried under a pile of yarn, two lava lamps and a stack of old newspapers. Most poignant, though, is the secret shame and embarrassment of her mother's strangeness that Sholl lugged around for so many years. Eventually, she found sympathy and understanding... Affecting and illuminating."
- Kirkus Reviews

"[Sholl] offers a compelling and compassionate perspective on an illness suffered by an estimated six million Americans that has only recently been explored through reality television programs."
- Booklist
Gallery Books, 9781439192528, 336pp.
Publication Date: December 28, 2010
About the Author
Jessie Sholl's essays and stories have appeared in national newspapers and journals. She is coeditor of the nonfiction anthology Travelers' Tales Prague and the Czech Republic and a contributor to EverydayHealth.com. She holds an MFA from The New School University, where she currently teaches creative writing.