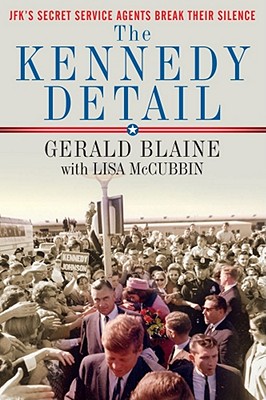 The Kennedy Detail
JFK's Secret Service Agents Break Their Silence
Hardcover

* Individual store prices may vary.
Other Editions of This Title:
Digital Audiobook (11/16/2010)
Paperback (11/15/2011)
MP3 CD (11/17/2010)
Compact Disc (11/17/2010)
Compact Disc (11/17/2010)
MP3 CD (11/17/2010)
Description
THE SECRET SERVICE. An elite team of men who share a single mission: to protect the president of the United States. On November 22, 1963, these men failed—and a country would never be the same. Now, for the first time, a member of JFK's Secret Service detail reveals the inside story of the assassination, the weeks and days that led to it and its heartrending aftermath. This extraordinary book is a moving, intimate portrait of dedication, courage, and loss.
Drawing on the memories of his fellow agents, Jerry Blaine captures the energetic, crowd-loving young president, who banned agents from his car and often plunged into raucous crowds with little warning. He describes the careful planning that went into JFK's Texas swing, the worries and concerns that agents, working long hours with little food or rest, had during the trip. And he describes the intensely private first lady making her first-ever political appearance with her husband, just months after losing a newborn baby.
Here are vivid scenes that could come only from inside the Kennedy detail: JFK's last words to his tearful son when he left Washington for the last time; how a sudden change of weather led to the choice of the open-air convertible limousine that day; Mrs. Kennedy standing blood-soaked outside a Dallas hospital room; the sudden interruption of six-year-old Caroline's long-anticipated sleepover with a friend at home; the exhausted team of agents immediately reacting to the president's death with a shift to LBJ and other key governmental figures; the agents' dismay at Jackie's decision to walk openly from the White House to St. Matthew's Cathedral at the state funeral.
Most of all, this is a look into the lives of men who devoted their entire beings to protecting the presidential family: the stress of the secrecy they kept, the emotional bonds that developed, the terrible impact on agents' psyches and families, and their astonishment at the country's obsession with far-fetched conspiracy theories and finger-pointing. A book fifty years in coming, The Kennedy Detail is a portrait of incredible camaraderie and incredible heartbreak—a true, must-read story of heroism in its most complex and human form.
***
A medic burst out of the trauma room, and instinctively Clint Hill took a step toward Mrs. Kennedy. "He's still breathing," the man said as he rushed past. Mrs. Kennedy stood up. "Do you mean he may live?" she asked.
No one answered.
Kellerman handed the phone back to Hill and rushed back into the trauma room.
"Clint, what happened?" Jerry Behn asked earnestly.
"Shots fired during the motorcade," Clint said as he kept an eye on Mrs. Kennedy across the hall. "It all happened so fast. We were five minutes away from the Trade Mart. . . . The situation is critical. Jerry, prepare for the worst. . . ."
The operator cut into the line, "Attorney General Robert Kennedy wants to talk to Agent Hill."
"What's going on down there?!" Bobby Kennedy demanded.
"Shots fired during the motorcade," Clint repeated. "The president is very seriously injured. They're working on him now. Governor Connally was hit too."
"Well, what do you mean, seriously injured? How serious?"
Clint swallowed hard. It was all he could do to keep it together. "It's as bad as it can get."
—From The Kennedy Detail: JFK's Secret Service Agents Break Their Silence
Gallery Books, 9781439192962, 448pp.
Publication Date: November 2, 2010
or
Not Currently Available for Direct Purchase