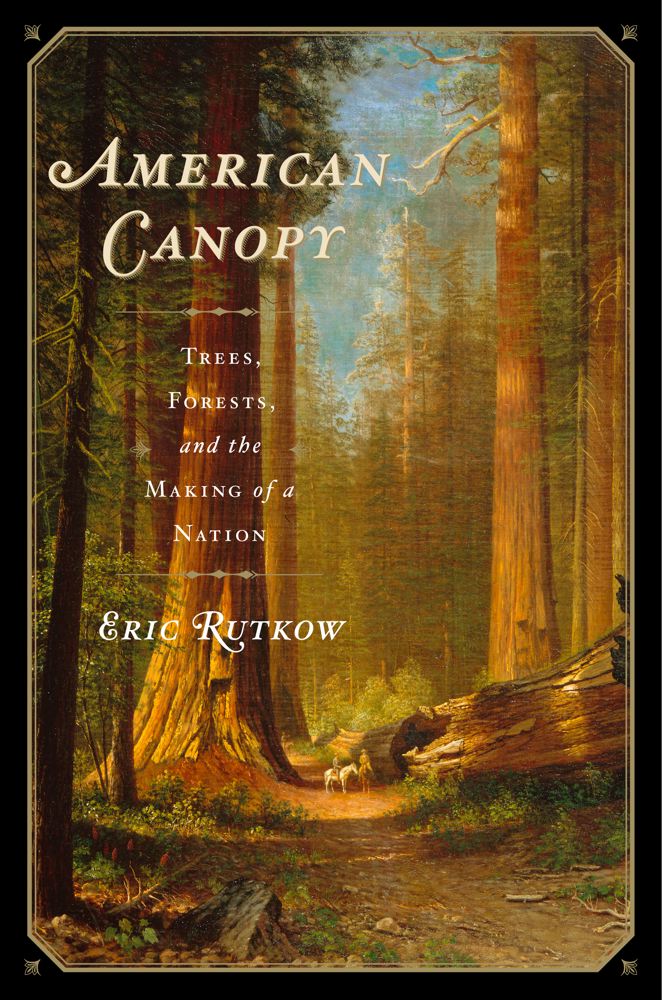 American Canopy
Trees, Forests, and the Making of a Nation
Hardcover

* Individual store prices may vary.
Other Editions of This Title:
Paperback (4/2/2013)
Description
In the bestselling tradition of Michael Pollan's Second Nature, this fascinating and unique historical work tells the remarkable story of the relationship between Americans and trees across the entire span of our nation's history.

This fascinating and groundbreaking work tells the remarkable story of the relationship between Americans and their trees across the entire span of our nation's history.

Like many of us, historians have long been guilty of taking trees for granted. Yet the history of trees in America is no less remarkable than the history of the United States itself—from the majestic white pines of New England, which were coveted by the British Crown for use as masts in navy warships, to the orange groves of California, which lured settlers west. In fact, without the country's vast forests and the hundreds of tree species they contained, there would have been no ships, docks, railroads, stockyards, wagons, barrels, furniture, newspapers, rifles, or firewood. No shingled villages or whaling vessels in New England. No New York City, Miami, or Chicago. No Johnny Appleseed, Paul Bunyan, or Daniel Boone. No Allied planes in World War I, and no suburban sprawl in the middle of the twentieth century. America—if indeed it existed—would be a very different place without its millions of acres of trees.

As Eric Rutkow's brilliant, epic account shows, trees were essential to the early years of the republic and indivisible from the country's rise as both an empire and a civilization. Among American Canopy's many fascinating stories: the Liberty Trees, where colonists gathered to plot rebellion against the British; Henry David Thoreau's famous retreat into the woods; the creation of New York City's Central Park; the great fire of 1871 that killed a thousand people in the lumber town of Peshtigo, Wisconsin; the fevered attempts to save the American chestnut and the American elm from extinction; and the controversy over spotted owls and the old-growth forests they inhabited. Rutkow also explains how trees were of deep interest to such figures as George Washington, Thomas Jefferson, Benjamin Franklin, Teddy Roosevelt, and FDR, who oversaw the planting of more than three billion trees nationally in his time as president.

As symbols of liberty, community, and civilization, trees are perhaps the loudest silent figures in our country's history. America started as a nation of people frightened of the deep, seemingly infinite woods; we then grew to rely on our forests for progress and profit; by the end of the twentieth century we came to understand that the globe's climate is dependent on the preservation of trees. Today, few people think about where timber comes from, but most of us share a sense that to destroy trees is to destroy part of ourselves and endanger the future.

Never before has anyone treated our country's trees and forests as the subject of a broad historical study, and the result is an accessible, informative, and thoroughly entertaining read. Audacious in its four-hundred-year scope, authoritative in its detail, and elegant in its execution, American Canopy is perfect for history buffs and nature lovers alike and announces Eric Rutkow as a major new author of popular history.
Praise For American Canopy: Trees, Forests, and the Making of a Nation…
"An original and often surprising take on American history." —Wall Street Journal

"There is much in this book on the prevalence of wood products in our life, but more on their deeper significance. This book is not merely a history, but an eloquent advocate of, as Rutkow writes, 'how trees change from enemy, to friend, to potential savior.'" —St. Louis Post-Dispatch

"A lively story of driven personalities, resources that were once thought to be endless, brilliant ideas, tragic mistakes and the evolution of the United States. Rutkow has cut through America's use and love of trees to reveal the rings of our nation's history and the people who have helped shape it." —San Diego Union Tribune

"An excellent book for both academics and general readers, this is highly recommended." -Library Journal

"An even-handed and comprehensive history that could not be more relevant...The woods, Rutkow's history reminds us again and again, are essential to our humanity." --Business Week

"A deeply fascinating survey of American history through a particularly interesting angle: down through the boughs of our vanished trees." -Boston Globe

"For those who see our history through the traditional categories of politics, economics, and culture, a delightful feast awaits. In this remarkably inventive book, Eric Rutkow looks at our national experience through the lens of our magnificent trees, showing their extraordinary importance in shaping how we lived, thrived, and expanded as a people. A beautifully written, devilishly original piece of work."

—David Oshinsky, Pulitzer Prize-winning author of Polio: An American Story

"Right from its quietly shocking prelude--the cavalier and surprisingly recent murder of the oldest living thing in North America--Eric Rutkow's splendid saga shows, through a chain of stories and biographical sketches that are intimate, fresh, and often startling, how trees have shaped every aspect of our national life. Here is the tree as symbol and as tool, as companion and enemy, as a tonic for our spirits and the indispensable ingredient of our every enterprise from the colonization voyages to the transcontinental railroad to Levittown. The result, both fascinating and valuable, is a sort of shadow history of America. Toward the end of his finest novel, F. Scott Fitzgerald writes that the 'vanished trees, the trees that had made way for Gatsby's house, had once pandered in whispers to the last and greatest of human dreams.' AMERICAN CANOPY retrieves those trees and does full-rigged (on tall, white pine masts) justice to the dream."

--Richard Snow, author of A Measureless Peril and former Editor-in-Chief of American Heritage

"AMERICAN CANOPY marks the debut of an uncommonly gifted young historian and writer. Ranging across four centuries of history, Eric Rutkow shows the manifold ways in which trees--and woodland--and wood--have shaped the contours of American life and culture. And because he has managed to build the story around gripping events and lively characters, the book entertains as much as it as informs. All in all, a remarkable performance!"

--John Demos, Samuel Knight Professor of History at Yale University, and author of Entertaining Satan, winner of the Bancroft Prize in American History, and The Unredeemed Captive, which was a finalist for the National Book Award
Scribner, 9781439193549, 416pp.
Publication Date: April 24, 2012
About the Author
Eric Rutkow is an assistant professor of history at the University of Central Florida in Orlando, and the author of The Longest Line on the Map. His first book, American Canopy: Trees, Forests, and the Making of a Nation (2012), received the Association of American Publishers' PROSE Award for US history and was named one of the top books of the year by Smithsonian magazine. He earned his BA and PhD from Yale and his JD from Harvard.
or
Not Currently Available for Direct Purchase