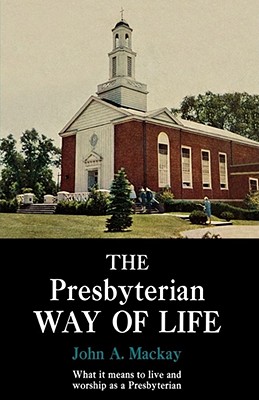 The Presbyterian Way of Life
Paperback

* Individual store prices may vary.
Description
In this edition to the A Way of Life series, prominent member of the Presbyterian church John A. Mackay provides insight on the history of Presbyterianism.

The A Way of Life book series includes titles written by well-known religious leaders to help readers learn what it is like to live as a member of the churches represented.

In this addition to the series, Presbyterian theologian, missionary, and educator John A. Mackay shares his experiences as a prominent and highly active member and leader of the Presbyterian church.

The Presbyterian Way of Life offers a complete and insightful look into the history of the religion, including its heritage, way of worship, and organization.

"Dr. Mackay knows and loves the Presbyterian Church. If there is anyone who may deservedly be called 'Mr. Presbyterian' of this generation, that man is John A. Mackay." —Kirkus Reviews
Simon & Schuster, 9781439194034, 256pp.
Publication Date: December 29, 2009
About the Author
John A. Mackay was a Presbyterian theologian, missionary, and educator known for his advocacy of the Ecumenical Movement and World Christianity.