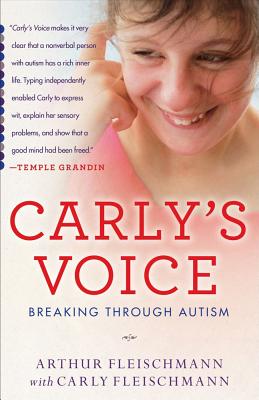 Carly's Voice (Hardcover)
Breaking Through Autism
Touchstone, 9781439194140, 400pp.
Publication Date: March 27, 2012
Other Editions of This Title:
Digital Audiobook (3/26/2012)
Paperback (9/18/2012)
Compact Disc (3/27/2012)
Pre-Recorded Audio Player (7/1/2012)
MP3 CD (3/27/2012)
Compact Disc (3/27/2012)
* Individual store prices may vary.
Description
The extraordinary and moving story of Carly Fleischmann, a teenager with severe autism who, through technology and today's social networks, has become a passionate advocate for kids everywhere.

At the age of two, Carly Fleischmann was diagnosed with severe autism and an oral motor condition that prevented her from speaking. Doctors predicted that she would never intellectually develop beyond the abilities of a small child. Although she made some progress after years of intensive behavioral and communication therapy, Carly remained largely unreachable. Then, at the age of ten, she had a breakthrough.

While working with her devoted therapists Howie and Barb, Carly reached over to their laptop and typed in "HELP TEETH HURT," much to everyone's astonishment.

This was the beginning of Carly's journey toward self-realization. Although Carly still struggles with all the symptoms of autism, which she describes with uncanny accuracy and detail, she now has regular, witty, and profound conversations on the computer with her family, her therapists, and the many thousands of people who follow her via her blog, Facebook, and Twitter.

In Carly's Voice, her father, Arthur Fleischmann, blends Carly's own words with his story of getting to know his remarkable daughter. One of the first books to explore firsthand the challenges of living with autism, it brings readers inside a once-secret world and in the company of an inspiring young woman who has found her voice and her mission.
About the Author
Arthur Fleischmann lives with his wife, Tammy Starr, and their three children, Matthew, Taryn, and Carly, in Toronto, Canada, where he is partner and president of john st. advertising.
Praise For Carly's Voice: Breaking Through Autism…
"Carly's Voice makes it very clear that a non-verbal person with autism has a rich inner life. Typing independently enabled Carly to express wit, explain her sensory problems, and show that a good mind has been freed." --Temple Grandin

"I have learned more from Carly about autism than any doctor or 'expert,' and she has helped me understand and connect with my son in ways I couldn't have imagined. Her book takes the autism conversation to new places and disproves the ridiculous notion that non-verbal people with autism don't have feelings and thoughts or are unintelligent. Carly is--for me--autism's fiercest and most valuable advocate." --Holly Robinson Peete, actress, author, and autism advocate

"Carly's Voice is the wishful slogan of a movement. Autism has spoken, and a new day has dawned. Carly's story is a triumph." --Richard M. Cohen, author of Strong at the Broken Places and Blindsided

"In this unsparing but affecting account . . . it's clear that while most people take the ability to communicate for granted, for Fleischmann it defines her daily struggles and miraculous successes. . . . [An] inspiring story." –Publishers Weekly

"To read along as [Carly] expresses her feelings in conversations with her father is almost as stunning as when she writes of life inside her autistic head. . . . Both heart-wrenching and deeply inspiring." –Kirkus Reviews

"For anyone who's ever fallen in love with their child, misjudged a person, had their heart broken and then restored, Carly's Voice is for you. Wise beyond her years, Carly takes us inside her world—a young girl who cannot speak, but has more to say than anyone I've ever met. This book is exquisitely written with courage, honesty, and, most of all, love. I've never read anything like it." —Monica Holloway, author of Cowboy & Wills and Driving with Dead People


"Throughout Arthur Fleischmann's exceptional memoir about his and wife Tammy's experience raising a
child with severe autism, it is the plaintive "voice" of the wordless-from-birth Carly that resonates. . . . It is Carly's chapter, written in her words, and her charm that set this memoir apart." –Booklist (starred review)

"A well-written story of one family's struggle, perseverance, and triumph in helping a child with autism find her voice. This book will benefit people with autism, their families, and all who interact with them." –Library Journal

"[Carly's] explanation of what it feels like—emotionally and physically—to have autism is eye-opening. Quite frankly, I think [her] chapter should be required reading for our society, especially as we head into Autism Awareness Month." --Parents.com

"Witty, sarcastic, and heartfelt, Carly's words shine with personality and intellect, her strength and determination adding sparkle and hope." --New York Journal of Books
or
Not Currently Available for Direct Purchase