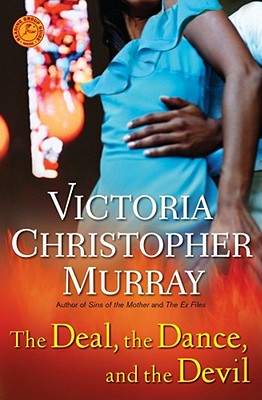 The Deal, the Dance, and the Devil (Paperback)
A Novel
Touchstone, 9781439194256, 416pp.
Publication Date: June 7, 2011
* Individual store prices may vary.
Description
What would you do for five million dollars? Adam and Evia Langston have lived in their own little garden of Eden since the two married at the age of seventeen. Working their way up from the humblest of beginnings, the Langstons have thrived beyond anything they could have ever imagined. Now they live in the finest home, drive the best cars, and indulge in all the trimmings that signify their massive success.

But then the recession hits and rips apart the family's financial stability. Unable to support their three children and other relatives, Adam and Evia find themselves drowning in financial trouble and teetering on the brink of complete disaster. With nowhere to turn, the Langstons have no idea what to do.

Until Shay-Shaunté, Evia's multimillionaire boss, comes to the Langstons with a five-million-dollar offer that seems so hard to refuse. Will the Langstons make this deal? Or will they recognize that the glitter of five million dollars may be far from gold?
About the Author
Victoria Christopher Murray is the author of more than twenty novels including: Greed; Envy; Lust; The Ex Files; Lady Jasmine; The Deal, the Dance, and the Devil; and Stand Your Ground, which was named a Library Journal Best Book of the Year. Winner of nine African American Literary Awards for Fiction and Author of the Year (Female), Murray is also a four-time NAACP Image Award Nominee for Outstanding Fiction. She splits her time between Los Angeles and Washington, DC. Visit her website at VictoriaChristopherMurray.com.
Praise For The Deal, the Dance, and the Devil: A Novel…
"Victoria is one of our best...an excellent storyteller."---Eric Jerome Dickey, New York Times bestselling author

"Victoria is an exceptional writer who knows how to deliver a story."---Kimberla Lawson Roby, author of Changing Faces

"Murray has always impressed me with her ability to live the life of her characters and make them come alive with each turning page." --- Indianapolis Recorder

I think I've found a new author to add to my list of favorites… Murray knows how to tell a story. I can't wait to read other books by this author. -Debbie Norrell, New Pittsburgh Courier

"Murray's story has the kind of momentum that prompts you to elbow disbelief aside and flip the pages in horrified enjoyment." --The Washington Post

"Murray's characters are extremely likable…Murray's fiction is Christian, it's not saccharine, and this page-turning take on the Faustian theme should satisfy fans and newcomers alike." --WalMart BookPage