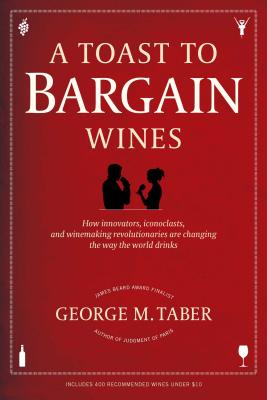 A Toast to Bargain Wines: How Innovators, Iconoclasts, and Winemaking Revolutionaries Are Changing the Way the World Drinks (Paperback)
How Innovators, Iconoclasts, and Winemaking Revolutionaries Are Changing the Way the World Drinks
Scribner Book Company, 9781439195185, 311pp.
Publication Date: April 4, 2016
Description
THE ACCLAIMED AUTHOR OF JUDGMENT OF PARIS EXPLORES THE THRIVING BUSINESS OF BARGAIN WINES AND OFFERS HIS RECOMMENDATIONS FOR THE BEST VALUES. Is inexpensive wine any good? Award-winning author George M. Taber shows that it is, examining the paths to success of the world's best-selling bargain brands. Taber helps readers learn to trust their taste and make informed decisions when confronting wine lists, and reveals how innovators are turning the old vin ordinaire into something extraordinaire. A Toast to Bargain Wines is an accessible mix of history, business, and reference, and includes a two-part guide to the world's best buys: George's ten favorite bargains of every varietal (plus two splurges in each category), then ten value brands from twelve regions around the world. Casual wine drinkers and connoisseurs alike will benefit from this insider's guide to finding and enjoying good wine--at a great price.
Praise For A Toast to Bargain Wines: How Innovators, Iconoclasts, and Winemaking Revolutionaries Are Changing the Way the World Drinks…
"One of today's finest wine journalists, GeorgeTaber once again gets the scoop before it hits the headlines. First it was the JUDGMENT OF PARIS. Now it's the news that, amid all the woes ofthe Great Recession, there's one thing worth celebrating: more great wine onthe market at bargain prices than anyone ever thought imaginable. A TOAST TO BARGAIN WINES tells you why--andwhere to find them."
--Tilar Mazzeo, author of The Widow Clicquot



"A timely, interesting, educational approach to today's wine picture. Wine still makes a feast out of a meal, but in times of not so plenty we will enjoy a bottle that is more reasonable. This tome is a must-read for wine lovers as well as the trade."
--Margrit Mondavi, Vice President of Cultural Affairs at Robert Mondavi Winery



"There's been a mutiny in the wine world, and for years, George Taber has been camped out in the trenches with the contrarians who have been drinking snobbery under the table: the rogue masters of wine, the behavioral neuroscientists, the bargain-wine tycoons, the guerrilla consumer advocates. With the intimate precision of a world-class journalist, Taber has woven their stories together into a larger narrative about the demise of conventional wisdom in an industry that has been dominated by dusty elitism for centuries. This book is essential reading for anyone who wants to understand wine's newly changed landscape—or who simply wants to drink better for less."
--Robin Goldstein, author of The Wine Trials and director of the Center for Sensory Economics at the Culinary Institute of America



"A must-read for wine enthusiasts, especially those on a budget." --Kirkus
Advertisement