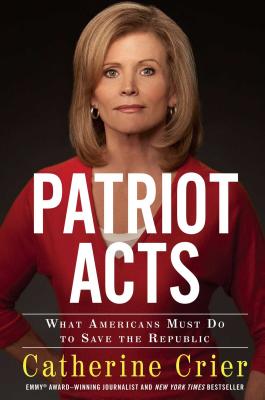 Patriot Acts
What Americans Must Do to Save the Republic
Paperback

* Individual store prices may vary.
Other Editions of This Title:
Digital Audiobook (10/31/2011)
Description
WHY WE NEED THE TRUTH, THE WHOLE TRUTH, AND NOTHING BUT THE TRUTH

The noise from both Washington and the media is deafening, the deeds of our lawmakers alarming. America needs a break from the posturing and the politicking. We need information: how we got here and where we are headed. Catherine Crier, one of the most respected figures in television journalism, presents an incisive, unbiased analysis of America's political crisis—delivering a message we cannot afford to ignore.

America must move beyond political parties to invest in our nation's future. Not just with money, but with vision, wisdom, and reason. Looking back at the foundations of our country, from Adam Smith to Alexander Hamilton, from Jefferson to Roosevelt, Crier cuts through the nonsense to show what really works and doesn't work for our nation today, including:

• The staggering disconnect between the financial health of corporations and the well-being of consumers that defies everything Adam Smith wrote about free enterprise.

• The role that government must play in regulations and job creation—and how the Republican Party's anti-government rhetoric would appall the founders of American conservatism.

• Why our health care system is not the best in the world, but the most mismanaged and bloated, and how to change it.

• How today's vitriolic, partisan politics are in direct opposition to the very democracy on which our country is founded.

***

Americans love our country deeply, and when told we're losing it, nothing can stop us from fighting. But there seems to be a lot of confusion these days about the mission. What exactly did the Founders establish? What is now at risk, and what must be done to preserve the Republic? . . . Our Founders created a constitutional government that would protect and promote a free and diverse society. Those who argue otherwise are misleading you intentionally or are ignorant of historical facts. As a patriot, I believe that our founding principles and system of governing are not negotiable. We must recognize the difference between honest debate over policies and philosophy and those measures that skew or upend our extraordinary system for partisan advantage. Such tactics may produce short-term gains, but in the end, everyone loses. —From Patriot Acts
Threshold Editions, 9781439195437, 288pp.
Publication Date: January 10, 2015
About the Author
An Emmy and duPont-Colombia Award-winning journalist, and the youngest state judge to ever be elected in Texas, Catherine Crier is now a managing partner in Cajole Entertainment developing television, film and documentary projects. Crier, a native of Dallas, is the New York Times bestselling author of DEADLY GAME and THE CASE AGAINST LAWYERS. She has appeared on CNN, ABC News, Fox News, and Court TV, where she has her own show, Catherine Crier Live.