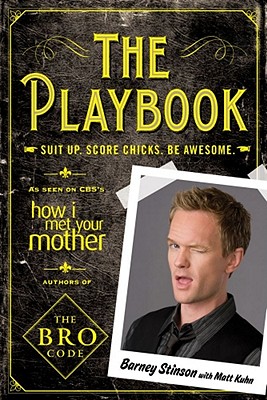 The Playbook
Suit up. Score chicks. Be awesome.
Paperback

* Individual store prices may vary.
Other Editions of This Title:
Digital Audiobook (10/4/2010)
Paperback (10/1/2010)
CD-Audio (10/5/2010)
Description
Bestselling author of The Bro Code, Barney Stinson of How I Met Your Mother fame, presents The Playbook—like Neil Strauss's The Game for Bros, The Playbook offers advice on the many creative and resourceful ways Barney's developed to wine, dine, and score with "The Ladies."

Since the dawn of history man has searched for the answer to the most fundamental of questions: "Why am I here…not banging chicks?" The search is over. Now, with the help of The Playbook, you'll be able to approach any beautiful woman, discover her innermost passion, and use that to trick her into sleeping with you. You'll master more than seventy-five seduction techniques, developed by pickup guru and all-around good guy Barney Stinson, guaranteed to turn you into a bona fide ladies' man. Featuring the famous plays including:

· The Lorenzo Von Matterhorn
· Mrs. Stinsfire
· The Ted Mosby
· The Time Traveler
· The "SNASA"
· The Scuba Diver
· The "He's Not Coming"

…and other greatest hits from Barney Stinson's secret Playbook of legendary moves. So suit up and get ready to be schooled in awesomeness.
Gallery Books, 9781439196830, 176pp.
Publication Date: October 5, 2010
About the Author
Barney Stinson is awesome. He works for a powerful bank in New York City but somehow finds time to "suit up" and help the less fortunate, in particular his lovelorn and all together pathetic bro Ted Mosby—seriously, that dude's got probs. When Barney's not staging private bikini calendar shoots, test-driving tanks, or elbow-deep in another legendary activity, like riding a tiger bareback or blowing up a guitar, he can be seen on the hit CBS show How I Met Your Mother with his friends Ted, Robin, Lily, and Marshall.

Matt Kuhn is a staff writer for the CBS hit show How I Met Your Mother and also produces Barney's Blog for the show's website. He lives in Los Angeles, California, which is conveniently where he works.