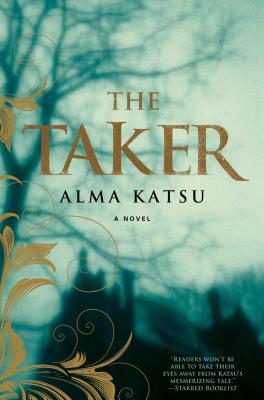 The Taker
Book One of the Taker Trilogy
Hardcover

* Individual store prices may vary.
Other Editions of This Title:
Digital Audiobook (9/5/2011)
Paperback (5/11/2021)
Paperback (3/27/2012)
Mass Market (2/26/2013)
Paperback (4/1/2011)
Paperback (10/1/2011)
Description
From the author of The Hunger—hailed by Stephen King as "deeply, deeply disturbing, hard to put down"—comes a hauntingly atmospheric tale replete with alchemy, lust, and betrayal.

True love can last an eternity...but immortality comes at a price...

On the midnight shift at a hospital in rural Maine, Dr. Luke Findley is expecting another quiet evening of frostbite and the occasional domestic dispute. But the minute Lanore McIlvrae—Lanny—walks into his ER, she changes his life forever. A mysterious woman with a past and plenty of dark secrets, Lanny is unlike anyone Luke has ever met. He is inexplicably drawn to her...despite the fact that she is a murder suspect with a police escort. And as she begins to tell her story, a story of enduring love and consummate betrayal that transcends time and mortality, Luke finds himself utterly captivated.

Her impassioned account begins at the turn of the nineteenth century in the same small town of St. Andrew, Maine, back when it was a Puritan settlement. Consumed as a child by her love for the son of the town's founder, Lanny will do anything to be with him forever. But the price she pays is steep—an immortal bond that chains her to a terrible fate for all eternity. And now, two centuries later, the key to her healing and her salvation lies with Dr. Luke Findley.

Part historical novel, part supernatural page-turner, The Taker is an unforgettable tale about the power of unrequited love not only to elevate and sustain, but also to blind and ultimately destroy, and how each of us is responsible for finding our own path to redemption.
Praise For The Taker: Book One of the Taker Trilogy…
"Readers won't be able to tear their eyes away from Katsu's mesmerizing tale." —Starred Booklist

"Alchemy and love prove a volatile mix in Katsu's vividly imagined first novel ... Katsu shows considerable skill in rendering a world where Adair's unspeakable evilness and Lanny's wild passion make the supernatural seem possible. The result is a novel full of surprises and a powerful evocation of the dark side of romantic love." —Publishers Weekly

"Alma Katsu's The Taker is a frighteningly compelling story about those most human monsters—desire and obsession. It will curl your hair and keep you up late at night." —Keith Donohue, bestselling author of The Stolen Child

"Alma Katsu's searing tale of otherworldly lovers and eternal obsession will seduce you from page one. With its elegant prose and riveting plot, The Taker is as irresistible as the hauntingly beautiful, pleasure-seeking immortals who scorch its pages. A wicked, sensuous, shattering love story that I can't recommend enough. You have to experience it for yourself!" —Kresley Cole, #1 New York Times bestselling author

"Alma Katsu's debut takes the reader on a spell-binding journey through time. This sensual tale of star-crossed love, betrayal and redemption is a rare and addictive treat. Pleasurable from page one." —Danielle Trussoni, New York Times bestselling author of Angelology

"The Taker is a sexy, dark romance. Alma Katsu's tale of immortality and unrequited love covers hundreds of years but never strays from this question: What price are we willing to pay to completely possess another?" —Alexi Zentner, author of Touch

"A centuries-spanning epic that will keep you turning pages all night. This marvelous debut is a thinking person's guilty pleasure." —Scott Westerfeld, New York Times bestselling author of Leviathan

"Alma Katsu's addictive tale of immortal love is brutal, wrenching, and ultimately moving. Gothic and richly detailed, The Taker it is an astonishing good read." —Meg Waite Clayton, bestselling author of The Wednesday Sisters

"This is a great book. And by great, I mean, devastatingly so, like reading The Scarlet Letter, while riding a roller coaster, on acid. Seductive, daring, soaring, and ultimately gut-wrenching, The Taker is a lush, historical rendering of transcendent love, paranormal beings, and the depths of pain that can be felt by immortal hearts." —Jamie Ford, New York Times bestselling author of Hotel on the Corner of Bitter and Sweet

"It renews a genre...and makes it intimate again." —Locus Magazine


Looking for a good read? Get ready to hear about a time-transcending page turner. Two years ago,having just finished The Vampire Chronicles by Anne Rice and The Twilight Series by Stephanie Meyer, I was still hungry for more of the supernatural. My only hesitation was that I wanted something a little more plausible than blood-sucking vampires. As fate would have it, I stumbled upon The Taker by Alma Katsu. Dutifully, I checked reviews before purchasing the book. How I hadn't heard of it prior to then is beyond me, as the book was insanely well-receiveda nd only growing in popularity. I took the novel home and was blown away by the captivating story of an impressionable young woman, the "Adonis" who she falls in love with and the "monster" who falls in love with her. Lanore, Jonathan and Adair had me spellbound like no other characters have. The Taker satiated my need for the supernatural, but was unique in it's portrayal of everlasting love and unrelenting obsession, both of which know no boundaries for these characters. The second installment, The Reckoning, was equally fascinating—the never-ending love chase propelling the jump between several different time periods and beautiful locations all over the world. Finally, the end of this twisted tale will come to an end with Katsu's final installment, The Descent.
— Jennifer Castro, Cliche Magazine
Gallery Books, 9781439197059, 448pp.
Publication Date: September 6, 2011
About the Author
Alma Katsu was born in Alaska and raised near Concord, Massachusetts. She has a BA in writing from Brandeis University and an MA from the Johns Hopkins Writing Program. She is the author of the Taker trilogy (The Taker, The Reckoning, and The Descent) and The Hunger. She lives with her husband in Virginia. Visit her on Twitter @AlmaKatsu.
or
Not Currently Available for Direct Purchase