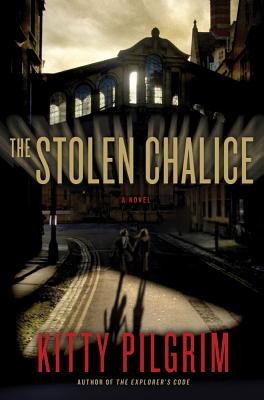 The Stolen Chalice (Hardcover)
Scribner Book Company, 9781439197288, 372pp.
Publication Date: June 26, 2012
* Individual store prices may vary.
or
Not Currently Available for Direct Purchase
Description
Veteran CNN journalist Kitty Pilgrim follows her acclaimed thriller debut, The Explorer's Code, with a riveting page-turner combining the glamour of the international art world and a devastating terrorist plot. CNN veteran Kitty Pilgrim returns with her second novel featuring the beautiful young oceanographer Cordelia Stapleton and the dashing, urbane archaeologist John Sinclair. Set in the international art world, The Stolen Chalice takes readers across the globe. Bombings, kidnappings, and Sinclair's old love conspire against the couple as they search for valuable Egyptian art. The black-tie gala at the Metropolitan Museum of Art promises to be a star-studded evening. Cordelia Stapleton and John Sinclair have flown in from Alexandria, Egypt, to help celebrate ancient Greek, Roman, and Egyptian culture with New York's elite. The influential crowd of artists, collectors, scientists, and New York society dine and dance at the museum's historic Temple of Dendur, unaware that terrorists are planning to attack. Fortunately, museum security and police stop the terrorists, but the evening is a disaster. The next morning, Cordelia and Sinclair learn that an art theft ring struck New York while they were at the museum. All over the city, pieces of Egyptian art have been stolen. Ted VerPlanck--a pillar of New York society whom Cordelia met the night before--discovers that his penthouse apartment was robbed and the legendary Sardonyx Cup, an ancient Egyptian chalice, is missing. Ted asks John Sinclair to help him recover his precious artifact. Despite Cordelia's objections, Sinclair calls on his old flame the Egyptologist Dr. Holly Graham to help find the chalice. They discover the stolen art is being sold on the black market to fund an international terrorist group. The group's leader, a sinister Egyptian anarchist, and his aristocratic British partner, Lady Xandra Sommerset, are planning a biological-weapon attack to topple the major governments of the world. Aided by British and American security forces, Sinclair sets out to find the missing art, which holds clues to where and when the attack will take place. Pieces of stolen art are scattered around the world. The action moves from a sprawling ranch in Jackson Hole, Wyoming, to a castle on Scotland's rugged coastline, a beautiful two-hundred-foot yacht in the Mediterranean, the mysterious canals of Venice, the premier beach resort of Sharm el-Sheikh, and ultimately Cairo. Romance sizzles as Sinclair, Cordelia, and Holly Graham are caught in a love triangle, distracted by their emotions, and unknowingly moving closer to mortal danger. Superstition and science meet head-on. And one question remains unanswered--does the Sardonyx Cup have special powers?
About the Author
Award-winning CNN correspondent Kitty Pilgrim has turned her journalistic talents to writing fiction. She is the recipient of an Overseas Press Club Award, a Peabody Award, New York Society of Black Journalists Award, and is a full member of the historic Explorer's Club. She lives in New York City and Rhinecliff, New York.
Praise For The Stolen Chalice…
"What a page turner! I always knew Kitty Pilgrim could write down and report the facts. Now she has turned her journalistic skills and keen understanding of the world to pen an exciting novel. The Explorer's Code takes you on a wild ride to exotic places filled with greed, intrigue, suspense and colorful characters -- rich, beautiful people and villains worth hating. Oh - and the heroes are science geeks! There's nothing more I could ask for from a thriller." -- Miles O'Brien, Science Correspondent, PBS New Hour



"Captivating characters, scientific intrigue, polar exploration, and romantic tension all wrapped up in a mad dash around the world that will leave you breathless! Only Kitty Pilgrim could so deftly bring together this story of Russian oligarchs, the 1918 flu epidemic, St Paul's letter to the Ephesians, the twisted roads of the Cote D'Azur, and the rarified air of the well-heeled into such a vivid and unforgettable novel. I could not put it down.".
-- Christine Romans, CNN host and author of Smart is the New Rich



"Kitty Pilgrim crafts a rollicking good read in The Explorer's Code, an intelligent thriller that races from one romantic and exotic dateline to the next, propelled by characters who are smart, sexy and sinister. A must read for anyone who loves adventure with a brain. Guaranteed to leave you chilled, breathless and demanding a sequel!" -- Martin Savidge, International Correspondent, CNN



"By land, by air, by sea...Kitty Pilgrim spins a fast-paced mystery packed with roller-coaster ups and downs and an irresistible heroine like no other -- Cordelia Stapleton." -- Nancy Grace, Television host and author of Destiny on the D-List



"I love a journey filled with adventure, intrigue and twists and turns. In The Explorers Code, Kitty nailed it. Her character development is flawless and in Cordelia Stapleton is an irresistible intellect and strength that draws you into each moment, page by page. You are just waiting for her to fall in love. This adventure surely doesn't disappoint! I'm already looking forward to what's next from Kitty!" -- AJ Hammer, "Showbiz Tonight" CNN Headline News




"A masterful debut sure to appeal to fans of Iris Johansen and Sandra Brown." —Carol Haggas, Booklist



"CNN correspondent Pilgrim's entertaining debut focuses on a classic theme: the search for missing treasure…(There's) a whirlwind hunt from one exotic locale to the next…a storybook romance, odious and loathsome villains, Hollywood settings--it all works, providing a heady and highly engaging mix." —Publishers Weekly



"By land, by air, by sea...Kitty Pilgrim spins a fast-paced mystery packed with roller-coaster ups and downs and an irresistible heroine like no other -- Cordelia Stapleton." —Nancy Grace, Television host and author of Destiny on the D-List
Advertisement