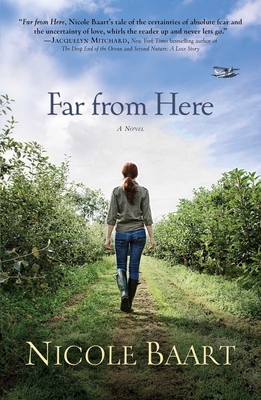 Far from Here
A Novel
Paperback

* Individual store prices may vary.
Other Editions of This Title:
Digital Audiobook (4/5/2012)
Description
From the author of Summer Snow—a suspenseful, breathtaking novel about true love, starting over, and finding the truth…at all costs.

How long do you hold on to hope?

Danica Greene has always hated flying, so it was almost laughable that the boy of her dreams was a pilot. She married him anyway and together, she and Etsell settled into a life where love really did seem to conquer all. Danica is firmly rooted on the ground in Blackhawk, the small town in northern Iowa where they grew up, and the wide slashes of sky that stretch endlessly across the prairie seem more than enough for Etsell. But when the opportunity to spend three weeks in Alaska helping a pilot friend presents itself, Etsell accepts and their idyllic world is turned upside down. It's his dream, he reveals, and Danica knows that she can't stand in the way. Ell is on his last flight before heading home when his plane mysteriously vanishes shortly after takeoff, leaving Danica in a free fall. Etsell is gone, but what exactly does gone mean? Is she a widow? An abandoned wife? Or will Etsell find his way home to her? Danica is forced to search for the truth in her marriage and treks to Alaska to grapple with the unanswerable questions about her husband's mysterious disappearance. But when she learns that Ell wasn't flying alone and that a woman is missing, too, the bits and pieces of the careful life that she had constructed for them in Iowa take to the wind. A story of love and loss, and ultimately starting over, Far From Here explores the dynamics of intimacy and the potentially devastating consequences of the little white lies we tell the ones we love.
Praise For Far from Here: A Novel…
"Nicole Baart is a writer of immense strength. Her lush, beautiful prose, her finely drawn characters, and especially her quirky women, all made Far From Here a book I couldn't put down."
— Sandra Dallas, New York Times bestselling author of Prayers for Sale and The Bride's House

"Far From Here was a rare journey to a place that left me healed and renewed by the end of this beautiful, moving novel. A tribute to love in all its forms—between a man and a wife, between sisters, and among mothers and daughters—my heart ached while I read Far From Here, but it ached more when I was done and there were no more pages to turn."
— Nicolle Wallace, New York Times bestselling author of Eighteen Acres

"Nicole Baart is a huge talent who has both a big voice and something meaningful to say with it. Far From Here is a gorgeous book about resilient people living in a broken world, finding ways to restore hope and even beauty in the pieces."
— Joshilyn Jackson, author of Gods in Alabama and A Grown-Up Kind of Pretty

"Far From Here, Nicole Baart's tale of the certainties of absolute fear and the uncertainty of love whirls the reader up and never lets go."
— Jacquelyn Mitchard, New York Times bestselling author, The Deep End of the Ocean, and Second Nature: A Love Story

"This gorgeously composed novel is a candid and uncompromising meditation on the marriage of a young pilot and his flight-fearing wife, their personal failings, and finding the grace to move beyond unthinkable tragedy. . . . Pulsing with passion and saturated with lush language, Baart's [Far From Here] will leave an indelible mark." —Publisher's Weekly, starred reveiw
Howard Books, 9781439197332, 352pp.
Publication Date: February 7, 2012
About the Author
Nicole Baart is the mother of five children from four different countries. The cofounder of a nonprofit organization, One Body One Hope, she lives in a small town in Iowa. She is the author of nine previous novels, including You Were Always Mine, Little Broken Things, and The Beautiful Daughters. Learn more at NicoleBaart.com.
or
Not Currently Available for Direct Purchase