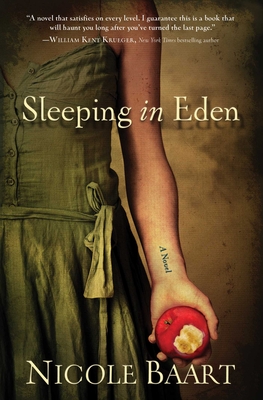 Sleeping in Eden
A Novel
Paperback

* Individual store prices may vary.
Other Editions of This Title:
Digital Audiobook (9/25/2014)
Description
The lives of a middle-aged doctor and a love-struck young woman intersect across time in Sleeping in Eden, Nicole Baart's haunting novel about love, jealousy, and the boundaries between loyalty and truth.

She knew what he wrote . . .

One little word that made her feel both cheated and beloved.

One word that changed everything.

MINE.

On a chilly morning in the Northwest Iowa town of Blackhawk, Dr. Lucas Hudson is filling in for the vacationing coroner on a seemingly open-and-shut suicide case. His own life is crumbling around him, but when he unearths the body of a woman buried in the barn floor beneath the hanging corpse, he realizes this terrible discovery could change everything. . . .

Years before Lucas ever set foot in Blackhawk, Meg Painter met Dylan Reid. It was the summer before high school and the two quickly became inseparable. Although Meg's older neighbor, Jess, was the safe choice, she couldn't let go of Dylan no matter how hard she tried.

Caught in a web of jealousy and deceit that spiraled out of control, Meg's choices in the past ultimately collide with Lucas's discovery in the present, weaving together a taut story of unspoken secrets and the raw, complex passions of innocence lost.
Praise For Sleeping in Eden: A Novel…
"Baart expertly unravels the backstory of her intriguing characters, capturing the nuances of both life-tested relationships and the intense passion of first love. Ripe with complex emotion and vivid prose, this story sticks around long after the last page is turned."
— Publisher's Weekly

"Baart's eloquent prose draws the reader into the tragic tale. At times a love story, other times a mystery, this is overall a very purposeful piece of fiction."
— RT Book Reviews

"[Nicole Baart] weaves together a taut story of unspoken secrets and the raw, complex passions of innocence lost."
— Midwest Connections Pick for May 2013

"Sleeping in Eden mesmerized me from the first heart-stopping page. Nicole Baart draws her characters beautifully while crafting a plot that kept me up all night. A highly emotional and gripping read."
— Anita Hughes, author of Monarch Beach

"Nicole Baart writes like a dream, and she gives us a story that is part murder mystery, part sensitive exploration of our human connections: the ties between parent and child, husband and wife; the tug of the past; and the blurry, often baffling border between friendship and love."
— Marisa de los Santos, author of Belong to Me and Love Walked In

"Sleeping in Eden is intense and absorbing from the very first page. Written in lovely prose, two seemingly different storylines collide in a shocking conclusion."
— Heather Gudenkauf, New York Times bestselling author of The Weight of Silence and One Breath Away

"Baart's beautifully layered story of one man's journey to repair his wounded marriage, and the unsolved crime that may be the key to its healing, takes readers on a gripping ride. At turns chillingly suspenseful and achingly tender, Sleeping in Eden is exactly the sort of novel every reader hopes to find when they crack the spine of a new book. Baart's characters are richly drawn and utterly compelling; I was hooked from page one."
— Erika Marks, author of The Mermaid Collector and Little Gale Gumbo

"Nicole Baart has written a novel that satisfies on every level. Sleeping in Eden is a compelling mystery, a tragic love story, a perceptive consideration of the callous whim of circumstance and, perhaps most important, a beautiful piece of prose. I guarantee this is a book that will haunt you long after you've turned the last page."
— William Kent Krueger, New York Times bestselling author

"Sleeping in Eden is bittersweet and moving, and it will haunt you from page one. Nicole Baart writes with such passion and heart."
— Sarah Jio, New York Times bestselling author of Blackberry Winter and The Violets of March

"Emotionally gripping and perfectly paced, Sleeping in Eden's taut storyline and profound characterizations will keep you turning the page until the richly satisfying end."
— Amy Hatvany, author of Outside the Lines and Heart Like Mine

"Sleeping in Eden is a bittersweet and masterful story of love and longing and redemption. Nicole Baart has crafted an irresistible mystery, a page-turner of a novel with prose so rich, and characters so beautifully drawn, you'll be absorbed from the very first sentence. I'm telling everyone I know to put Sleeping in Eden on their to-be-read list—you will not be disappointed!"
— Roberta Gately, author of Lipstick in Afghanistan and The Bracelet

"Nicole Baart's Sleeping in Eden is vivid storytelling with a temporal sweep. In Baart's cleverly woven mystery, the characters' intertwined fates prove that passions transcend time—and secrets will always be unearthed."
— Jenna Blum, New York Times and internationally bestselling author

"With lyrical prose and a narrative that kept me turning pages at a breakneck speed, Sleeping in Eden delivered everything I yearn for in a novel: evocative plot lines, well-drawn characters, and a heart-stopping conclusion."
— Tracey Garvis Graves, author of the bestselling novel On the Island
Howard Books, 9781439197363, 368pp.
Publication Date: May 21, 2013
About the Author
Nicole Baart is the mother of five children from four different countries. The cofounder of a nonprofit organization, One Body One Hope, she lives in a small town in Iowa. She is the author of nine previous novels, including You Were Always Mine, Little Broken Things, and The Beautiful Daughters. Learn more at NicoleBaart.com.
or
Not Currently Available for Direct Purchase