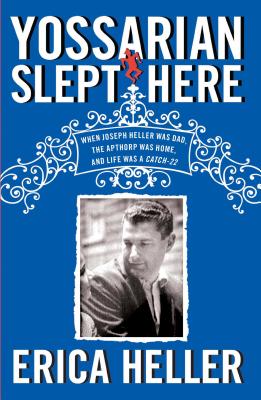 Yossarian Slept Here
When Joseph Heller Was Dad, the Apthorp Was Home, and Life Was a Catch-22
Paperback

* Individual store prices may vary.
Other Editions of This Title:
Digital Audiobook (9/26/2011)
Compact Disc (9/27/2011)
MP3 CD (9/27/2011)
Compact Disc (9/27/2011)
Paperback (10/1/2011)
Hardcover (8/23/2011)
MP3 CD (9/27/2011)
Compact Disc (9/27/2011)
Description
THROUGHOUT ERICA HELLER'S LIFE, when people learned that Joseph Heller was her father, they often remarked, "How terrific!" But was there a catch? Like his most famous work, her father was a study in contradictions: eccentric, brilliant, and voracious, but also mercurial, competitive, and stubborn, with a love of mischief that sometimes cut too close to the bone. Being raised by such a larger than- life personality could be claustrophobic, even at the sprawling Upper West Side apartments of the Apthorp, which the Hellers called home—in one way or another—for forty-five years.

Yossarian Slept Here is Erica Heller's wickedly funny but also poignant and incisive memoir about growing up in a family—her iconic father; her wry, beautiful mother, Shirley; her younger brother, Ted; her relentlessly inventive grandmother Dottie—that could be by turns caring, infuriating, and exasperating, though anything but dull. From the forbidden pleasures of ordering shrimp cocktail when it was beyond the family's budget to spending a summer, as her father's fame grew, at the Beverly Hills Hotel, Erica details the Hellers' charmed—and charmingly turbulent— trajectory. She offers a rare glimpse of meetings with the Gourmet Club, where her father would dine weekly with Mel Brooks, Zero Mostel, and Mario Puzo, among others (and from which all wives and children were strictly verboten). She introduces us to many extraordinary residents of the Apthorp, some famous—George Balanchine, Sidney Poitier, and Lena Horne, to name a few—and some not famous, but all quite memorable. Yet she also manages to limn the complex bonds of loyalty and guilt, hurt and healing, that define every family. Erica was among those present at her father's bedside as he struggled to recover from Guillain-Barré syndrome and then cared for her mother when Shirley was diagnosed with terminal cancer after the thirty-eight-year marriage and intensely passionate partnership with Joe had ended.

Witty and perceptive, and displaying the descriptive gifts of a born storyteller, this authentic and colorful portrait of life in the Heller household unfolds alongside the saga of the family's moves into four distinctive apartments within the Apthorp, each representing a different phase of their lives together—and apart. It is a story about achieving a dream; about fame and its aftermath; about lasting love, squandered opportunities, and how to have the best meal in Chinatown.
Praise For Yossarian Slept Here: When Joseph Heller Was Dad, the Apthorp Was Home, and Life Was a Catch-22…
A New York Times Book Review Editor's Choice Pick in 2011



"Charming and combative"—The New York Times



"A vital read. [Erica Heller] didn't idolize her father, but she portrays his complexities with sympathy. . . . Feels like all a reader needs to get the feel for the man who wrote, and lived with having written, Catch-22."—The Los Angeles Times



"For the human aspect [of Joseph Heller], one turns to Erica Heller's frank but loving memoir of her father, Yossarian Slept Here, which comes as close as possible, I dare say, to deciphering the enigma behind the obsessive, pitch-black fiction. Joseph Heller, the opposite of demonstrative, was given to oblique ways of showing affection [and] such vignettes are all the more charming, and telling, because the author shares her subject's sense of humor, and is herself a good writer to boot. . . . The miracle of this memoir is that it never seems less than fair: Erica Heller's worst grievances are mentioned more in sorrow (or levity) than anger, and she's careful to give her own shortcomings their due. . . . While she was dying of cancer, [Joe Heller's] ex-wife's utmost curse was to forbid Erica from ever giving him a coveted pot roast recipe. The daughter kept her promise, though she prints the recipe at the end of her book; for this reason alone—pity Joseph Heller the absence of such pot roast during his final years—I would recommend Yossarian Slept Here.''—Blake Bailey for The New York Times Book Review



"Packed with wonderful anecdotes of a sort that aren't always found in proper biographies."—Salon.com



"Closely, affectionately rendered"—Walter Kirn for Slate.com



"Charming."—The Wall Street Journal



"This collection of memories renders all of the pride, dislocation and confusion that follows from a life borne into literary legacy."—Time Out New York



"With wit punctuating lambent nostalgia, Erica Heller brings her father to life in an animated, absorbing fashion, documenting his quirky habits, celebrity, and "invisible, unfathomable inner cycle," but also her parents' divorce and Heller's suffering with Guillain-Barré syndrome. The total effect is akin to leafing through a bulging family scrapbook where one finds a few blurry images among many snapshots in sharp focus. Erica Heller has inherited her father's finely tuned flair with words."—Publishers Weekly



"Comedic and poignant, her many-faceted memoir is rendered in high-definition as Heller recounts meals, travels, parties, arguments, lies, and the serious illnesses that afflicted her and her parents. Writing with wit, compassion, [and] aplomb, and no little wonder . . . Heller presents an involving and invaluable work of personal and cultural history."— Donna Seaman, Booklist
Simon & Schuster, 9781439197691, 288pp.
Publication Date: December 21, 2013