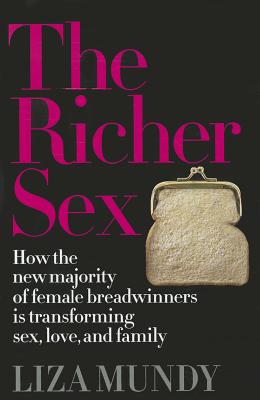 The Richer Sex
How the New Majority of Female Breadwinners Is Transforming Sex, Love and Family
Hardcover

* Individual store prices may vary.
Other Editions of This Title:
Digital Audiobook (3/19/2012)
MP3 CD (3/20/2012)
Compact Disc (3/20/2012)
Paperback (3/19/2013)
MP3 CD (3/20/2012)
Compact Disc (3/20/2012)
Compact Disc (3/20/2012)
Description
A revolution is under way.

Within a generation, more households will be supported by women than by men. In The Richer Sex, Liza Mundy takes us to the exciting frontier of this new economic order: she shows us why this flip is inevitable, what painful adjustments will have to be made along the way, and how both men and women will feel surprisingly liberated in the end.
The bestselling author and Washington Post writer goes deep inside the lives of the couples on this cutting edge to paint of picture of how dating, marriage, and home life are changing. How does this new generation of breadwomen navigate paying for a night on the town? In whose interest is it to delay commitment? Are men for the first time thinking of marriage the way women used to—as a bet on the economic potential of a spouse? In this new world of men marrying up, are women learning to value new realms of male endeavor—like parenting, protection, and a margarita at the ready?
The future is here, with couples today debating who must assume the responsibility of primary earner and who gets the freedom of being the slow track partner. With more men choosing to stay home, Mundy shows how that lifestyle has achieved a higher status and all the ways males have found to recover their masculinity. And the revolution is global: Mundy takes us from Japan to Denmark to show how both sexes are adapting as the marriage market has turned into a giant free-for-all, with men and women at different stages of this transformation finding partners in other countries who match their expectations.
The Richer Sex is a wild ride into the future, grounded in Mundy's peerless journalism, and bound to cause women and men of all generations to rethink what this social upheaval will mean.
Praise For The Richer Sex: How the New Majority of Female Breadwinners Is Transforming Sex, Love and Family…
"This thought-provoking exploration of the way women's expanding roles in the workplace is changing their lives at home is sure to create a stir. . . . Readable and poignant, Mundy's latest is the perfect starting-point for this timely conversation." —Publishers Weekly

"Liza Mundy has written a visionary, optimistic, inspiring book about the future of gender relations in America. She writes with verve, rigor and a keen sense for the unexpected. This is the rare book about the future that not only tells you where we're headed by why we should want to arrive." —Steve Coll, Pulitzer Prize-winning journalist and president of the New America Foundation

"Liza Mundy has done something remarkable: she has taken all the major social and economic threads of the past decade, and woven them into a tapestry that explains, well . . . everything. About love, and sex, and family, and work, and the past and the future, and men and women and children. And she has not only written a book that's important, but also one that's a great read." —Lisa Belkin, author of First, Do No Harm and Life's Work

"It is an exciting time to witness changing standards in family life: women in charge, men raising babies, both longing for passion and affection. In The Richer Sex, Liza Mundy asks the poignant questions of how and why these changes are occurring. She deftly examines who wins, who loses, and who is left on the battlefields of love, sex, and money." —Dr. Justin R. Garcia, author and Research Fellow, The Kinsey Institute for Research in Sex, Gender, and Reproduction

"Will the world change once women make up the majority of breadwinners? It assuredly will, and Liza Mundy gives us a fascinating advance report on the sweeping transformations—in romance, economics, politics and family life—headed our way. They will make all our lives better, and Mundy is the first to bring us the good news." —Annie Murphy Paul, author of Origins: How the Nine Months Before Birth Shape the Rest of Our Lives

"Ambitious . . . Separating The Richer Sex from earlier manifestos and exposés about women . . . is Mundy's fresh reporting and the reams of new social science research she summarizes to make her case." —Rachel Shteir, The New York Times Book Review

"A fascinating look at a trend that promises major social changes." —Booklist
Simon & Schuster, 9781439197714, 336pp.
Publication Date: March 20, 2012
About the Author
Liza Mundy is the bestselling author of Michelle: A Biography and Everything Conceivable. A longtime award-winning reporter for The Washington Post, she is currently a Schwartz Fellow at the New America Foundation. She lives in Arlington, Virginia.
or
Not Currently Available for Direct Purchase