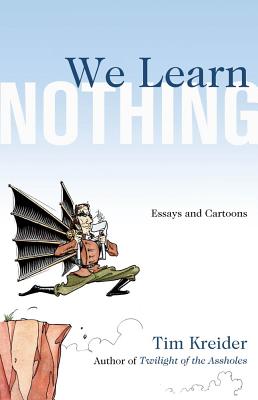 We Learn Nothing
Essays and Cartoons
Hardcover

* Individual store prices may vary.
Other Editions of This Title:
Paperback (4/9/2013)
Description
In We Learn Nothing, satirical cartoonist Tim Kreider turns his funny, brutally honest eye to the dark truths of the human condition, asking big questions about human-sized problems: What if you survive a brush with death and it doesn't change you? Why do we fall in love with people we don't even like? What do you do when a friend becomes obsessed with a political movement and won't let you ignore it? How do you react when someone you've known for years unexpectedly changes genders?
Irreverent yet earnest, he shares deeply personal experiences and readily confesses his vices— betraying his addiction to lovesickness, for example, and the gray area that he sees between the bold romantic gesture and the illegal act of stalking.
In these pages, we witness Kreider's tight-knit crew struggle to deal with a pathologically lying friend who won't ask for help. We watch him navigate a fraught relationship with a lonely uncle in jail who—as he degenerates into madness— continues to plead for the support of his conflicted nephew. And we cringe as he gets outed as a "moby" at a Tea Party rally. In moments like these, we can't help but ask ourselves: How far would we go for our own family members, and when is someone simply too far gone to save? Are there truly "bad people," and if so, should we change them? With a perfect combination of humor and pathos, these essays, peppered with Kreider's signature cartoons, leave us with newfound wisdom and a unique prism through which to examine our own chaotic journeys through life.
Uncompromisingly candid, sometimes mercilessly so, these comically illustrated essays are rigorous exercises in self-awareness and self-reflection. These are the conversations you have only with best friends or total strangers, late at night over drinks, near closing time.
Free Press, 9781439198704, 240pp.
Publication Date: June 12, 2012
Book Videos
or
Not Currently Available for Direct Purchase