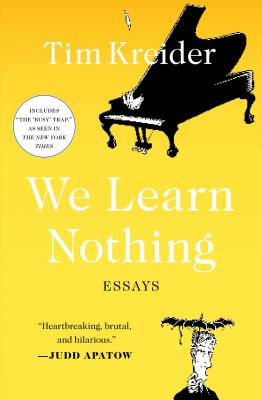 We Learn Nothing
Essays
Paperback

* Individual store prices may vary.
Description
"Kreider locates the right simile and the pith of situations as he carefully catalogues humanity's inventive and manifold ways of failing" (Publishers Weekly, starred review).

In We Learn Nothing, satirical cartoonist Tim Kreider turns his funny, brutally honest eye to the dark truths of the human condition, asking big questions about human-sized problems: What if you survive a brush with death and it doesn't change you? Why do we fall in love with people we don't even like? How do you react when someone you've known for years unexpectedly changes genders?

With a perfect combination of humor and pathos, these essays, peppered with Kreider's signature cartoons, leave us with newfound wisdom and a unique prism through which to examine our own chaotic journeys through life. These are the conversations you have only with best friends or total strangers, late at night over drinks, near closing time.

This edition also includes the sensationally popular essay "The Busy Trap," as seen in the New York Times.
Praise For We Learn Nothing: Essays…
"Tim Kreider's writing is heartbreaking, brutal and hilarious—usually at the same time. He can do in a few pages what I need several hours of screen time and tens of millions to accomplish. And he does it better. Come to think of it, I'd rather not do a blurb. I am beginning to feel bad about myself."
— Judd Apatow

"A remarkable collection . . . I found myself nodding in agreement and wondering how [Tim Kreider] could so consistently express my feelings, and express them so much better than I ever could."
— Nancy Pearl

"In a political atmosphere as angry as this, [Kreider's] oblique, self-deprecating commentary may be the only angle to which party loyalists on either side are likely to respond. We Learn Nothing should be their required reading."
— Willamette Week (Portland, Ore.)

"Kreider is as compelling a writer as he is a visual satirist. His essays tend toward the 'elegiac,' as he puts it—something that cannot be said of his cartoons—but the same delightfully brutal honesty underlies both. Kreider's descriptions are often simultaneously surprising and resonant . . . self-effacing and funny."
— City Paper (Baltimore)

"Amazing . . . Any thinking person with a sense of humor will find We Learn Nothing provocative and delightful, reminiscent, in varying ways, of David Foster Wallace, James Thurber, David Sedaris, and Susan Sontag."
— Jennifer Finney Boylan

"Kreider is a superb essayist, a funny and fluent storyteller who wears his cultural literacy lightly . . . To read "The Creature Walks Among Us," "The Czar's Daughter," "Escape from Pony Island," or "An Insult to the Brain" is to appreciate a mordant but affectionate observer of life's rich pageant, and a craftsman who almost never puts a word wrong."
— Johns Hopkins Magazine

"Kreider locates the right simile and the pith of situations as he carefully catalogues humanity's inventive and manifold ways of failing."
— Publishers Weekly (starred review)

"Earnest, well-turned personal essays about screw-ups without an ounce of sanctimony—a tough trick."
— Kirkus Reviews

"Tim Kreider may be the most subversive soul in America and his subversions—by turns public and intimate, political and cultural—are just what our weary, mixed-up nation needs. The essays in We Learn Nothing are for anybody who believes it's high time for some answers, damn it."
— Richard Russo

"Whether he is expressing himself in highly original cartoons that are hilarious visual poems, or in prose that exposes our self-delusions by the way he probes his own experience with candor, Tim Kreider is a writer-artist who brilliantly understands that every humorist at his best is a liberator. Because he is irreverent, makes us laugh, ruffles the feathers of the pretentious and the pompous, and keeps us honest, We Learn Nothing is a pleasure from its first page to the last."
— Charles Johnson

"We Learn Nothing articulated, for me, more human truths than any book in recent memory. When you're done with it, it almost feels like finishing a textbook: you actually feel like you understand how things work a little better."
— PublishersWeekly.com
Simon & Schuster, 9781439198711, 256pp.
Publication Date: April 9, 2013
About the Author
Tim Kreider has written for The New York Times, The New Yorker, The Week, The Men's Journal, and Nerve.com. His popular comic strip, The Pain—When Will It End?, ran in alternative weeklies for twelve years and has been collected in three books by Fantagraphics. He is the author of two collections of essays, We Learn Nothing and I Wrote This Book Because I Love You. He divides his time between New York City and an undisclosed location on the Chesapeake Bay.