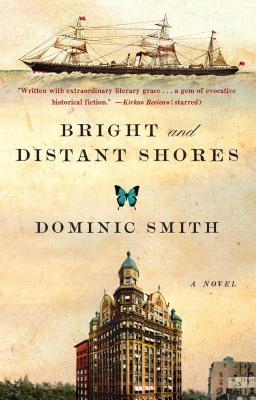 Bright and Distant Shores
A Novel
Paperback

* Individual store prices may vary.
Other Editions of This Title:
MP3 CD (3/10/2020)
Compact Disc (3/10/2020)
Description
From the New York Times bestselling author of The Last Painting of Sara de Vos comes a sweeping historical novel set amid the skyscrapers of 1890s Chicago and the far-flung islands of the South Pacific.

In the waning years of the nineteenth century there was a hunger for tribal artifacts, spawning collecting voyages from museums and collectors around the globe. In 1897, one such collector, a Chicago insurance magnate, sponsors an expedition into the South Seas to commemorate the completion of his company's new skyscraper—the world's tallest building. The ship is to bring back an array of Melanesian weaponry and handicrafts, but also several natives related by blood.

Caught up in this scheme are two orphans—Owen Graves, an itinerant trader from Chicago's South Side who has recently proposed to the girl he must leave behind, and Argus Niu, a mission houseboy in the New Hebrides who longs to be reunited with his sister. At the cusp of the twentieth century, the expedition forces a collision course between the tribal and the civilized, between two young men plagued by their respective and haunting pasts.

An epic and ambitious story that brings to mind E.L. Doctorow, with echoes of Melville and Robert Louis Stevenson, Bright and Distant Shores is a wondrous achievement by a writer known for creating compelling fiction from the fabric of history.
Praise For Bright and Distant Shores: A Novel…
"A breathless narrative pace...a riveting tale...evocations of Chicago surprise and delight." —Australian Book Review

"Smith's novel is an atmospheric, meticulously observed period drama from a footsure and stylish writer with a fine sense of narrative pace." —The Age (Australia)

"Smith's impressive third novel is an absorbing exploration of culture, tradition, and renewal through the high seas adventure of three very different men... Smith expertly combines well-drawn characters with a complex narrative that moves smoothly to the dawn of a new century." —Publisher's Weekly (starred review)

"Smith's buoyant writing carries the novel through the pitches and swells of the entertaining plot, and his virtuosity with language makes for pitch-perfect description of all he surveys." —Booklist

"This excellent read will appeal to those who enjoy literary historical fiction with a touch of exotic adventure." —Library Journal

"Written with extraordinary literary grace, Smith's third novel gleams as a gem of evocative historical fiction.... Beautifully researched and ripe with symbolism—an enthralling narrative peopled by characters both exotic and real." —Kirkus Reviews (starred review)
Atria Books, 9781439198865, 480pp.
Publication Date: September 13, 2011
About the Author
Dominic Smith grew up in Sydney, Australia and now lives in Austin, Texas. He holds an MFA in writing from the Michener Center for Writers at the University of Texas at Austin. His short fiction has been nominated for a Pushcart Prize and appeared in numerous journals and magazines, including The Atlantic Monthly.

His awards include the Dobie Paisano Fellowship from the Texas Institute of Letters, the Sherwood Anderson Fiction Prize, and the Gulf Coast Fiction Prize. In 2006, his debut novel The Mercury Visions of Louis Daguerre received the Steven Turner Prize for First Fiction from the Texas Institute of Letters.

Dominic serves on the fiction faculty in the Warren Wilson MFA Program for Writers and has taught recently at the University of Texas at Austin and Southern Methodist University. Find out more at www.dominicsmith.net.
Book Videos
Discuss Owen and Adelaide's relationship, and how it is affected by their different social and economic statuses. How are their views of each other influenced by each other's perception, rather than the reality of their feelings?
Discuss the similarities and differences between how Owen and Argus deal with being orphans. How do the memories of their fathers continue to impact them? How does the necessity of being independent at a young age impact them later in life?
What are Owen's motivations for going on the voyage? What do you think influences him the most? Discuss Captain Terrapin's statement that "all men are equal at sea." (p. 129) Do you find this to be true?
Discuss the role of women in the novel. Think about Adelaide, her mother Margaret, and Malini. How do they exert influence over the men in their lives? How do they see their role in society?
Among the Melanesian languages featured in the novel there is no future tense. What does this say about the Melanesian people? Who in this novel is living in the past, the present, or the future?
Owen recalls, "His own interest in objects, from the native to the urban, had always been about the story each one represented, about possessing material proof of something transient" (p. 126). What are the motivations of other collectors? What do such objects and artifacts mean to different characters? Think about Argus' reaction to seeing the tools of his ancestors in the museum: "These items did not belong to the white men but had they saved them from oblivion? He couldn't know what was true." (p. 392) What do you believe?
Why do Argus and Malini agree to act like savages and be put on display? Do you think they come to regret their choice? What do you think impacts Jethro's sanity? Is it the snake bite, or something else?
Malini thinks, "Weather and time; she was beginning to understand that these were two of the clayskin gods." (p. 354) Do you agree? Do you find that true in present day?
Why does Owen keep the effigy? He says, "It stood for all that waited beyond the brink. All that could arrive without invitation." (p. 434) What does he mean by this statement?
Discuss the symbolism of the house Owen restores. He has been dismantling houses and relocating objects all his life—why is it suddenly important to him to put something back together?
Reread Argus' thoughts as he confronts Jethro on page 456: "His sister, his island, his own boyhood self, they had all be defiled, each in their own way." Why does Argus react the way he does in this scene? Do you think he does the right thing?
Discuss the significance of the section headers. How do they tie together and emphasize parallels within the story?
Death plays a large role in this novel. Contrast different characters' and different cultures' and social ranks' views of death, burial, and the afterlife.
The novel employs extensive foreshadowing. How is it used as a literary device? What major events did you notice were foreshadowed? How did this impact your reading?
Early in the book, the narrative is written from the perspectives of Owen and Argus, but later opens up to include limited perspectives from Adelaide, Malini, Jethro, and Hale. Is there anyone else you would have liked to hear more from? How did this contribute to the novel?
Discuss the customs and rituals presented in the novel, both of the native islanders and the Americans on the ship and in the city. What role does tradition and familial obligation play in the characters' lives?
or
Not Currently Available for Direct Purchase