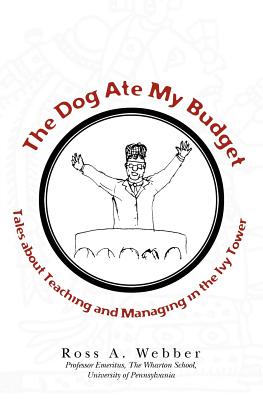 The Dog Ate My Budget: Tales about Teaching and Managing in the Ivy Tower (Paperback)
Tales about Teaching and Managing in the Ivy Tower
Booksurge Publishing, 9781439206485, 274pp.
Publication Date: October 29, 2008
About the Author
Ross A. Webber is Emeritus Professor of Management at the Wharton School of the University of Pennsylvania. He was formerly Faculty Assistant to the President, Chairman of Wharton's Management Department and Penn's Vice President of Development and University Relations. In 2002 he was awarded Wharton's Director's Award for outstanding teaching. Webber earned his Ph.D. at Columbia University and his B.S. E. at Princeton University. He was also awarded an honorary M.A. by the University of Pennsylvania. He was the management consultant on the United States Senate Office Systems Project and primary consultant to the Time-Life Films on Time Management for Managers. In addition, Webber has published ten books. He has been a guest of ABC's Good Morning America, CNN's Business in Review, A&E's Biography, and National Public Radio's Fresh Air. Webber lives with his wife Mary Lou in Haddonfield, New Jersey. They have five children and seventeen grandchildren.
Advertisement