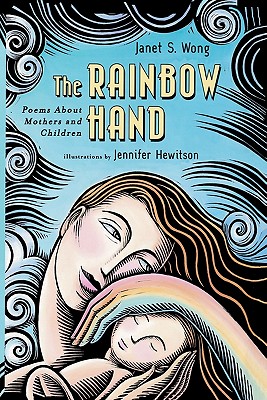 The Rainbow Hand
Paperback

* Individual store prices may vary.
Description
The poems in this award-winning collection celebrate the relationship between mothers and their children, with a wide variety of subjects and emotions--from a child walking in her mother's comforting, protective shadow to a ten-year-old girl wondering if her mother was a clean freak when she was young. Here is "Mother's Heart": "My mother's heart / is a bottle / I want to fill with warm milk / to soothe her hurts / with honey to trap her bitterness / with a squirt of Tabasco--Shake her up " Inspired by her memories of her mother and her own role as a mother of a young son, these poems by Wong, skillfully illustrated in full color by Jennifer Hewitson, create an honest portrait of timeless human connections. Sometimes funny, always sensitive, this collection will find a ready audience among young people, especially children and teens who are interested in writing their own poems. THE RAINBOW HAND was a Penn State / Lee Bennett Hopkins Award Honor Book and an ABA Pick of the Lists. Praise from Reviewers: "In an exquisite and moving collection of poetry, Wong explores the myriad emotions connected to the word and image of 'mother' . . . a gift book for children to read with adults." - Kirkus "Like the presence of a mother's hand, Wong's thoughtful and reflective volume is comforting and easily accessible. The poems are solid and steady reminders of the connections between mothers and children . . . Universal love, discipline, strength, and emotion are all in evidence here." - School Library Journal "All of the poems] hold a kernel of truth that readers of all ages will recognize . . . Children will find their own tangled feelings here." - Booklist.
Booksurge Publishing, 9781439207000, 36pp.
Publication Date: November 3, 2008
About the Author
Janet Wong (www.janetwong.com) is the author of more than two dozen books for children and teens, including picture books (THE DUMPSTER DIVER), poetry collections (TWIST: Yoga Poems), chapter books (MINN AND JAKE), an autobiography focusing on her writing process (BEFORE IT WRIGGLES AWAY), and a book of poems about voting (DECLARATION OF INTERDEPENDENCE: Poems for an Election Year). She is also the co-author of a series of humorous and provocative conversation-starting e-books for mothers: THE MOM QUIZ. Janet has performed at the White House and has been featured on The Oprah Winfrey Show. She lives in Princeton, NJ.