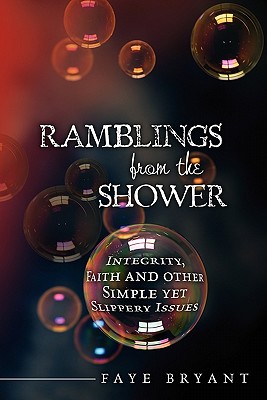 Ramblings from the Shower
Integrity, Faith and other Simple yet Slippery Issues
Paperback

* Individual store prices may vary.
Description
What do you think about in the shower? And where do those thoughts take you? In "Ramblings from the Shower," author Faye Bryant shares some of the thoughts that have come her way during the mundane task of everyday hygiene, and how those thoughts have compelled her to ask, "What about this, God? What do You think?" Follow along as Faye shares through personal experience and revelation her conclusions on just what God does think.
Booksurge Publishing, 9781439240328, 212pp.
Publication Date: December 8, 2009
About the Author
Faye Bryant is an outspoken advocate for authentic Christianity, having lived as a mask-wearer for years. She has spoken before several groups on living real and loving raw. She has served on a church staff for over ten years. She is also a hobbyist photographer, a history buff and a menace at trivia games. She has been a wife... then an ex-wife... and is a wife again. Mom... then step-mom. Then step-grandmom. She has been rejected... then accepted. Abused... then loved. And she has learned how to love in return. She was whole... then cancer. She has battled with fear... then was brought to a place of peace. Now she is facing the future with hope and confidence in God. Meeting life right where it happens, through a variety of experiences, Faye has learned that life can hurt, but God's love is real, and God never expects us to go it alone, or be something other than what He has called us to be. Through her warm and witty sense of humor, Faye now shares her faith and love for God alongside her husband Jack, through their church in the mountains of East Tennessee. Faye blogs at fayebryant.com and twitters at @rfbryant