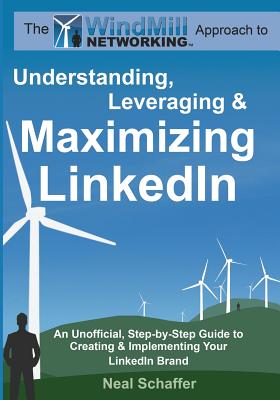 Windmill Networking: Understanding, Leveraging & Maximizing Linkedin: An Unofficial, Step-By-Step Guide to Creating & Implementing Your Lin (Paperback)
Understanding, Leveraging & Maximizing Linkedin: An Unofficial, Step-By-Step Guide to Creating & Implementing Your Lin
Booksurge Publishing, 9781439247051, 384pp.
Publication Date: September 24, 2009
About the Author
Neal Schaffer is recognized as a leader in helping businesses and professionals embrace and strategically leverage the potential of social media. An author, speaker, and social media strategy consultant, Neal has appeared in the Wall Street Journal, Bloomberg Business Week, Yahoo!, and the American Express Open Forum. A graduate of Amherst College, he is also fluent in Chinese and Japanese and currently resides in Irvine, California, where he proudly serves on the marketing committee for the United Way of Orange County. Neal's first book, "Windmill Networking: Maximizing LinkedIn," was a recipient of multiple industry awards and continues to be one of the best-selling books in its genre. In 2011, Neal will publish his second book, "Maximizing LinkedIn for Sales and Social Media Marketing," and is currently working on his third book, tentatively titled "Windmill Networking: Maximizing Twitter." As President of Windmills Marketing, a social media strategy consulting practice, Neal has led social media strategy creation, educational workshops, and implementation coaching for a range of B2B and B2C companies including a Fortune 50 software company, a multi-billion dollar nutritional supplements enterprise, and a popular Mexican-American musician. Neal is also a frequent social media conference speaker and is passionate about educating his audience with concrete takeaways and compelling, customized content to help them truly maximize social media. Neal has spoken at nearly 100 events worldwide.
Advertisement