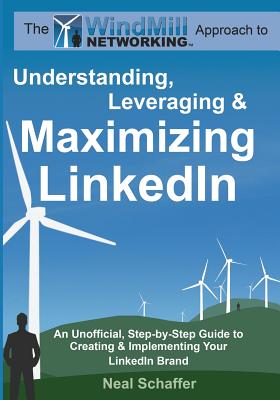 Windmill Networking (Paperback)
Understanding, Leveraging & Maximizing Linkedin: An Unofficial, Step-By-Step Guide to Creating & Implementing Your Lin
Booksurge Publishing, 9781439247051, 384pp.
Publication Date: September 24, 2009
* Individual store prices may vary.
Description
Social media strategist Neal Schaffer's Windmill Networking: Understanding, Leveraging & Maximizing LinkedIn is the most comprehensive book on maximizing the potential for professional and personal networking through LinkedIn. It goes beyond the "business" genre to expand upon the world of social media marketing, branding, and today's critical focus on career management. It clarifies the functionality of LinkedIn and how to "plug into the Windmill Network" to maximize our presence and leverage the potential to grow our networks to thousands of global connections. Schaffer offers a unique view of all phases of social media and networking, providing a direct route to developing objectives and creating brands. This book's focus on Windmill Networking and LinkedIn is vast: creating business, gaining subject matter expertise, finding a job, expanding a network, learning online social networking etiquette, and developing a branded profile. This book generates strategies, goals, and success. The book starts by reviewing your objectives for using LinkedIn as well as how your brand will be perceived online. What follows is a function-by-function review of how to maximize all that LinkedIn has to offer for those that truly wish to utilize the professional networking platform to promote their business, network with their peers, find a job, or simply tap themselves into the premiere network for business professionals. While appropriate for both beginners to LinkedIn as well as those who want to get to the next level of expertise, one thing is for certain: After reading this book, you will have no doubt as to what you can be doing on LinkedIn to help you reach your goals and achieve success.
About the Author
Neal Schaffer is recognized as a leader in helping businesses and professionals embrace and strategically leverage the potential of social media. An author, speaker, and social media strategy consultant, Neal has appeared in the Wall Street Journal, Bloomberg Business Week, Yahoo!, and the American Express Open Forum. A graduate of Amherst College, he is also fluent in Chinese and Japanese and currently resides in Irvine, California, where he proudly serves on the marketing committee for the United Way of Orange County. Neal's first book, "Windmill Networking: Maximizing LinkedIn," was a recipient of multiple industry awards and continues to be one of the best-selling books in its genre. In 2011, Neal will publish his second book, "Maximizing LinkedIn for Sales and Social Media Marketing," and is currently working on his third book, tentatively titled "Windmill Networking: Maximizing Twitter." As President of Windmills Marketing, a social media strategy consulting practice, Neal has led social media strategy creation, educational workshops, and implementation coaching for a range of B2B and B2C companies including a Fortune 50 software company, a multi-billion dollar nutritional supplements enterprise, and a popular Mexican-American musician. Neal is also a frequent social media conference speaker and is passionate about educating his audience with concrete takeaways and compelling, customized content to help them truly maximize social media. Neal has spoken at nearly 100 events worldwide.