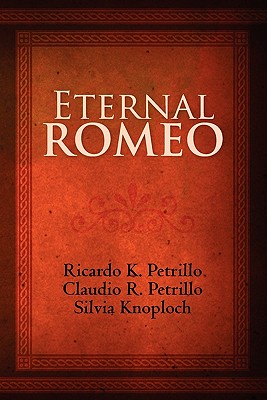 Eternal Romeo (Paperback)
Booksurge Publishing, 9781439270240, 246pp.
Publication Date: February 22, 2010
* Individual store prices may vary.
Description
This is the fourth book by Ricardo Petrillo, who passed away at age twenty after a tragic fall at college. Ricardo 'dictates' to his father through a process referred to as channeling. In his previous books Ricardo described his experiences in the spiritual world (Eternal Bonds of Love), took his parents during their sleep on a journey through different spiritual realms (Poems for a Better World) and showed us the many facets and power of love (Poems of Love). "Eternal Romeo is an epic where historical facts and fiction merge in a kaleidoscope of feelings and emotions, and lives are all interconnected in the continuous process of rebirth. From Hannibal to Romeo we would hope to project the evolution of a soul in the eternal pilgrimage toward our Divine Source." Ricardo attempts to reveal in this book "the effects that our acts inflict on others ...], and that we are ultimately accountable for their consequences." ...] "It is the purpose of this work to dispel the idea that taking one's own life might be justified in some instances, whether for love, for honor, or in desperation." ...] "Who we are today reflects what we did yesterday, and who we will be tomorrow will reflect what we did today." " ...] may the message be spread in our simple poems that life is sacred, divine, granted to us as a blessing, as our means to evolve, to expand our knowledge and spiritual potential so that one day we will all be part of a different world where greed, hatred, selfishness, and envy will be replaced by fraternity and love.
About the Author
RICARDO KNOPLOCH PETRILLO was born in 1985. At the time of his passing in 2005 he was a sophomore at Quinnipiac University in Connecticut. He was a member of the Tau Kappa Epsilon Fraternity. He enjoyed music, singing, acting, sports, cooking, and politics. He inspired his father to write his first book Eternal Bonds of Love, which was published in 2008. CLAUDIO R. PETRILLO, MD, has been a practicing physician for thirty-five years. He is the Chairman of the Department of Physical Medicine and Rehabilitation at Norwalk Hospital in Connecticut. He has never written a book either professionally or privately before receiving the writings from his son. SILVIA KNOPLOCH, MD, has been a practicing physician for twenty-four years. She is a Senior Attending Physician in the Department of Physical Medicine and Rehabilitation at Norwalk Hospital in Connecticut.