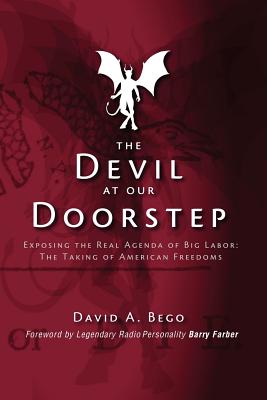 The Devil at Our Doorstep (Paperback)
Createspace Independent Publishing Platform, 9781439285220, 334pp.
Publication Date: April 4, 2012
About the Author
David Bego's expertise to write this book stems from his actual firsthand experience while waging war with Andy Stern and the SEIU from late 2006 through the present day. Unlike other corporate executives, who either compromise their core values and cave in to union demands or simply talk about what it would be like to fight back against one of the most powerful unions in existence today, the author has lived the experience while under attack from Stern and his union thugs. For more than 60 months and counting, he has found the courage to stand up for what he believes, at all costs, protecting his employees' and all Americans' freedom to vote in a "secret ballot" election, absent from coercion. Despite damage to his personal and corporate reputations, the author has managed thus far to survive the SEIU onslaught and emerge with his integrity in tack. Truly the voice and face of the opposition to the Employees Free Choice Act a.k.a. Card Check, the author has enhanced his credentials through meetings with Congressional leadership or their aides, including Senators Richard Lugar (R-IN), Evan Bayh (D-IN), Harry Reid (D-NV), Dan Coats (R-IN) and Arlen Spector (D-PA), and State Representatives Mike Pence (R-IN), Todd Rokita (R-IN), Marlin Stutzman (R-IN) and Todd Young (R-IN). Bego was also instrumental in the efforts of Indiana Governor Mitch Daniels, Speaker Brian Bosma, Senator Pro-Tem David Long and Congressman Jerry Torr to make Indiana the 23rd Right-to-Work (RTW) state. Indiana RTW was passed and signed into law February 1, 2012. Additionally, the author has been a featured speaker to groups such as the U.S. Chamber of Commerce, Associated Builders and Contractors, Private Duty Nurses Association, Libertarian Party of Indian State Convention, Rotary Clubs, Rainmakers, West Palm Beach Florida Republican Club and Tea Party, Madison County Indiana Tea Party, Andrews Academy, Union Conservatives Lansing Michigan, and others across the country. In early 2009, the author made his sentiments known on up the Hill with a letter to every member of Congress outlining factors for consideration and opposition to the Employee Free Choice Act/Card Check. Represented by the New York public relations firm SandyPR, the author intends to broaden his media exposure by speaking out against regulations and legislation he believes are a direct threat to entrepreneurship, free enterprise, capitalism and, most importantly, freedom of choice.
Advertisement