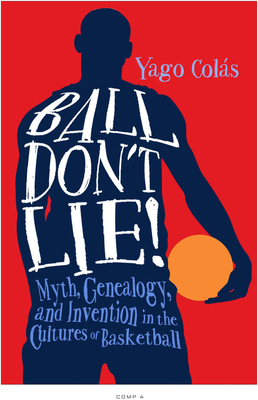 Ball Don't Lie
Myth, Genealogy, and Invention in the Cultures of Basketball (Sporting)
Paperback

* Individual store prices may vary.
Other Editions of This Title:
Hardcover (4/5/2016)
Description
Pro basketball player Rasheed Wallace often exclaimed the pragmatic truth "Ball don't lie!" during a game. It is a protest against a referee's bad calls. But the slogan, which originated in pickup games, brings the reality of a racialized urban playground into mainstream American popular culture. 
In Ball Don't Lie!, Yago Colás traces the various forms of power at work in the intersections between basketball and language from the game's invention to the present day. He critiques existing popular myths concerning the history of basketball, contextualizes them, and presents an alternative history of the sport inspired by innovations. Colás emphasizes the creative prerogative of players and the ways in which their innovations shape—and are shaped by—broader cultural and social phenomena.
Ball Don't Lie! shows that basketball cannot be reduced to a single, fixed or timeless essence but instead is a continually evolving exhibition of physical culture that flexibly adapts to and sparks changes in American society.
Praise For Ball Don't Lie: Myth, Genealogy, and Invention in the Cultures of Basketball (Sporting)…
"In this compelling critical dissection of a truly fascinating sport, Yago Colás effectively breaks down the game of basketball in ways social, cultural, and political. As Rasheed Wallace said, 'Ball don't lie!' Neither does this book."—Todd Boyd, author of Young, Black, Rich and Famous: The Rise of the NBA, the Hip Hop Invasion and the Transformation of American Culture
"Ball Don't Lie! is an original, unique, well-conceived, and well-executed work on the history and culture of basketball. In an accessible and engaging writing style, Colás tackles basketball from the perspective of a literary critic. He cleverly sets up each chapter with a myth and then he goes about deconstructing it from a variety of angles. This book can help change how we teach and write about sport."—Aram Goudsouzian, author of King of the Court: Bill Russell and the Basketball Revolution
Temple University Press, 9781439912430, 200pp.
Publication Date: April 5, 2016
About the Author
Yago Colás teaches in the Department of Comparative Literature and in the Residential College at the University of Michigan and is the author of Postmodernity in Latin America: The Argentine Paradigm.