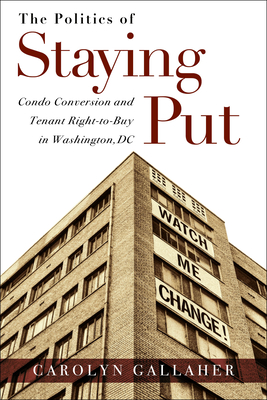 The Politics of Staying Put
Condo Conversion and Tenant Right-to-Buy in Washington, DC (Urban Life, Landscape and Policy)
Paperback

* Individual store prices may vary.
Other Editions of This Title:
Hardcover (3/15/2016)
Description
When cities gentrify, it can be hard for working-class and low-income residents to stay put. Rising rents and property taxes make buildings unaffordable, or landlords may sell buildings to investors interested in redeveloping them into luxury condos. 
In her engaging study The Politics of Staying Put, Carolyn Gallaher focuses on a formal, city-sponsored initiative—The Tenant Opportunity to Purchase Act (TOPA)—that helps people keep their homes. This law, unique to the District of Columbia, allows tenants in apartment buildings contracted for sale the right to refuse the sale and purchase the building instead. In the hands of tenants, a process that would usually hurt them—conversion to a condominium or cooperative—can instead help them.  
Taking a broad, city-wide assessment of TOPA, Gallaher follows seven buildings through the program's process. She measures the law's level of success and its constraints. Her findingshave relevance for debates in urban affairs about condo conversion, urban local autonomy, and displacement. 
Praise For The Politics of Staying Put: Condo Conversion and Tenant Right-to-Buy in Washington, DC (Urban Life, Landscape and Policy)…
"A semi-ethnographic examination of efforts in one U.S. city to curb gentrification by harnessing the paradoxical power of the condominium to mitigate turnover even as it generates it. The Politics of Staying Put is a deeply researched study of tenant empowerment that makes an important contribution to debates in the social sciences about displacement, neighborhood governance, and apartment living, challenging the dominant view of the condo as yuppie. Rich fieldwork and case studies illustrate how communities can — and cannot — successfully challenge the market in an era of rapid urban transformation."—Matthew Gordon Lasner, author of High Life: Condo Living in the Suburban Century
"The Politics of Staying Put is an engaging, well-researched book on a fairly under-researched topic. Gallaher provides an in-depth case study of condominium conversion and a policy designed to dampen the negative outcomes associated with this process. She illustrates conditions and outcomes that do not fall neatly in categories typically used to discuss and critique gentrification and neoliberalism, thereby complicating our understanding of the role of condo conversion in displacement. This book is an important theoretical contribution to the literature."—Lance Freeman, author of There Goes the 'Hood: Views of Gentrification from the Ground Up 
"[Gallaher] analyzes the dynamics of gentrification, examining the tension between established neighborhoods and a booming real estate market in Washington, DC. Unlike the many critics of neoliberalism, Gallaher concedes that the market economy is likely to endure, and she concludes that real estate markets, if properly regulated, can allow some middle-class residents to 'stay put.' But Gallaher's detailed study also notes that government efforts to rein in Washington's real estate market, while not without their successes, have thus far proved insufficient to prevent rising prices, displacement, and gentrification.... [H]er finely detailed examination of the Tenant Opportunity to Purchase Act leads her to conclude that critics of neoliberalism...have overstated their case."--
Journal of Urban History
Temple University Press, 9781439912652, 284pp.
Publication Date: March 15, 2016
About the Author
Carolyn Gallaher is Associate Professor in the School of International Service at American University. She is the author of On the Fault Line: Race, Class, and the American Patriot Movement, and Loyalist Paramilitaries in Post-accord Northern Ireland.