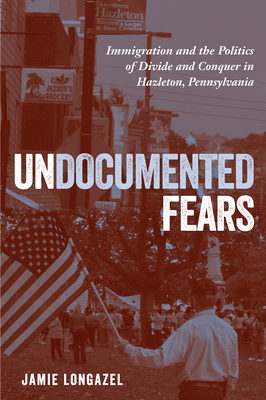 Undocumented Fears
Immigration and the Politics of Divide and Conquer in Hazleton, Pennsylvania
Paperback

* Individual store prices may vary.
Other Editions of This Title:
Hardcover (3/1/2016)
Description
The Illegal Immigration Relief Act (IIRA), passed in the small Rustbelt city of Hazleton, Pennsylvania in 2006, was a local ordinance that laid out penalties for renting to or hiring undocumented immigrants and declared English the city's official language. The notorious IIRA gained national prominence and kicked off a parade of local and state-level legislative initiatives designed to crack down on undocumented immigrants. 
In his cogent and timely book, UndocumentedFears, Jamie Longazel uses the debate around Hazleton's controversial ordinance as a case study that reveals the mechanics of contemporary divide and conquer politics. He shows how neoliberal ideology, misconceptions about Latina/o immigrants, and nostalgic imagery of "Small Town, America" led to a racialized account of an undocumented immigrant "invasion," masking the real story of a city beset by large-scale loss of manufacturing jobs.
Offering an up-close look at how the local debate unfolded in the city that set off this broader trend, Undocumented Fears makes an important connection between immigration politics and the perpetuation of racial and economic inequality.
Praise For Undocumented Fears: Immigration and the Politics of Divide and Conquer in Hazleton, Pennsylvania…
"Using a magnifying lens to study immigrant bashing in his hometown, Jamie Longazel brings into sharp focus the anti-Latino racism at the heart of national politics today. Even as we as a society struggle to build solidarity across racial divisions, powerful forces seek advantage in tearing us farther apart. The concentrated focus of Undocumented Fears helps us understand not only why this occurs but also how we might help replace fear with friendship, social division with a sense of shared humanity."—Ian F. Haney López, author of Dog Whistle Politics: How Coded Racial Appeals Have Reinvented Racism and Wrecked the Middle Class
"Undocumented Fears offers an incredibly rich and insightful analysis of how the political dynamics in a struggling former coal mining town resulted in its becoming ground zero in the raging national debate over immigration. Longazel provides a bird's-eye view of the politics—racial and otherwise—that led Hazleton, Pennsylvania, to enact laws designed to punish undocumented immigrants, with Latino migrants in the crosshairs. The clash of Latino immigrants with the 'small town America' ideal is a gripping story that deserves the scholarly attention offered by Longazel. As some might say after reading Undocumented Fears, 'Only in America.'"—Kevin Johnson, author of The "Huddled Masses" Myth: Immigration and Civil Rights 
"The author blends sociological reasoning with the analysis of single stories, interviews, news reports, trial and city council transcripts; this makes the book interesting and appealing for the audience.... The book has several strengths, notably its original blend of thought and action. Moreover, Longazel's work marks an excellent attempt to discuss Latino Threat Narrative roots and connections with national immigration patterns and neoliberal depoliticization. Also, several references and numerous appendixes demonstrate the issue is extensively researched and in-depth scrutinized.... [T]he book will surely stimulate discussion between scholars and practitioners. It should be required reading for anyone interested to investigate how dominant ideologies relating to race and social class embedded in immigration politics continue to divide and conquer ordinary people today."-- 
International Criminal Justice Revi
ew
Temple University Press, 9781439912683, 206pp.
Publication Date: March 1, 2016
About the Author
Jamie Longazel is Assistant Professor of Sociology and a Human Rights Center Research Fellow at the University of Dayton and co-author (with Benjamin Fleury-Steiner) of The Pains of Mass Imprisonment.