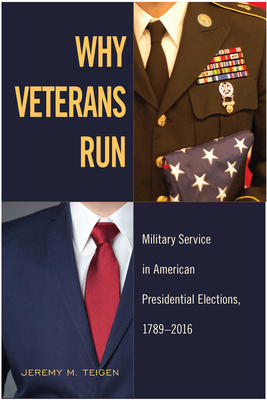 Why Veterans Run
Military Service in American Presidential Elections, 1789-2016
Paperback

* Individual store prices may vary.
Other Editions of This Title:
Hardcover (1/11/2018)
Description
The assumptions that military service helps candidates attract votes—while lacking it harms a candidate's chances—has been an article of faith since the electoral coronation of George Washington in 1789. Perhaps the most compelling fact driving the perception that military service helps win votes is the large number of veterans who have held public office. Some candidates even exaggerate their military service to persuade voters. However, sufficient counter-examples undermine the idea that military veterans enjoy an advantage when seeking political office.
In Why Veterans Run, Jeremy Teigenexplains the tendency of parties to elevate those with armed forces experience to run for high office. He describes the veteran candidate phenomenon by examining the related factors and patterns, showing why different eras have more former generals running and why the number of veterans in election cycles varies. With both quantitative and qualitative analysis, Why Veterans Run investigates each postwar era in U.S. electoral history and elaborates why so many veterans run for office. Teigen also reveals how election outcomes with veteran candidates illuminate the relationship between the military and civilian spheres as well as the preferences of the American electorate.
Praise For Why Veterans Run: Military Service in American Presidential Elections, 1789-2016…
"Teigen gives us, in blessedly jargon-free prose, a much needed taxonomy of military veterans in presidential election politics. He tells us when they run, how they run, and what happens when they do. He gives us clarifying charts and graphs; a straightforward roadmap which he faithfully follows; case studies; and a wealth of well-researched insights that will illuminate and enlarge the knowledge of academic, veteran, and layperson alike. He shows how veterans have always responded to larger social and political currents, and how underneath it all, veteran identity is entwined with a perceived patriotic identity thanks to the inseparable role the military played in the formation of the American nation."--American Interest
Temple University Press, 9781439914366, 320pp.
Publication Date: January 11, 2018
About the Author
Jeremy M. Teigen is Professor of Political Science at Ramapo College.