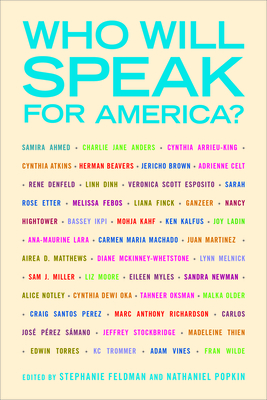 Who Will Speak for America?
Paperback

* Individual store prices may vary.
Description
The editors and contributors to Who Will Speak for America? are passionate and justifiably angry voices providing a literary response to today's political crisis.  Inspired by and drawing from the work of writers who participated in nationwide Writers Resist events in January 2017, this volume provides a collection of poems, stories, essays, and cartoons that wrestle with the meaning of America and American identity. The contributions—from established figures including Eileen Myles, Melissa Febos, Jericho Brown, and Madeleine Thien, as well as rising new voices, such as Carmen Maria Machado, Ganzeer, and Liana Finck—confront a country beset by racial injustice, poverty, misogyny, and violence. 
Contributions reflect on the terror of the first days after the 2016 Presidential election, but range well beyond it to interrogate the past and imagine possible American futures. 
Who Will Speak for America? inspires readers by emphasizing the power of patience, organizing, resilience and community. These moving works advance the conversation the American colonists began, and that generations of activists, in their efforts to perfect our union, have elevated and amplified.
All royalties will benefit the Southern Poverty Law Center.
Praise For Who Will Speak for America?…
"Feldman and Popkin gather a medley of diverse voices to reflect on politics, society, and culture in contemporary America. Essays, poems, fiction, photographs, and cartoons bristle with emotion from contributors responding to issues they consider most urgent: racism, sexism, poverty, and injustice.... A heartfelt and thoughtful collection."—Kirkus Reviews
"Panoramic in scope and exquisite in execution, Who Will Speak for America? is a platform for some of the country's sharpest minds to artistically meditate on life during and after the reign of our Orange Mussolini."—Molly Crabapple, author of Drawing Blood and (with Marwan Hisham) Brothers of the Gun: A Memoir of the Syrian War
"This collection of political poetry and prose presents a wide and well-selected array of moderate, progressive, and radical voices united in opposition to Donald Trump's presidency.... [Carmen Maria] Machado's poem 'How I Should Have Known Trump Would Be Elected President' is a powerful and succinct reflection on encountering racism and homophobia.... The selections vary in tone... Thanks to this variety, the collection should appeal to an equally wide range of readers who share the authors' opposition to the 45th president."—Publisher's Weekly
Temple University Press, 9781439916247, 238pp.
Publication Date: June 26, 2018
About the Author
Stephanie Feldman is the author of the novel The Angel of Losses, a Barnes & Noble Discover Great New Writers selection and winner of the Crawford Fantasy Award. Her stories and essays have appeared in Asimov's Electric Literature, The Magazine of Fantasy & Science Fiction, The Maine Review, The Rumpus, and Vol. 1 Brooklyn.  Nathaniel Popkin is the author or co-author of five books, including the novel Everything is Borrowed and Philadelphia: Finding the Hidden City (Temple). He is a literary critic and essayist whose work appears in the Wall Street Journal, Kenyon Review, and other publications. He is the fiction review editor at Cleaver Magazine.
or
Not Currently Available for Direct Purchase