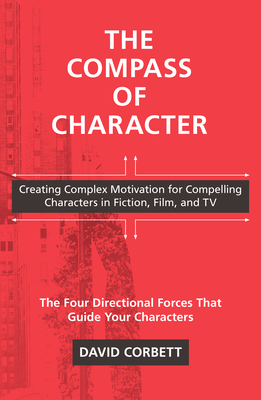 The Compass of Character
Creating Complex Motivation for Compelling Characters in Fiction, Film, and TV
Paperback

* Individual store prices may vary.
Description
Just as a compass provides direction for an explorer, so does motivation provide direction for characters in fiction. The "compass" of character motivation is composed of four points: Lack, Yearning, Resistance, and Desire. In The Compass of Character you'll learn to deeply consider the key question "What does my character want?" and learn techniques to answer that question by writing realistic and empathetic characters without falling into formulaic, unsatisfying results that only diminish the character. Bestselling author and acclaimed writing instructor David Corbett provides writers with the essentials for building characters with motivations that range from clear to complex by exploring topics such as:

   • human yearning
   • pathological maneuvers
   • the pain of life vs. the promise of life
   • backstory and behavior
   • mechanics of growth and transformation
   • dramatizing mistaken desire and misbegotten yearnings
   • moral arguments
The key to fascinating characters is rendering subtle inner states in straightforward external circumstances, which requires a fundamental understanding of the simple building blocks of complex motivation as they manifest themselves in behavior, where complexity of purpose collides with the messy, indifferent world. The Compass of Character is the one book that can guide writers to that end with both instruction and inspiration.
Praise For The Compass of Character: Creating Complex Motivation for Compelling Characters in Fiction, Film, and TV…
"A compass points four ways and so does Corbett, adroitly reconciling the complex interplay of forces in every character's life so that writers can create true depth on the page. His exercises make that complexity doable, and the examples he provides are remarkably incisive. If you want to know what makes made-up characters feel 100% real, let The Compass of Character be your guide. David Corbett is the grand master of character development."  —Donald Maass, author of The Emotional Craft of Fiction
 
"With a deft hand, David takes us past writing clichés, charting a new course forward into developing resonant characters in film and print today. His insights have the potential to revolutionize the way writers understand the characters they develop. If you're serious about your storytelling, don't miss The Compass of Character." —Steven James, bestselling author of Story Trumps Structure
 
"You won't find a more thoughtful, more human approach to crafting characters than David Corbett's. Whether you're looking to add nuance and depth to your cast, or to heighten an arc with authentically high stakes, The Compass of Character will point you steadily north." —Jessica Strawser, bestselling author of Not That I Could Tell 
 
"One of the best teachers today. Innovative, pragmatic and applicable. I read David Corbett before writing each novel." —Robert Dugoni, international bestselling author of The Extraordinary Life of Sam Hell
 
"Corbett takes the obtuse, the dense, the high falutin, and he boils it down to practical advice. Every storyteller is trying to find lucid ways to unpack narrative construction, and he's done it flawlessly here. Corbett is a craft ninja." —Joshua Mohr, best-selling author of Sirens
Writer's Digest Books, 9781440300868, 288pp.
Publication Date: November 19, 2019
About the Author
David Corbett is the award-winning author of the writing guides The Art of Character ("A writer's bible" – Elizabeth Brundage) and The Compass of Character. He has published six novels, including The Long-Lost Love Letters of Doc Holliday, nominated for the Lefty Award for Best Historical Mystery. His short fiction has been selected twice for Best American Mystery Stories, and his non-fiction has appeared in the New York Times, Narrative, Bright Ideas, and Writer's Digest, where he is a contributing editor. He has taught at the UCLA Writer's Program, Litreactor, and at writing conferences across North America and Mexico, and is a monthly contributor to Writer Unboxed, an award-winning blog dedicated to the craft and business of fiction.